2020 baseball cards release dates and easy access to checklists, price guide info and other handy resources are all here on this one page. Think of it as a landing spot for all you collecting needs for the year.
Below, you'll find a full 2020 baseball cards release calendar and related set information. Upcoming releases are at the top, arranged by release date. Shortly after sets are released, they'll be found by clicking on a tab at the top (sorted alphabetically).
Bookmark this page and check back regular as this calendar will be updated regularly with new sets, price guide access and additional information. Basically, it's a hub for all you need in one convenient place for those collecting or even just curious about anything to do with 2020 baseball cards.
2020 Baseball Cards at a Glance
When it comes to MLB-licensed baseball cards, Topps continues to hold the exclusive license. That means that they're the only company that can product cards of players in their major league uniforms and use MLB logos and trademarks.
But that doesn't mean Topps is the only company making baseball cards.
Panini has a deal with the MLBPA so they make sets with major league players past and present. The big difference is that these cards aren't affiliated with MLB so the logos and trademarks are not there. Panini does have exclusive deals with the vast majority of NCAA teams as well as USA Baseball.
Leaf and Onyx Authenticated are among the other companies making cards. These sets center primarily on prospects.
The first set of baseball cards for the year is 2020 Topps Archives Signature Series: Active Player Edition. However, all of these cards are ones from the past that have autographs added. For most, the 2020 baseball card season kicks off with the release of 2020 Topps Series 1 Baseball on February 3, 2020. Dozens of new sets will continue to come out throughout the calendar year.
Key Rookies
Thanks in large part to the deep rookie class that 2019 brought, there are several key players getting Rookie Cards from the outset of 2020. Yordan Alvarez, Bo Bichette, Gavin Lux and Aristides Aquino are among those who will have their first base RCs on 2020 baseball cards checklists.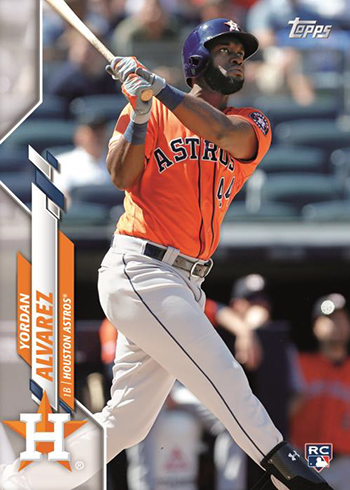 Upcoming Products
Upcoming 2020 Baseball Cards Release Dates and Product Information
Release dates are subject to change, and they often do. Sets are added only after they are formally announced. Please note that there may be delays due to COVID-19.
---
---
---
---
---
---
---
---
---
---
---
---
---
---
---
---
---
---
---
---
---
---
---
---
---
---
---
---
---
---
Already Released
Already Released 2020 Baseball Cards
The following is a list of sets that are out. They're listed alphabetically.
---
---
---
---
---
---
---
---
---
---
---
---
---
---
---
---
---
Online Sets
2020 Baseball Card Online-Exclusive Sets
The following is a list of 2020 baseball card sets that are online exclusives.
---
---
---
---
---
---
---