2020 Leaf Lumber Kings Baseball Is All Bats
2020 Leaf Lumber Kings Baseball is a set dedicated entirely to cards with pieces of game-used bats. In many ways, it's like the baseball equivalent to Leaf's Stickwork line in hockey. While the checklist boasts a lot of different themes and players from several eras, the focal point of bat pieces runs throughout.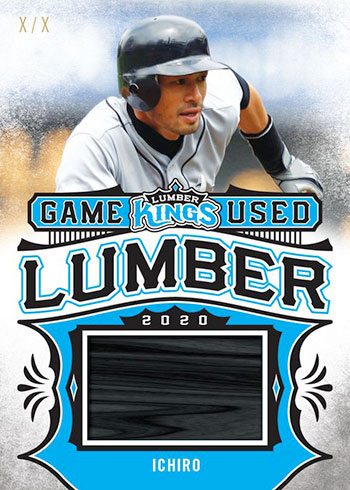 Each hobby box has four memorabilia cards.
2020 Leaf Lumber Kings Baseball Overview
Without licenses from MLB and the MLBPA, the Lumber Kings checklist features only retired players. Spanning several generations, they go back to greats like Babe Ruth, Mickey Mantle and Ted Williams. On the more recent end are stars like Ken Griffey Jr., Barry Bonds and Derek Jeter.
Things start with Game-Used Lumber, a collection of cards that has over-sized bat pieces. Getting a little more specific in their themes are 500 Home Run Club and home run-centric Dinger Kings.
Home Run Challenge, WAR Room, Bat Rack 3 and 4, Legendary Lineup, Enshrined 8 and Rivals are among the multi-memorabilia cards. These have anywhere from two to eight pieces, depending on the insert.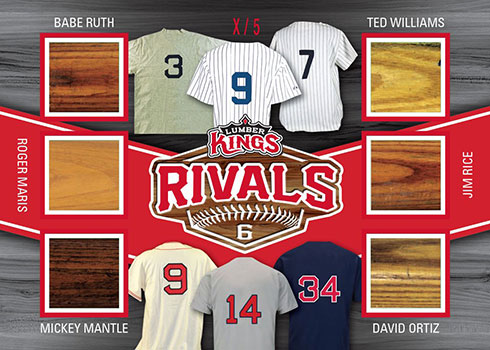 Although memorabilia is the focal point, Signature Sticks and Signature Sticks 2 add autographs as well.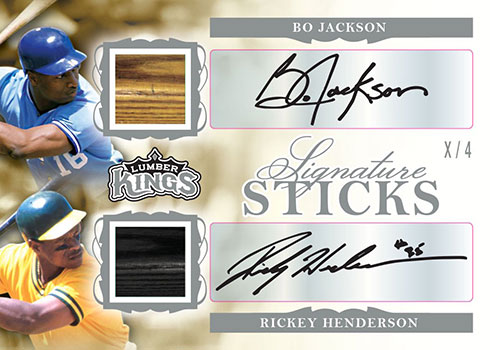 Bat Knob, Bat Barrel and Off the End of the Bat all offer more unique wood pieces.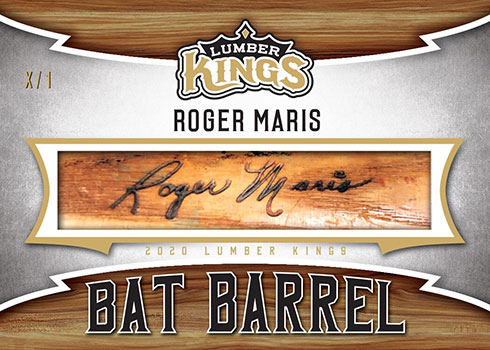 2020 Leaf Lumber Kings Baseball cards at a glance:
Cards per pack: 4
Packs per box: 1
Boxes per case: 10
Release date: March 6, 2020
What to expect in a hobby box:
The full 2020 Lumber Kings Baseball checklist will be added when it becomes available, likely shortly before the set releases.