Looking for 2018 baseball cards release dates, checklists, easy price guide access and set information? What if we told you that all that was just one click away?
You've come to the right place because it is.
Below is a full 2018 baseball card release calendar and related set information. Upcoming releases are at the top, arranged by release date.
Once sets are released, they'll be found by clicking on a tab at the top (sorted alphabetically).
Bookmark this page and check back regular as this calendar will be updated regularly with new sets, price guide access and additional information. Basically, it's a hub for all you need in one convenient place for those collecting or even just curious about 2018 baseball cards.
2018 Baseball Cards: What to Expect
Topps continues to hold an exclusive deal with Major League Baseball this season. That means that they're the only company that can put out cards of players in MLB uniforms and use the league's logos and marks. Panini has a deal with the MLBPA, which means they can make sets with current and retired players, just not with any MLB marks.
Other license holders include Topps with Minor League Baseball, Panini with USA Baseball and Mickey Mantle's estate, and Leaf with the Perfect Game Showcase.
The 2018 baseball card season kicked off with the release of 2018 Topps Series 1 Baseball on January 31. It will run the full 12 months of the year, delivering different sets along the way.
Not all 2018 baseball cards are found in hobby shops. Some releases come out in specific forms like retail exclusives, online-only products and print-on-demand releases like 2018 Topps Now and the Topps Living Set.
Looking for 2017 baseball card information? It's all right here.
2019 baseball card details are here.
Upcoming Products
Upcoming 2018 Baseball Card Release Dates and Product Information
Release dates are subject to change (and often do).
2018 Leaf Trinity Baseball
Release Date: May, 2019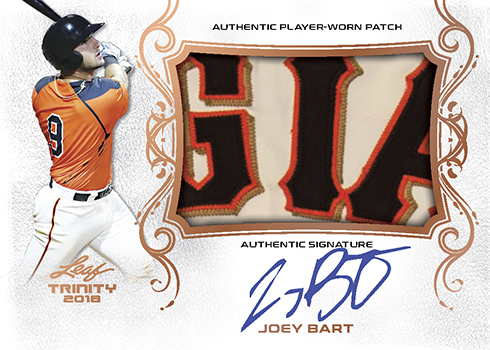 ---
Already Released
2018 Baseball Cards Archive
Here's a list of 2018 baseball card sets that have already been released. They're arranged alphabetically.
---
---
---
---
---
---
---
---
---
---
---
---
---
---
---
---
---
---
---
---
---
---
---
---
---
---
---
---
---
---
---
---
---
---
---
---
---
---
---
---
---
---
---
---
---
---
---
---
---
---
---
---
---
---
---
---
---
---
---
---
---
---
---
---
---
---
---
---
---
---
---
---
---
---
---
---
---
Misc. Collectibles
2018 Baseball Treasure MLB Coins
Release Date: June 6, 2018
Buy on eBay: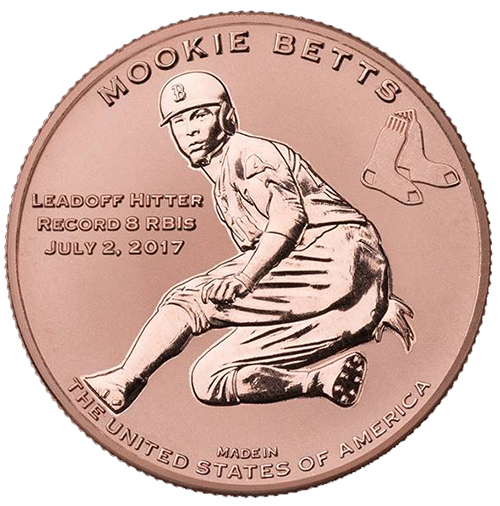 ---