2018 Topps Baseball Team Sets Checklists and Breakdown
2018 Topps Baseball cards come in several forms. You've got your regular packs and boxes. Then there's the factory set that collects Series 1 and Series 2. 2018 Topps Baseball Team Sets break things down even further, delivering 17 cards for all 30 MLB teams packaged in a simple hanger pack. There are also separate Standout Sets for both the American League and National League.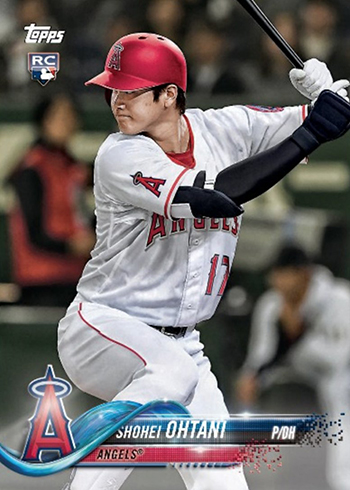 2018 Topps Baseball Team Sets aren't full on transfers of the regular Topps Baseball cards. The design is the same, but they come out before Series 2 arrives. That means different checklists as well. And for some teams, there might even be an exclusive.
Numbering is also different in the 2018 Topps Baseball Team Sets versus their regular counterparts. Each team has a different prefix.
2018 Topps Baseball Team Sets at a glance:
Cards per team set: 17
Release date: February 28, 2018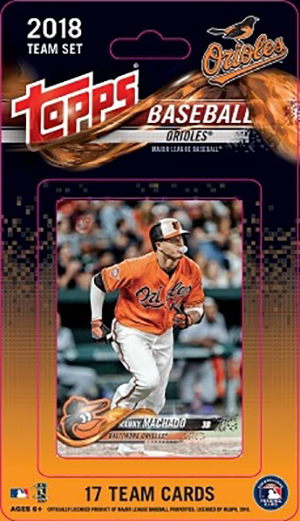 2018 Topps Baseball Team Sets Checklists
Here's a tentative checklist for all of the 2018 Topps Baseball Team Sets.
American League
American League Standouts
AL-1 Aaron Judge, New York Yankees
AL-2 Jose Ramirez, Cleveland Indians
AL-3 Jose Altuve, Houston Astros
AL-4 George Springer, Houston Astros
AL-5 Carlos Correa, Houston Astros
AL-6 Salvador Perez, Kansas City Royals
AL-7 Mookie Betts, Boston Red Sox
AL-8 Chris Sale, Boston Red Sox
AL-9 Michael Brantley, Cleveland Indians
AL-10 Michael Fulmer, Detroit Tigers
AL-11 Dallas Keuchel, Houston Astros
AL-12 Corey Kluber, Cleveland Indians
AL-13 Jonathan Schoop, Baltimore Orioles
AL-14 Gary Sanchez, New York Yankees
AL-15 Mike Trout, Los Angeles Angels
AL-16 Robinson Cano, Seattle Mariners
AL-17 Francisco Lindor, Cleveland Indians
Baltimore Orioles
BO-1 Jonathan Schoop
BO-2 Manny Machado
BO-3 Joey Rickard
BO-4 Celab Joseph
BO-5 Tim Beckham
BO-6 Trey Mancini
BO-7 Adam Jones
BO-8 Kevin Gausman
BO-9 Mark Trumbo
BO-10 Anthony Santander
BO-11 Zach Britton
BO-12 Austin Hays
BO-13 Chris Davis
BO-14 Darren O'Day
BO-15 Dylan Bundy
BO-16 Brad Brach
BO-17 Chance Sisco
Boston Red Sox
RS-1 Andrew Benintendi
RS-2 Mookie Betts
RS-3 Rick Porcello
RS-4 Rafael Devers
RS-5 Hanley Ramirez
RS-6 David Price
RS-7 Mitch Moreland
RS-8 Xander Bogaerts
RS-9 Drew Pomeranz
RS-10 Dustin Pedroia
RS-11 Eduardo Rodriquez
RS-12 Chris Sale
RS-13 Joey Kelly
RS-14 Tessie
RS-15 Jackie Bradley Jr.
RS-16 Craig Kimbrel
RS-17 Christian Vazquez
Chicago White Sox
WS-1 Jose Abreu
WS-2 Matt Davidson
WS-3 Avisail Garcia
WS-4 Yoan Moncada
WS-5 Tim Anderson
WS-6 Gregory Infante
WS-7 Nicky Delmonico
WS-8 Nate Jones
WS-9 Juan Minaya
WS-10 Leury Garcia
WS-11 Lucas Giolito
WS-12 Carson Fulmer
WS-13 James Shields
WS-14 Carlos Rodon
WS-15 Danny Farquhar
WS-16 Welington Castillo
WS-17 Reynaldo Lopez
Cleveland Indians
CI-1 Jose Ramirez
CI-2 Francisco Lindor
CI-3 Andrew Miller
CI-4 Jason Kipnis
CI-5 Carlos Carrasco
CI-6 Josh Tomlin
CI-7 Yan Gomes
CI-8 Danny Salazar
CI-9 Mike Clevinger
CI-10 Roberto Perez
CI-11 Brandon Guyer
CI-12 Corey Kluber
CI-13 Cody Allen
CI-14 Edwin Encarnacion
CI-15 Michael Brantley
CI-16 Trevor Bauer
CI-17 Bradley Zimmer
Detroit Tigers
DT-1 Miguel Cabrera
DT-2 Jose Iglesias
DT-3 James McCann
DT-4 Michael Fulmer
DT-5 Daniel Norris
DT-6 Jordan Zimmermann
DT-7 Buck Farmer
DT-8 Jeimer Candelario
DT-9 JaCoby Jones
DT-10 Victor Martinez
DT-11 Mikie Mahtook
DT-12 Dixon Machado
DT-13 Shane Green
DT-14 Nicholas Castellanos
DT-15 John Hicks
DT-16 Joe Jimenez
DT-17 Mattew Boyd
Houston Astros
HA-1 Jose Altuve
HA-2 Jake Marisnick
HA-3 Josh Reddick
HA-4 Carlos Correa
HA-5 Brad Peacock
HA-6 Charlie Morton
HA-7 Alex Bregman
HA-8 Yulieski Gurriel
HA-9 Justin Verlander
HA-10 Dallas Keuchel
HA-11 Marwin Gonzalez
HA-12 Brian McCann
HA-13 Lance McCullers
HA-14 George Springer
HA-15 Ken Giles
HA-16 Evan Gattis
HA-17 Derek Fisher
Kansas City Royals
KR-1 Salvador Perez
KR-2 Jorge Soler
KR-3 Raul Mondesi
KR-4 Ian Kennedy
KR-5 Cheslor Cuthbert
KR-6 Danny Duffy
KR-7 Drew Butera
KR-8 Brandon Moss
KR-9 Alex Gordon
KR-10 Trevor Cahill
KR-11 Nathan Kerns
KR-12 Jason Hammel
KR-13 Whit Merrifield
KR-14 Kelvin Herrera
KR-15 Mike Moustakas
KR-16 Jorge Bonifacio
KR-17 Eric Hosmer
Los Angeles Angels
A-1 Mike Trout
A-2 Andrelton Simmons
A-3 Yunel Escobar
A-4 J.C. Ramirez
A-5 Matt Shoemaker
A-6 Albert Pujols
A-7 Kole Calhoun
A-8 Martin Maldonado
A-9 C.J. Cron
A-10 Luis Valbuena
A-11 Brandon Phillips
A-12 Justin Upton
A-13 Parker Bridwell
A-14 Zack Cozart
A-15 Garrett Richards
A-16 Ian Kinsler
A-17 Shohei Ohani
Minnesota Twins
MT-1 Byron Buxton
MT-2 Brian Dozier
MT-3 Joe Mauer
MT-4 Eddie Rosario
MT-5 Miguel Sano
MT-6 Ervin Santana
MT-7 Robbie Grossman
MT-8 Jorge Polanco
MT-9 Eduardo Escobar
MT-10 Kennys Vargas
MT-11 Kyle Gibson
MT-12 Jason Castro
MT-13 Jose Berrios
MT-14 Adalberto Mejia
MT-15 Max Kepler
MT-16 Ehire Adrianza
MT-17 Trevor Hildenberger
New York Yankees
NY-1 Aaron Judge
NY-2 Brett Gardner
NY-3 Giancarlo Stanton
NY-4 Aroldis Chapman
NY-5 Gary Sanchez
NY-6 Masahiro Tanaka
NY-7 Dellin Betances
NY-8 CC Sabathia
NY-9 Jordan Montgomery
NY-10 Luis Severino
NY-11 David Robertson
NY-12 Sonny Gray
NY-13 Jacoby Ellsbury
NY-14 Didi Gregorius
NY-15 Aaron Hicks
NY-16 Greg Bird
NY-17 Clint Frazier
Oakland Athletics
OA-1 Khris Davis
OA-2 Bruce Maxwell
OA-3 Jharel Cotton
OA-4 Jed Lowrie
OA-5 Marcus Semien
OA-6 Kendall Graveman
OA-7 Sean Manaea
OA-8 Matt Joyce
OA-9 Stephen Piscotty
OA-10 Matt Chapman
OA-11 Blake Treinen
OA-12 Chad Pinder
OA-13 Santiago Casilla
OA-14 Matt Olson
OA-15 Daniel Mengden
OA-16 Dustin Fowler
OA-17 Josh Phegley
Seattle Mariners
SM-1 Robinson Cano
SM-2 Taylor Motter
SM-3 Jean Segura
SM-4 Dee Gordon
SM-5 Daniel Vogelbach
SM-6 Guillermo Heredia
SM-7 Hisashi Iwakuma
SM-8 Ariel Miranda
SM-9 Edwin Diaz
SM-10 James Paxton
SM-11 Felix Hernandez
SM-12 Mike Zunino
SM-13 Mitch Haniger
SM-14 Ben Gamel
SM-15 Mike Leake
SM-16 Kyle Seager
SM-17 Nelson Cruz
Tampa Bay Rays
TB-1 Kevin Kiermaier
TB-2 Chris Archer
TB-3 Christian Arroyo
TB-4 Corey Dickerson
TB-5 Adeiny Hechavarria
TB-6 Chih-Wei Hu
TB-7 Mallex Smith
TB-8 Matt Duffy
TB-9 Alex Colome
TB-10 Jose de Leon
TB-11 Brad Miller
TB-12 Jesus Sucre
TB-13 Jacob Faria
TB-14 Wilson Ramos
TB-15 Blake Snell
TB-16 Steven Souza Jr.
TB-17 Dan Jennings
Texas Rangers
TR-1 Joey Gallo
TR-2 Adrian Beltre
TR-3 Elvis Andrus
TR-4 Alex Claudio
TR-5 Shin-Soo Choo
TR-6 Rougned Odor
TR-7 Matt Bush
TR-8 Nomar Mazara
TR-9 Jake Diekman
TR-10 Doug Fister
TR-11 Cole Hamels
TR-12 Robinson Chirinos
TR-13 Mike Minor
TR-14 Tony Barnette
TR-15 Willie Calhoun
TR-16 Delino DeShields
TR-17 Martin Perez
Toronto Blue Jays
TJ-1 Josh Donaldson
TJ-2 Kendrys Morales
TJ-3 Kevin Pillar
TJ-4 Justin Smoak
TJ-5 Ryan Tepera
TJ-6 Teoscar Hernandez
TJ-7 Aaron Sanchez
TJ-8 Roberto Osuna
TJ-9 Joe Biagini
TJ-10 Devon Travis
TJ-11 Troy Tulowitzki
TJ-12 Steve Pearce
TJ-13 Russell Martin
TJ-14 Marcus Stroman
TJ-15 J.A. Happ
TJ-16 Aaron Loup
TJ-17 Marco Estrada
National League
National League Standouts
NL-1 Bryce Harper, Washington Nationals
NL-2 Cody Bellinger, Los Angeles Dodgers
NL-3 Charlie Blackmon, Colorado Rockies
NL-4 Buster Posey, San Francisco Giants
NL-5 Daniel Murphy, Washington Nationals
NL-6 Ryan Zimmerman, Washington Nationals
NL-7 Clayton Kershaw, Los Angeles Dodgers
NL-8 Stephen Strasburg, Washington Nationals
NL-9 DJ LeMahieu, Colorado Rockies
NL-10 Michael Conforto, New York Mets
NL-11 Paul Goldschmidt, Arizona Diamondbacks
NL-12 Yadier Molina, St. Louis Cardinals
NL-13 Corey Seager, Los Angeles Dodgers
NL-14 Joey Votto, Cincinnati Reds
NL-15 Justin Turner, Los Angeles Dodgers
NL-16 Max Scherzer, Washington Nationals
NL-17 Nolan Arenado, Colorado Rockies
Arizona Diamondbacks
AD-1 Paul Goldschmidt
AD-2 David Peralta
AD-3 Chris Owings
AD-4 Brandon Drury
AD-5 Jeff Mathis
AD-6 Robbie Ray
AD-7 Zack Godley
AD-8 Jake Lamb
AD-9 J.D. Martinez
AD-10 Nick Ahmed
AD-11 Zack Greinke
AD-12 Shelby Miller
AD-13 A.J. Pollock
AD-14 Taijuan Walker
AD-15 Patrick Corbin
AD-16 Yasmany Tomas
AD-17 Archie Bradley
Atlanta Braves
AB-1 Freddie Freeman
AB-2 Tyler Flowers
AB-3 Dansby Swanson
AB-4 Lucas Sims
AB-5 Nick Markakis
AB-6 Ozzie Albies
AB-7 A.J. Minter
AB-8 Mike Foltynewicz
AB-9 Ender Inciarte
AB-10 John Camergo
AB-11 Brandon McCarthy
AB-12 Julio Teheran
AB-13 Max Fried
AB-14 Charlie Culberson
AB-15 Kurt Suzuki
AB-16 Sean Newcomb
AB-17 Arodys Vizcaino
Chicago Cubs
CC-1 Kris Bryant
CC-2 Ian Happ
CC-3 Anthony Rizzo
CC-4 Kyle Schwarber
CC-5 Jon Lester
CC-6 Mike Montgomery
CC-7 Addison Russell
CC-8 Jose Quintana
CC-9 Javier Baez
CC-10 Jason Heyward
CC-11 Tommy La Stella
CC-12 Brandon Morrow
CC-13 Ben Zobrist
CC-14 Kyle Hendricks
CC-15 Albert Almora Jr.
CC-16 Willson Contreas
CC-17 Carl Edwards Jr.
Cincinnati Reds
CR-1 Joey Votto
CR-2 Homer Bailey
CR-3 Michael Lorenzen
CR-4 Luis Castillo
CR-5 Raisel Iglesias
CR-6 Robert Stephenson
CR-7 Eugenio Suarez
CR-8 Scooter Gennett
CR-9 Scott Schebler
CR-10 Wandy Peralta
CR-11 Jose Peraza
CR-12 Adam Duvall
CR-13 Anthony DeSclafani
CR-14 Tucker Barnhart
CR-15 Billy Hamilton
CR-16 Jesse Winker
CR-17 Brandon Finnegan
Colorado Rockies
CO-1 Nolan Arenado
CO-2 Raimel Tapia
CO-3 Pat Valaika
CO-4 Jon Gray
CO-5 Mike Dunn
CO-6 Charlie Blackmon
CO-7 Kyle Freeland
CO-8 Chad Bettis
CO-9 Gerardo Parra
CO-10 Trevor Story
CO-11 Tony Wolters
CO-12 Tyler Anderson
CO-13 German Marquez
CO-14 Chris Rusin
CO-15 Ian Desmond
CO-16 DJ LeMahieu
CO-17 Adam Ottavino
Los Angeles Dodgers
LD-1 Clayton Kershaw
LD-2 Alex Wood
LD-3 Julio Urias
LD-4 Yasmani Grandal
LD-5 Logan Forsythe
LD-6 Joc Pederson
LD-7 Cody Bellinger
LD-8 Kenta Maeda
LD-9 Hyun-jin Ryu
LD-10 Kenley Jansen
LD-11 Corey Seager
LD-12 Rich Hill
LD-13 Justin Turner
LD-14 Chris Taylor
LD-15 Yu Darvish
LD-16 Matt Kemp
LD-17 Yasiel Puig
Miami Marlins
MM-1 Justin Bour
MM-2 Brian Anderson
MM-3 Wei-Yin Chen
MM-4 J.T. Realmuto
MM-5 Miguel Rojas
MM-6 Martin Prado
MM-7 Adam Conley
MM-8 Dillon Peters
MM-9 Christian Yelich
MM-10 Braxton Lee
MM-11 Derek Dietrich
MM-12 Jose Urena
MM-13 JT Riddle
MM-14 Dan Straily
MM-15 Brad Ziegler
MM-16 Magneuris Sierra
MM-17 Junichi Tazawa
Milwaukee Brewers
MB-1 Ryan Braun
MB-2 Chase Anderson
MB-3 Manny Pina
MB-4 Orlando Arcia
MB-5 Lewis Brinson
MB-6 Jonathan Villar
MB-7 Keon Broxton
MB-8 Brett Phillips
MB-9 Zach Davies
MB-10 Josh Hader
MB-11 Domingo Santana
MB-12 Eric Sogard
MB-13 Travis Shaw
MB-14 Corey Knebel
MB-15 Jimmy Nelson
MB-16 Eric Thames
MB-17 Hernan Perez
New York Mets
NM-1 Michael Conforto
NM-2 Noah Syndergaard
NM-3 Wilmer Flores
NM-4 Juan Lagares
NM-5 Travis d'Arnaud
NM-6 Dominic Smith
NM-7 Matt Harvey
NM-8 Amed Rosario
NM-9 Jerry Blevens
NM-10 Zack Wheeler
NM-11 Yoenis Cespedes
NM-12 Jacob deGrom
NM-13 Jeurys Familia
NM-14 A.J. Ramos
NM-15 Seth Lugo
NM-16 Steven Matz
NM-17 Asdrubal Cabrera
Philadelphia Phillies
PP-1 Rhys Hoskins
PP-2 Odubel Herrera
PP-3 Pat Neshek
PP-4 Cesar Hernandez
PP-5 Cameron Rupp
PP-6 Luis Garcia
PP-7 Maikel Franco
PP-8 Aaron Nola
PP-9 Jorge Alfaro
PP-10 Carlos Santana
PP-11 Tommy Joseph
PP-12 Jerad Eickhoff
PP-13 Hector Neris
PP-14 Vince Velasquez
PP-15 Aaron Altherr
PP-16 Nick Williams
PP-17 J.P. Crawford
Pittsburgh Pirates
PI-1 Josh Harrison
PI-2 Felipe Rivero
PI-3 Trevor Williams
PI-4 Chad Kuhl
PI-5 Ivan Nova
PI-6 Starling Marte
PI-7 Gregory Polanco
PI-8 Jordy Mercer
PI-9 Sean Rodriguez
PI-10 Tyler Glasnow
PI-11 Francisco Cervelli
PI-12 Daniel Hudson
PI-13 Josh Bell
PI-14 David Freese
PI-15 Adam Frazier
PI-16 Jameson Taillon
PI-17 Jose Osuna
San Diego Padres
SP-1 Wil Myers
SP-2 Hunter Renfroe
SP-3 Cory Spangenberg
SP-4 Clayton Richard
SP-5 Erick Aybar
SP-6 Manny Margot
SP-7 Luis Perdomo
SP-8 Jose Pirela
SP-9 Dinelson Lamet
SP-10 Travis Jankowski
SP-11 Brad Hand
SP-12 Travis Wood
SP-13 Robbie Erlin
SP-14 Freddy Galvis
SP-15 Colin Rea
SP-16 Carlos Asuaje
SP-17 Austin Hedges
San Francisco Giants
SG-1 Buster Posey
SG-2 Hunter Strickland
SG-3 Ty Blach
SG-4 Brandon Belt
SG-5 Johhny Cueto
SG-6 Jeff Samardzija
SG-7 Hunter Pence
SG-8 Evan Longoria
SG-9 Jarrett Parker
SG-10 Joe Panik
SG-11 Brandon Crawford
SG-12 Cory Gearrin
SG-13 Pablo Sandoval
SG-14 Mark Melancon
SG-15 Chris Stratton
SG-16 Sam Dyson
SG-17 Gorkys Hernandez
St. Louis Cardinals
SC-1 Yadier Molina
SC-2 Harrison Bader
SC-3 Alex Reyes
SC-4 Kolten Wong
SC-5 Randal Grichuk
SC-6 Dexter Fowler
SC-7 Marcell Ozuna
SC-8 Jedd Gyorko
SC-9 Greg Garcia
SC-10 Jack Flaherty
SC-11 Tommy Pham
SC-12 Matt Carpenter
SC-13 Adam Wainwright
SC-14 Michael Wacha
SC-15 Carlos Martinez
SC-16 Paul DeJong
SC-17 Seung-hwan Oh
Washington Nationals
WN-1 Bryce Harper
WN-2 Anthony Rendon
WN-3 Ryan Madson
WN-4 Gio Gonzalez
WN-5 Adam Eaton
WN-6 Ryan Zimmerman
WN-7 Daniel Murphy
WN-8 Wilmer Difo
WN-9 Stephen Strasburg
WN-10 Sean Doolittle
WN-11 Max Scherzer
WN-12 Tanner Roark
WN-13 Michael Taylor
WN-14 Trea Turner
WN-15 Matt Wieters
WN-16 Eric Fedde
WN-17 Victor Robles
Comments? Questions? Contact Ryan Cracknell on Twitter @tradercracks or by email.