The 2018 Topps Home Run Challenge is the latest evolution of the company's code cards. Like past programs, when a collector finds one of the special cards, it prompts them to hop online and enter the code that's on the back of the card (you need to scratch it to reveal it).
But rather than simply unlocking a buyback card or prognosticating for a chance at a million dollars, this time it's asking collectors to call their shot.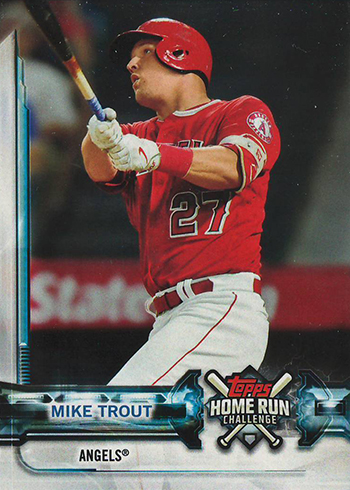 And if you call it right, you get exclusive cards. Just for playing, you could win other prizes including the grand prize–a trip to the 2019 Home Run Derby in Cleveland, Ohio.
2018 Topps Home Run Challenge: How to Play
If you pull a Home Run Challenge insert, the first thing you need to decide is whether you're going to actually use it. Usually Topps code cards are not very exciting as traditional cards. They often look like generic redemption.
These are different. 2018 Topps Home Run Challenge cards look like solid inserts. The front doesn't even look like a contest card.
Once you scratch the card to reveal the card, it loses some of it's collectible appeal as it's no long pack-fresh. Also, potential buyers or trader may being looking to play and once the code is scratched, one would likely assume it's been used.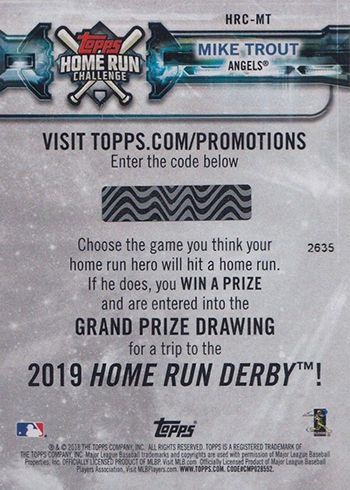 But if you don't scratch it, you can't win.
Decisions, decisions.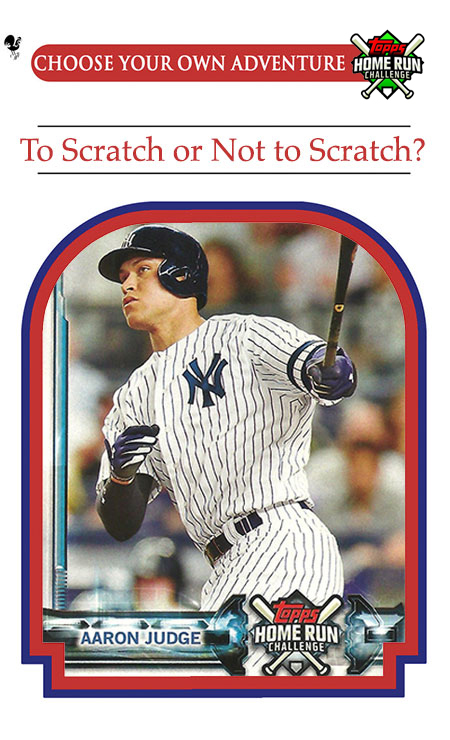 You've decided to scratch. Now go to the Home Run Challenge page and enter that code into the box. If you're asked to fill out registration info, you'll need to do that, too.
Now the real work begins. You need to get out your crystal ball, dig deep in the analytic stats and pick a date the player on your card will hit a home run. Guessing might work, too. You have to pick the day before at the latest.
Simply put, if they hit a homer on the date selected, you win. If they don't, you don't win. It doesn't matter if they went 1-4 with a single, didn't play because they were benched or the game never happened due to rain or swarms of bees. They must hit the home run on the date selected. Those are the rules.
Then you wait until the date arrives. If they don't hit a home run, you've still got your original card, albeit a scratched one. If they do crush one over the fence, you win a special parallel version of the card not available in packs. A new parallel is being created for each month of the promotion. Prize cards also come serial numbered (quantities listed below as they're released).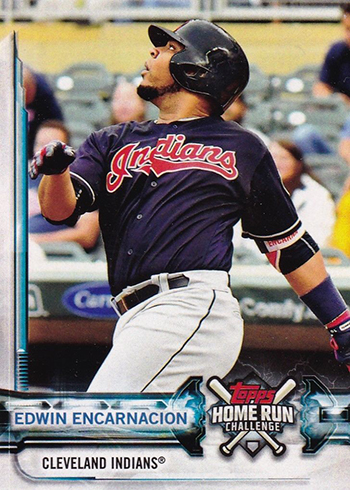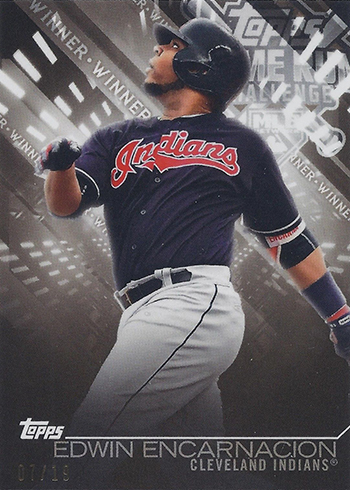 You can only enter and select a date once.
Monthly and Grand Prize Draws
All valid 2018 Topps Home Run Challenge entries, winners or not, are put in a monthly draw for other prizes. Each month from April to September has one winner that gets an autographed baseball, bat or replica jersey of an active player.
For the monthly draws, entries do not carry over from one to the next. So if you played in May, you're in for the May draw and that's it.
However, all entries throughout the season are up for the grand prize for a trip to the 2019 Home Run Derby in Cleveland. This includes air, hotel and a pair of tickets to the event.
Where to Find 2018 Topps Home Run Challenge Cards
2018 Topps Home Run Challenge cards have three waves. The first is in 2018 Topps Series 1 Baseball. 2018 Topps Series 2 and 2018 Topps Allen & Ginter Baseball followed up with more. All content cards are the same in all three products.
Contest cards are available in both hobby and retail packs except for the ones found at dollar stores. They land approximately 1:36 packs.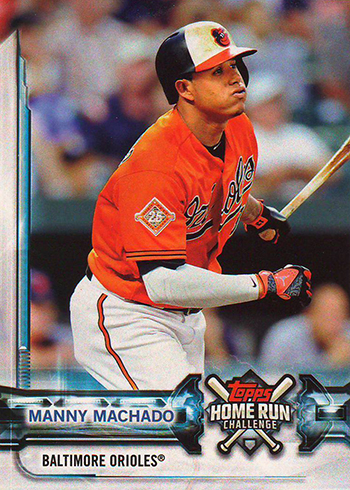 Of course, there's also the secondary market. You might be able to find singles of specific players at your local card shop and online on places like the Beckett Marketplace and on eBay.
2018 Topps Home Run Challenge Checklist
HRC-AD Adam Duvall, Cincinnati Reds
HRC-AE Anthony Rendon, Washington Nationals
HRC-AJ Aaron Judge, New York Yankees
HRC-AM Andrew McCutchen, Pittsburgh Pirates
HRC-AO Adam Jones, Baltimore Orioles
HRC-AR Anthony Rizzo, Chicago Cubs
HRC-BD Brian Dozier, Minnesota Twins
HRC-BH Bryce Harper, Washington Nationals
HRC-CB Cody Bellinger, Los Angeles Dodgers
HRC-CD Corey Dickerson, Tampa Bay Rays
HRC-CL Charlie Blackmon, Colorado Rockies
HRC-EE Edwin Encarnacion, Cleveland Indians
HRC-ET Eric Thames, Milwaukee Brewers
HRC-FF Freddie Freeman, Atlanta Braves
HRC-GA Gary Sanchez, New York Yankees
HRC-GP George Springer, Houston Astros
HRC-GS Giancarlo Stanton, Miami Marlins
HRC-JA Jose Abreu, Chicago White Sox
HRC-JB Jay Bruce, Cleveland Indians
HRC-JC Jonathan Schoop, Baltimore Orioles
HRC-JG Joey Gallo, Texas Rangers
HRC-JL Jake Lamb, Arizona Diamondbacks
HRC-JM J.D. Martinez, Arizona Diamondbacks
HRC-JS Justin Smoak, Toronto Blue Jays
HRC-JU Justin Upton, Los Angeles Angels
HRC-JV Joey Votto, Cincinnati Reds
HRC-KB Kris Bryant, Chicago Cubs
HRC-KD Khris Davis, Oakland Athletics
HRC-LM Logan Morrison, Tampa Bay Rays
HRC-MA Manny Machado, Baltimore Orioles
HRC-MC Michael Conforto, New York Mets
HRC-MD Matt Davidson, Chicago White Sox
HRC-MM Mike Moustakas, Kansas City Royals
HRC-MN Mike Napoli, Texas Rangers
HRC-MO Marcell Ozuna, Miami Marlins
HRC-MR Mark Reynolds, Colorado Rockies
HRC-MS Miguel Sano, Minnesota Twins
HRC-MT Mike Trout, Los Angeles Angels
HRC-NA Nolan Arenado, Colorado Rockies
HRC-NC Nelson Cruz, Seattle Mariners
HRC-PG Paul Goldschmidt, Arizona Diamondbacks
HRC-RO Rougned Odor, Texas Rangers
HRC-RZ Ryan Zimmerman, Washington Nationals
HRC-SC Scott Schebler, Cincinnati Reds
HRC-SS Steven Souza, Tampa Bay Rays
HRC-TM Trey Mancini, Baltimore Orioles
HRC-TS Travis Shaw, Milwaukee Brewers
HRC-WC Willson Contreras, Chicago Cubs
HRC-WM Wil Myers, San Diego Padres
HRC-YA Yonder Alonso, Seattle Mariners
2018 Topps Home Run Challenge Winners List and Print Runs
Here's how many prize cards there are for each month. All redeemed winning cards come serial numbered to the amount shown. Also noted is the color of the parallel for each month.
These lists will be updated as winning cards are sent out and print runs are released.
April
2018 Topps Home Run Challenge April Winners
Please note, these cover games played from the start of the season at the end of March and all of April.
Parallel Color: Silver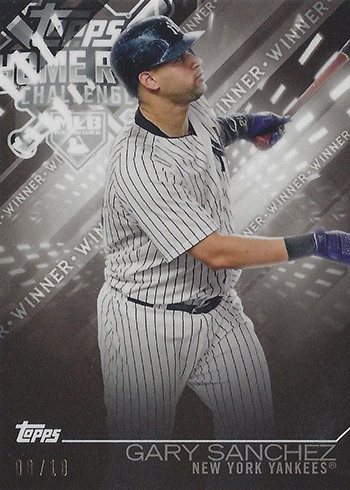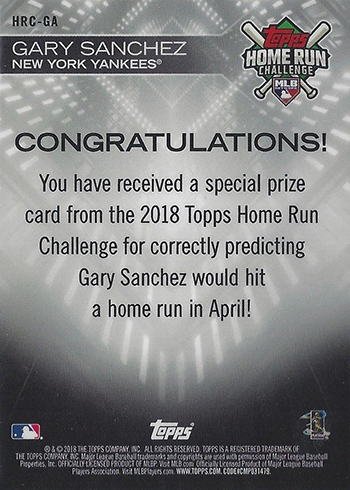 HRC-AD Adam Duvall – /9
HRC-AE Anthony Rendon – /6
HRC-AJ Aaron Judge – /20
HRC-AM Andrew McCutchen – /7
HRC-AO Adam Jones – /15
HRC-AR Anthony Rizzo – /9
HRC-BD Brian Dozier – /23
HRC-BH Bryce Harper – /35
HRC-CB Cody Bellinger – /9
HRC-CD Corey Dickerson – /8
HRC-CL Charlie Blackmon – /22
HRC-EE Edwin Encarnacion – /18
HRC-ET Eric Thames – /25
HRC-FF Freddie Freeman – /21
HRC-GA Gary Sanchez – /18
HRC-GP George Springer – /34
HRC-GS Giancarlo Stanton – /17
HRC-JA Jose Abreu – /15
HRC-JB Jay Bruce – /2
HRC-JC Jonathan Schoop – /3
HRC-JG Joey Gallo – /28
HRC-JL Jake Lamb – 0
HRC-JM J.D. Martinez – /14
HRC-JS Justin Smoak – /7
HRC-JU Justin Upton – /24
HRC-JV Joey Votto – /7
HRC-KB Kris Bryant – /14
HRC-KD Khris Davis – /20
HRC-LM Logan Morrison – /11
HRC-MA Manny Machado – /22
HRC-MC Michael Conforto – 1/1
HRC-MD Matt Davidson – /14
HRC-MM Mike Moustakas – /30
HRC-MN Mike Napoli – 0
HRC-MO Marcell Ozuna – /6
HRC-MR Mark Reynolds – 0
HRC-MS Miguel Sano – /18
HRC-MT Mike Trout – /45
HRC-NA Nolan Arenado – /17
HRC-NC Nelson Cruz – /19
HRC-PG Paul Goldschmidt – /10
HRC-RO Rougned Odor – 0
HRC-RZ Ryan Zimmerman – /8
HRC-SC Scott Schebler – /7
HRC-SS Steven Souza – 0
HRC-TM Trey Mancini – /5
HRC-TS Travis Shaw – /18
HRC-WC Willson Contreras – 0
HRC-WM Wil Myers – /7
HRC-YA Yonder Alonso – /27
May
2018 Topps Home Run Challenge May Winners
Parallel Color: Pink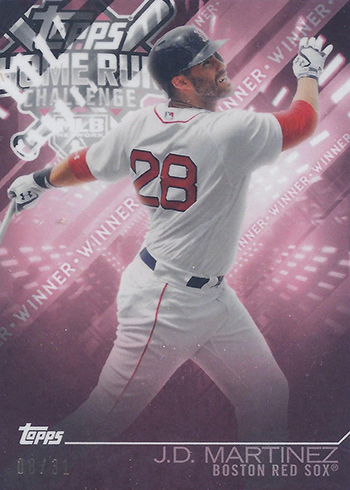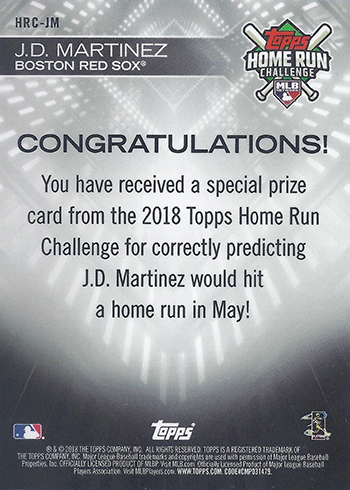 HRC-AD Adam Duvall – /14
HRC-AE Anthony Rendon – /17
HRC-AJ Aaron Judge – /37
HRC-AM Andrew McCutchen – 0
HRC-AO Adam Jones – /14
HRC-AR Anthony Rizzo – /32
HRC-BD Brian Dozier – /11
HRC-BH Bryce Harper – /27
HRC-CB Cody Bellinger – /11
HRC-CD Corey Dickerson – /2
HRC-CL Charlie Blackmon – /8
HRC-EE Edwin Encarnacion – /15
HRC-ET Eric Thames – 0
HRC-FF Freddie Freeman – /15
HRC-GA Gary Sanchez – /11
HRC-GP George Springer – /8
HRC-GS Giancarlo Stanton – /13
HRC-JA Jose Abreu – /6
HRC-JB Jay Bruce – 0
HRC-JC Jonathan Schoop – /14
HRC-JG Joey Gallo – /10
HRC-JL Jake Lamb – 0
HRC-JM J.D. Martinez – /31
HRC-JS Justin Smoak – /8
HRC-JU Justin Upton – /31
HRC-JV Joey Votto – /3
HRC-KB Kris Bryant – /14
HRC-KD Khris Davis – /22
HRC-LM Logan Morrison – /8
HRC-MA Manny Machado – /21
HRC-MC Michael Conforto – /14
HRC-MD Matt Davidson – /3
HRC-MM Mike Moustakas – /11
HRC-MN Mike Napoli – 0
HRC-MO Marcell Ozuna – /2
HRC-MR Mark Reynolds – /5
HRC-MS Miguel Sano – /4
HRC-MT Mike Trout – /28
HRC-NA Nolan Arenado – /21
HRC-NC Nelson Cruz – /9
HRC-PG Paul Goldschmidt – /9
HRC-RO Rougned Odor – 0
HRC-RZ Ryan Zimmerman – 1/1
HRC-SC Scott Schebler – /2
HRC-SS Steven Souza – 0
HRC-TM Trey Mancini – /22
HRC-TS Travis Shaw – /22
HRC-WC Willson Contreras – /11
HRC-WM Wil Myers – 0
HRC-YA Yonder Alonso – /5
June
2018 Topps Home Run Challenge June Winners
Parallel Color: Blue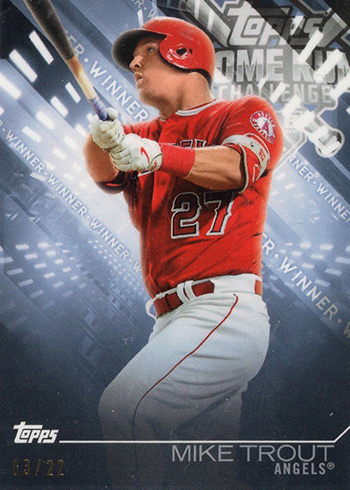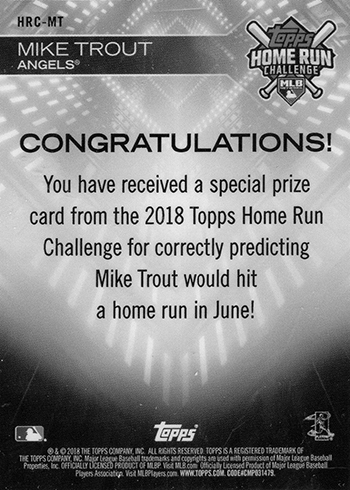 HRC-AD Adam Duvall – /7
HRC-AE Anthony Rendon – /23
HRC-AJ Aaron Judge – /26
HRC-AM Andrew McCutchen – /20
HRC-AO Adam Jones – /3
HRC-AR Anthony Rizzo – /22
HRC-BD Brian Dozier – /11
HRC-BH Bryce Harper – /17
HRC-CB Cody Bellinger – /30
HRC-CD Corey Dickerson – 0
HRC-CL Charlie Blackmon – /15
HRC-EE Edwin Encarnacion – /14
HRC-ET Eric Thames – /26
HRC-FF Freddie Freeman – /18
HRC-GA Gary Sanchez – /7
HRC-GP George Springer – /20
HRC-GS Giancarlo Stanton – /33
HRC-JA Jose Abreu – /12
HRC-JB Jay Bruce – 1/1
HRC-JC Jonathan Schoop – /14
HRC-JG Joey Gallo – /15
HRC-JL Jake Lamb – /22
HRC-JM J.D. Martinez – /31
HRC-JS Justin Smoak – /14
HRC-JU Justin Upton – /26
HRC-JV Joey Votto – /13
HRC-KB Kris Bryant – /3
HRC-KD Khris Davis – /11
HRC-LM Logan Morrison – /13
HRC-MA Manny Machado – /24
HRC-MC Michael Conforto – /14
HRC-MD Matt Davidson – /14
HRC-MM Mike Moustakas – /25
HRC-MN Mike Napoli – 0
HRC-MO Marcell Ozuna – /23
HRC-MR Mark Reynolds – /4
HRC-MS Miguel Sano – 0
HRC-MT Mike Trout – /25
HRC-NA Nolan Arenado – /51
HRC-NC Nelson Cruz – /27
HRC-PG Paul Goldschmidt – /39
HRC-RO Rougned Odor – /22
HRC-RZ Ryan Zimmerman – 0
HRC-SC Scott Schebler – /13
HRC-SS Steven Souza – 0
HRC-TM Trey Mancini – /13
HRC-TS Travis Shaw – /4
HRC-WC Willson Contreras – /10
HRC-WM Wil Myers – /7
HRC-YA Yonder Alonso – /9