2018-19 Basketball Cards Release Dates, Checklists and Set Information
Looking for an easy-to-use hub for everything 2018-19 basketball cards? This is it. You'll find set information, release dates, checklists, price guide access and lots more — all just a click away.
Below is a full 2018-19 basketball card release calendar and related set information. Upcoming releases are at the top, arranged by release date.
Once sets are released, they'll be found by clicking on a tab at the top (sorted alphabetically).
Bookmark this page and check back regular as this calendar will be updated regularly with new sets, price guide access and additional information. Basically, it's a hub for all you need in one convenient place for those collecting or even just curious about 2018-19 basketball cards.
Full 2017-18 basketball card coverage can be found here.
2018-19 Basketball Cards: What to Expect
Panini continues to hold the exclusive for NBA basketball cards. This is their tenth year with the license. Rittenhouse still has a deal for WNBA cards, although it's limited in scope.
DeAndre Ayton, Trae Young and Luka Doncic are among the standouts as far as 2018-19 basketball rookies go.
Upcoming Products
Upcoming 2018-19 Basketball Card Release Dates and Product Information
Release dates are subject to change (and often do).
2018-19 Panini Immaculate Collection Basketball
Release Date: August 28, 2019
Buy on eBay: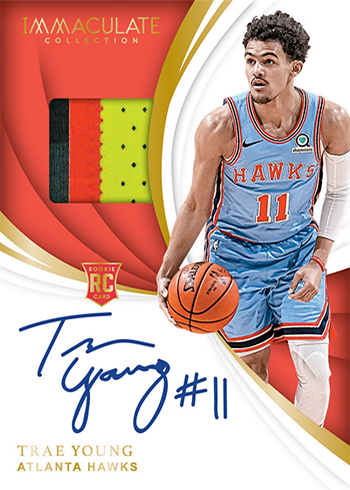 ---
Already Released
2018-19 Basketball Cards Archive
The following is a list of 2018-19 basketball card sets that have already been released. They're arranged alphabetically.
---
---
---
---
---
---
---
---
---
---
---
---
---
---
---
---
---
---
---
---
---
---
---
---
---
---
---
---
---
---