Much Love for Wrestling at The National
The National Sports Collectors Convention appeals to fans of every taste.
That includes wrestling.
Like baseball cards, wrestling has been a staple in American culture for some time. But it really started to boom in popularity in the 1980s.
Larger than life figures such as Hulk Hogan, Andre the Giant, Iron Sheik, Ric Flair, Randy Savage and Ricky Steamboat captivated audiences.
We are still feeling that affect today.
Ric Flair was part of the Panini VIP Party Saturday night. He is still considered a mainstream cultural figure, as is Hulk Hogan, who was a popular autograph guest on Saturday.
There are several wrestling displays at this year's event, and it's hard not to be drawn to the Memorabilia Expert — and not just because it is roughly in the center of the show. It sticks out thanks to an extensive Roddy Piper collection.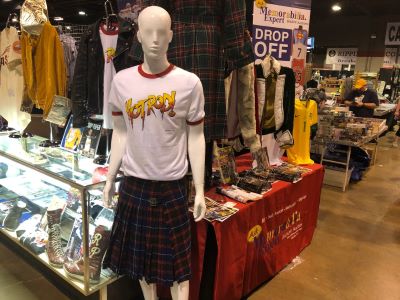 Piper was one of the sport's most recognizable stars. He is a member of the WWE Hall of Fame and considered one of the best villains of all time.
Piper's trademarks were his kilt, which personified his "Scottish rage," his "Hot Rod" T-shirts and leather jacket. Those items, in addition to his boxing shoes that he wore and several other items, can be found at the ME booth.
The items come directly from Piper's estate and have never been displayed before. He died in 2015.
"He was very humble in what he allowed his character to do," said Kieta, Authentications and Acquisitions CEO. "People adored him."
Kieta, whose company is based in Las Vegas, hopes the items further Piper's legacy as a great wrestler and entertainer.
The wrestling excitement from the 1980s has turned into prevalent nostalgia. The men in the ring were like superheroes.
"People go wild," Kieta said. It was exciting, much more visual and fun. The performance element to create characters, it's different from regular sports."
Art and the Artist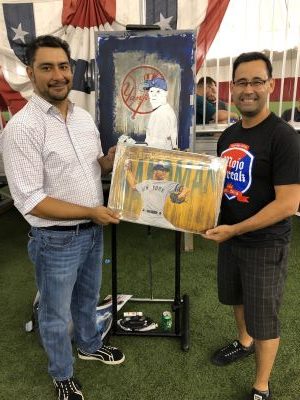 Among all the game-used jerseys and signed memorabilia at The National are paintings.
The artwork varies by style, but many have the life-like feel to them. Each tells a story and reflects the artist. It's more personal than a baseball card or a photograph. These pieces were made with the perfect blend of time, dedication and talent.
Notice how the artist often has a more open display. He or she will stand almost away from the art. It's a way of welcoming the patron into their work. It makes them feel part of the art.
After all, dropping $1,200 for a painting is a different experience than $25 for a card.
"I always introduce myself to people who come, said Ike Rodriguez, who manages operates his self-named art – Ike's Art Studio. "Dealers just have to be dealers. Someone likes a card so they buy it. Art is more personal. It's important for people to know me, know my story and how hard I work."
Getting into and succeeding in a niche market is not easy. Rodriguez, who is in his first year as a full-time artist after being part time since 2010, compared it being in a band. You have to get your first gig, start small and grow, he said.
"When they buy a painting, they are collecting you as well," Rodriguez said. "Because when I am gone, these are my legacy. They are going to look at the painting and say, 'I knew him.' That's important."
TRISTAR Autograph schedule
Alan Trammell, 10:30 a.m.
Jack Youngblood, 10:30 a.m.
Tony LaRussa, 10:45 a.m.
Roger Clemens, 11 a.m.
Josh Hamilton, 11 a.m.
Lou Piniella, 11 a.m.
Rick Reuschel, VIP, 11 a.m.
William Shatner, 11 a.m.
Bob Hamelin, VIP, 11:15 a.m.
Barry Larkin, 11:15 a.m.
Kevin Greene, 11:30 a.m.
Robin Yount, 11:30 a.m.
Christian Laettner, 11:45 a.m.
Patrick Renna, noon
Julius Erving, 12:30 p.m.
Vladimir Guerrero, 12:30 p.m.
Paul Molitor, 12:45 p.m.
Ivan Rodriguez, 1 p.m.
Hope Solo, 1 p.m.
Jerry Kramer, 1:15 p.m.
Thurman Thomas, 1:15 p.m.
Dan Hampton, 1:30 p.m.
Bob Lilly, 1:30 p.m.
Rafael Palmeiro, 2 p.m.
Dwight Smith, VIP, 2 p.m.
Joe Theismann, 2 p.m.