Ron Kittle Enjoys Being Part of the Hobby
Ron Kittle does a lot of signings, and it's clear why after spending only a few minutes with him.
Kittle, the 1983 American League Rookie of the Year, has an appreciation for baseball and its fans. He knows well the hobby brings them together.
"It's all fun," Kittle said. "I take pride in my signature. I like it when fans say, 'thank you.'"
Kittle, who was signing autographs as part of Beckett Night at the Ballpark on Thursday night, has an impressive collection of his own. After 10 seasons as a major leaguer and years since as an ambassador for the Chicago White Sox, he has more than 6,000 autographed baseballs, 1,200 game-used and signed bats and numerous game-used jerseys. At one time it filled up a 60×60 structure at his residence.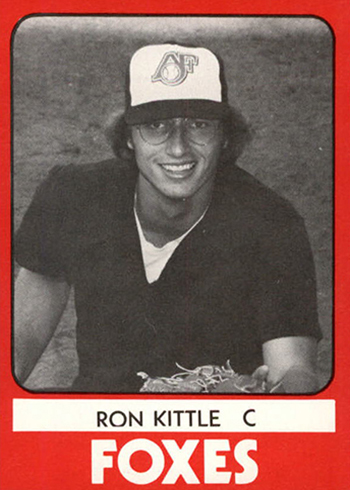 He still gets mailed boxes of cards and other memorabilia. He almost always signs and returns them. The exceptions are when somebody mails him constantly with high-volume items.
"You got too greedy," he will write back.
Sometimes he is offered payment for his signature. He'll often turn it down and instead ask for a donation to his charity. On a recent trip to Cooperstown, he was having coffee on Main Street at 4:30 a.m. A fan offered $40 for a pair of signatures. Kittle signed them and asked for a donation to his charity instead. The fan donated $60.
In fact, he will only sign his 1984 Topps (late release) card in exchange for a $25 donation.
"(Raising money for a good cause), making people smile is what it's about," Kittle said. "That and a good Sharpie."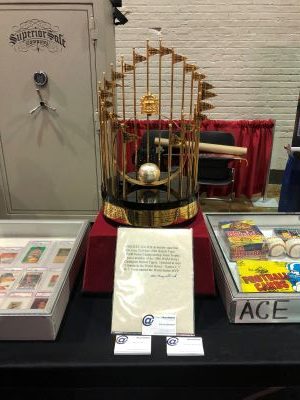 Table topper
Sitting on a table at Booth 1121 is a 1968 World Series trophy, won by the Detroit Tigers in seven games vs. the St. Louis Cardinals.
For winning three games (1.67 ERA) and pioneering the Tigers to a 3-1 series comeback, Mickey Lolich won the World Series MVP Award.
As part of the recognition of his Herculean effort, the organization gifted Lolich a championship trophy the size of the team's award. Most teams give all players the same trophy that's a smaller version of the pennant-style award. It is believed the Tigers are one of the few champions to gift a full-sized trophy.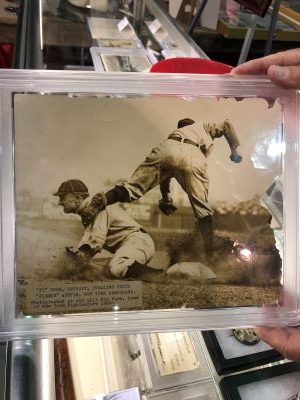 Gritty Original
The image that best captures the Ty Cobb's diamond prowess is the sports photographer Charles Conlon piece that sees The Georgia Peach sliding into third base. Dirt is flying and his teeth are gritted as he avoids the tag by Jimmie Austin of the New York Highlanders. The photo, from 1909, has been replicated several times. But here is a photo taken from the original negative (called "Type 1") that was produced by the camera soon after the image was shot. It recently sold at auction for $250,000.
"It's truly an incredible price for an original photograph," said J.P. Cohen, president of Memory Lane Inc. in a press release. "Our collector really wanted that photo and we were more than happy to facilitate the sale."
Meet Rick Harrison
You, plus one guest, can win a meet-and-greet with Harrison. The rules are simple.
Post a selfie of you in front of the Beckett Media booth and tag Beckett Media, Beckett Grading, Beckett Authentication Services and Pawn Stars on History with the hashtag #MeetRickHarrison.
Must post by 6 p.m. Saturday, Aug. 3, and winners must be attending the National on Sunday.
Three randomly selected winners (plus one guest each) will meet Rick 11:30 a.m. Sunday for photos and autographs (if time allows) at the Beckett booth.
Good Luck!
TRISTAR Thursdays autographs
Moises Alou 10:45 a.m.
Jim Perry 10:45 a.m. VIP
Roberto Alomar 11 a.m.
Jeff Bagwell 11 a.m.
Craig Biggio 11:00 a.m.
Jim Craig 11:15 a.m.
Jim Lefebvre 11:15 a.m. VIP
Harold Baines 11:30 a.m.
Jack McDowell 11:30 a.m. VIP
Edgar Martinez noon
Patrick Renna noon
Dennis Rodman 12:45 p.m.
Dwight Gooden 1 p.m.
Bruce Sutter 1 p.m.
Ozzie Smith 1:15 p.m.
Elvin Hayes 2 p.m.
Bill Wennington 2 p.m. VIP
Marcel Dionne 2:15 p.m. VIP
Allen Iverson 2:15 p.m.
Lee Smith 2:15 p.m.
Wade Boggs 2:30 p.m.
Phil Esposito 2:45 p.m.
Brett Hull 3:00 p.m.
Chris Chelios 3:15 p.m.
Bobby Hull 3:30 p.m.
Jim Rice 4 p.m.