If you collect cards, there's a lot of information to keep track of. 2018 football cards release dates, checklists, easy price guide access and set information are all here and just a click away.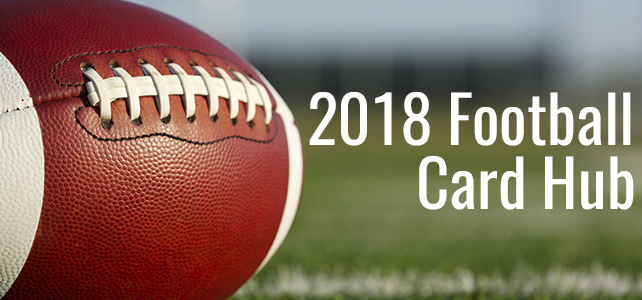 Below is a full 2018 football cards release calendar and related set information. Upcoming releases are at the top, arranged by release date.
Once sets are out, they'll be found by clicking on a tab at the top (sorted alphabetically).
Bookmark this page and check back regularly as this calendar will be updated with new sets, price guide access and additional information. Basically, it's a hub for all you need in one convenient place for those collecting or even just curious about 2018 football cards.
2018 Football Cards: What's In Store?
For the third consecutive year, Panini holds the exclusive NFL and NFLPA licenses. This means that they're the only company that can use NFL logos and trademarks. It also means they're the only company that can picture current players in any sort quantity.
Panini holds a similar exclusive with virtually every major college. That means both full college football releases as well as some NFL sets where players are pictured in their school uniforms. This is particularly prevalent in early 2018 football card releases for rookies where the release date is before or immediately following the draft.
Just because Panini has exclusives doesn't mean other companies aren't producing football cards. Leaf and SAGE both have a small portfolio of draft sets that highlight the year's rookies. These are often heavy on autographs.
Heading into the season, quarterbacks play a key role when it comes to 2018 football cards and RCs. These include Baker Mayfield, Josh Allen, Sam Darnold, Josh Rosen and Lamar Jackson. Saquon Barkley, the second overall pick by the New York Giants, is also popular as far as early Rookie Cards go.
We've also got a similar calendar and information for 2017 football card releases.
Upcoming Products
Upcoming 2018 Football Card Release Dates and Product Information
Release dates are subject to change (and often do).
---
---
---
---
Already Released
2018 Football Cards Archive
Here's a list of 2018 football card sets that have already been released. They're arranged alphabetically.
---
---
---
---
---
---
---
---
---
---
---
---
---
---
---
---
---
---
---
---
---
---
---
---
---
---
---
---
---
---
---
---
---
---
---
---
---
---
---
---
---
---
---
---
---
---
---
---
---
---
---