It's big. It's colorful. Part retro but very much modern. It's 2019 Donruss Football.
The product delivers a wide variety of card types including a sizeable base set, lots of parallels and a broad mix of inserts that range from the relatively common to the downright tough. Autographs and memorabilia cards are also in the mix with one of each in every hobby box.
2019 Donruss Football Base Set Basics
The main part of the checklist has a total of 350 cards. Veterans make up a 250-card shell set. In addition to these are 50 Rookies (12 per hobby box) and 50 Rated Rookies (six per hobby box).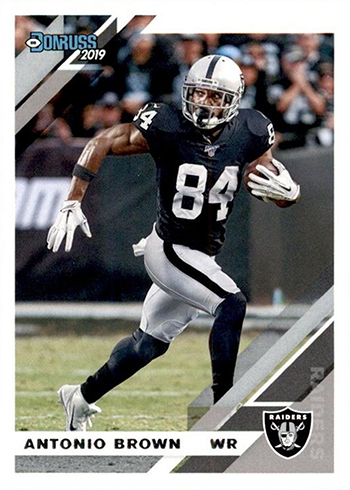 Collectors will find approximately a dozen parallels in every 18-pack hobby box. Among them are Rated Rookie Aqueous Test, Jersey Number (/99 or less) and Rated Rookie Canvas.
Variations are also part of 2019 Donruss Football. These have different photos and fall about one per box.
Autographs, Memorabilia Cards and Other Inserts
Retro 1999 inserts, a hobby exclusive, take it back 20 years with their design. Select cards also have autograph versions (/25 or less).
The Super Bowl Champion New England Patriots get a dedicated insert set with The Champ Is Here. The checklist features 20 cards as well as hobby-exclusive autographs (/49 and under).
The distinct Downtown! cards come to Donruss and feature some retired stars. They're among a handful of short print inserts in 2019 Donruss Football. Downtown! combine with Rated Rookies Premium, Nicknames and Team Supreme to land just one per hobby case.
Other inserts include All-Time Gridiron Kings, Action All-Pros and Power Formulas, which center on players valuable to their respective team's success. Signature versions are available for both Action All-Pros (/25 or less) and Power Formulas (/49 or less).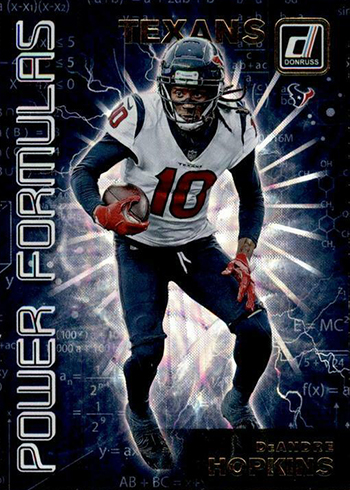 Jersey Kings, Leather Kings, All Pro Kings and Canton Kings are among the memorabilia offerings in 2019 Donruss. In addition to their basic swatch versions, these also have scarce autographs.
2019 Donruss Football cards at a glance:
Cards per pack: 10
Packs per box: 18
Boxes per case: 18
Set size: 350 cards
Release date: August 7, 2019
Shop for 2019 Donruss Football boxes on eBay:
What to expect in a hobby box:
Autographs – 1
Memorabilia Cards – 1
Inserts – 42
Parallels – 12
Rookies and Rated Rookies – 18
2019 Donruss Football Checklist
Base
Variations
Autographs
Memorabilia
Inserts
Team Sets