"Still Can't Believe This Is Happening" – Babe Ruth Card Found in a Piano Closes in on $100K
With two days remaining in auction, the 1916 M101-4 Babe Ruth card found in a piano is approaching the $100,000 mark.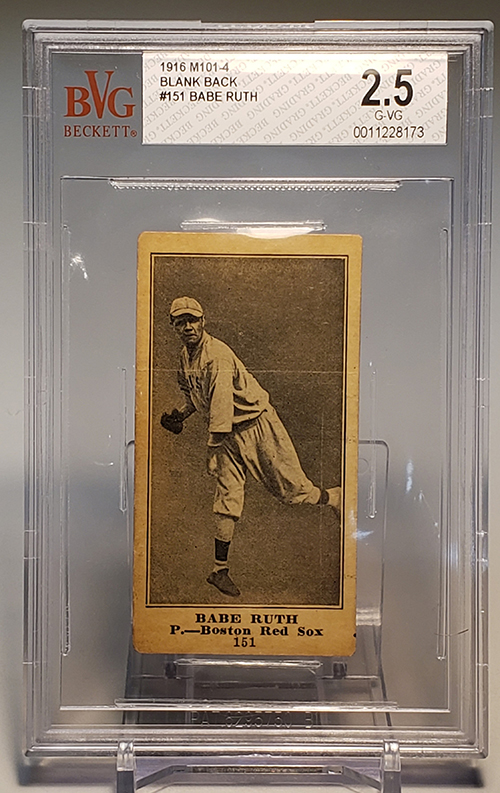 And the card's consigner, Ellen Kelly of Maryland, is still in a bit of disbelief that the piece of cardboard found in the pedals of a family piano she purchased for $25 could very well top six figures. The Goodwin Auctions Masterpieces and Uncommon Commons 78 Auction closes Thursday.
The blank-back Ruth card is graded a BVG 2.5 G-VG.
"This [auction] is a good thing," Kelly told Beckett Vintage Collector. "But I still can't believe this is happening to me."
The Ruth card was one of several different cards found at the same time in the piano. The piano had been in Kelly's family for several years, and when she had the chance to buy it for $25 she jumped at the chance. When she discovered the piano needed tuning, the man tasked with the job found the cards.
Then she began to hear how valuable they could be. At one point, Ellen lay wide awake in bed with the cards in a box right next to her, afraid to keep them around the house. She placed them in a safe deposit box the next day, telling the woman at the bank that her package contained only "some stuff found in a piano."
Years later, when a family member who owned the safe deposit box passed away, Ellen took possession of the cards again and this time placed them in a container in her kitchen where they sat for several years. It wasn't until family friend Larry Waybright ran into Kelly at a Walmart and asked about the cards, that the sale began to move forward.
"Larry's brother, Jerry, was a dear friend and over the years he kept telling me he wanted to get the cards appraised before he died," Kelly said. "But he died [in 2017] before he could do it."
Before he passed away, however, Jerry told Ellen that Larry could be trusted to get the cards appraised. That was enough for Ellen, so when she ran into Larry and he told her to "get me the cards." The two made plans to turn over the Ruth and several other M101-4 cards — more than 80 including several Hall of Famers — to Larry to get graded and sold in auction.
When she turned the cards over to Larry, he was wide-eyed. "This is absolutely amazing," he told her.
The cards were turned over to Beckett Vintage Grading and eventually Goodwin Auctions.
"I've had several people over the years offer to buy the cards," Kelly said. "I just didn't think that was something I should do."
Kelly is 64 and says she's wanting to retire soon. She's been taking care of others for so many years and she's looking forward to just taking care of herself. "Maybe this will help me retire," she says of the auction.
"This whole thing has been crazy," she added. "But I'm good."