2018 Panini Unparalleled Football Checklist, Team Set Lists and Details
2018 Panini Unparalleled Football expands of some of the concepts introduced in 2017. For starters, the wide-ranging parallels return throughout the product, highlighting popping foil patterns over the more traditional color route.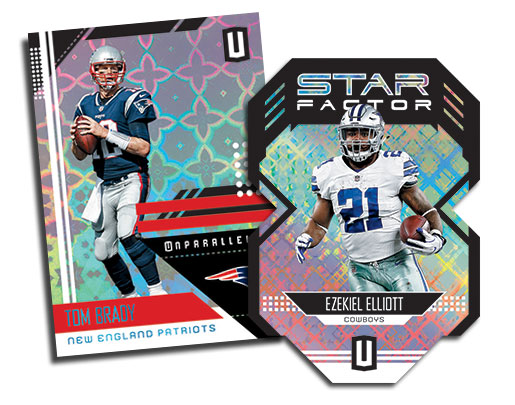 Also, the checklist covers a lot players who are often overlooked when it comes to football cards. This means Rookie Cards for dozens of veterans making their hobby debuts.
2018 Panini Unparalleled Football Base Set and Parallels
The 2018 Panini Unparalleled Football main set may not be the biggest of the year, but at 300 cards, it's not small either. It's divided into two sections starting with 200 veterans. And while all of these players enter 2018 with at least a season of NFL experience under their belt, over 60 players are getting their first Rookie Cards. This follows a similar path as 2017 Unparalleled, which opted to focus on overlooked players as well.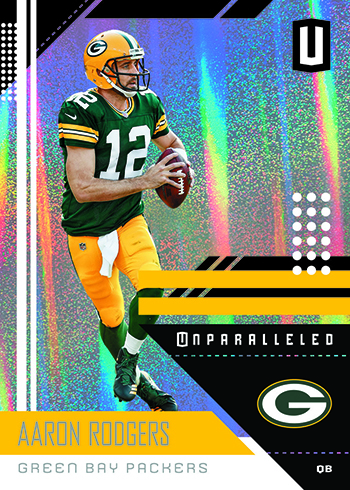 The final 100 cards are all rookies making their NFL debuts in 2018.
Unparalleled gets its name from its bold looks and flashy patterns. It's not about a lack of parallels among the cards themselves. In fact, the product has lots of them. Rather than going with colors, Unparalleled parallels are noted by their different backgrounds.
They start with Flight (1:3 packs each for veteran base and rookies) and Shine (1:5). The only other parallels that aren't numbered are Galactic. That said, they're not among the most common. These  combine to land approximately one per case.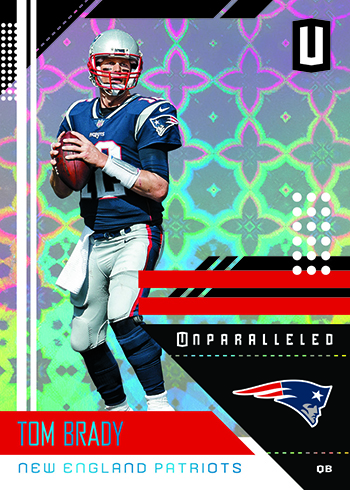 Continuing down the parallel trail are seven tiers of numbered versions: Astral (/200), Superplaid (/150), Whirl (/100), Impact (/75), Hyper (/25), Fireworks (/5), and Burst (1/1).
Autographs and Memorabilia Cards
Every 2018 Panini Unparalleled Football hobby box has three total hits, two autographs and one memorabilia card.
Available for select players, Rookie Signatures (1:20 packs) take the same general design as the base set Rookies and add an autograph. Parallels are limited to Hyper (/25 or less), Fireworks (/5 or less) and Burst (1/1).
Rookie Jersey Autographs take a combined approach with the bright foil backgrounds helping them stand out from similarly built cards in other products. Parallel versions include Impact (/75 or less), Hyper (/25 or less), Fireworks (/5 or less) and Burst (1/1).
Autographs from veteran and retired players are available in a couple of 2018 Panini Unparalleled Football inserts. Veterans are part of Star Signatures, which have no more than 99 copies each. Parallels are significantly tougher: Impact (/20 or less), Hyper (/10 or less), Fireworks (/5 or less), and Burst (1/1).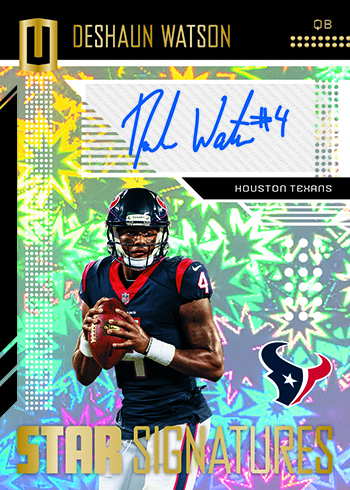 Pioneer Penmanship covers greats from the 1950s through to the '90s. Base versions are numbered to 99 or less. Parallels come in four levels that range from a maximum of 50 copies down to one-of-ones.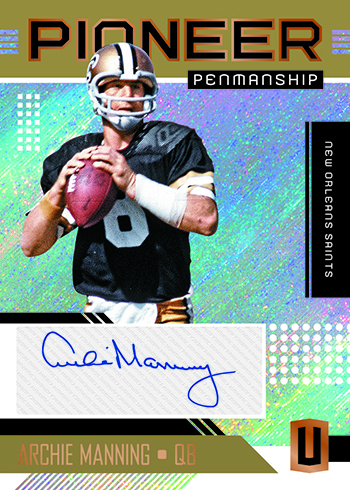 Among the product's memorabilia offerings are Victorious, High Flyers and Bright Futures. All three have parallels on top of their regular cards.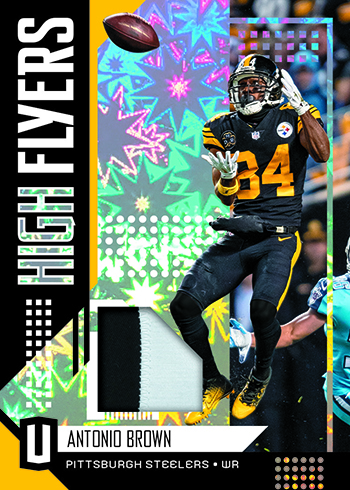 Inserts
2018 Panini Unparalleled Football has a few regular insert sets on the checklist as well.
Star Factor is a ten-card set that's considered a short print compared to other chase cards. These have Whirl (/100), Hyper (/25) and Burst (1/1) parallels.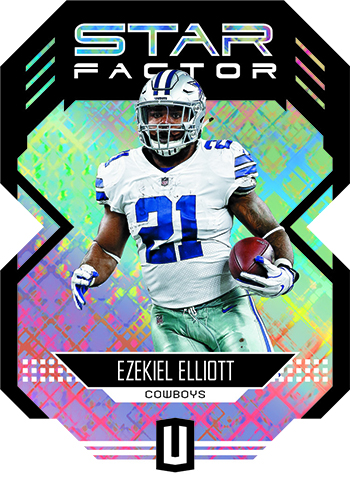 Bright Futures and High Flyers both have basic insert versions in addition to the more premium memorabilia takes. Parallels for both of these are Astral (/200), Whirl (/100), Hyper (/25) and Burst (1/1).
2018 Panini Unparalleled Football at a glance:
Cards per pack: 8
Packs per box: 8
Boxes per case: 16
Set size: 300 cards
Release date: August 15, 2018
What to expect in a hobby box:
• Autographs – 2
• Memorabilia Cards – 1
• Numbered Parallels – 7
2018 Panini Unparalleled Football Checklist
Base
Autographs
Memorabilia
Inserts
Team Sets