2018 Panini Flawless Football continues to carry the luxury-level mantle the brand has shown since its debut several years ago. What does that translate into? Low-numbered cards where nothing has more than 25 copies, lots of autographs and premium patches, gem-embedded cards and several tough, big-name signatures.
Boxes come with ten cards. Of those, six are autographs. The remaining four are split evenly between memorabilia and gem cards.
2018 Panini Flawless Football Gem Cards
Diamonds and other gems are the big draw of the 2018 Panini Flawless Football base cards. It's one of the brand's defining characteristics. Embedded into the card and displayed on the front, parallels include Sapphire (/15), Diamond (/10), Emerald (/5), Chocolate Diamond (/4), Canary Yellow Diamond (/3) and Platinum (1/1).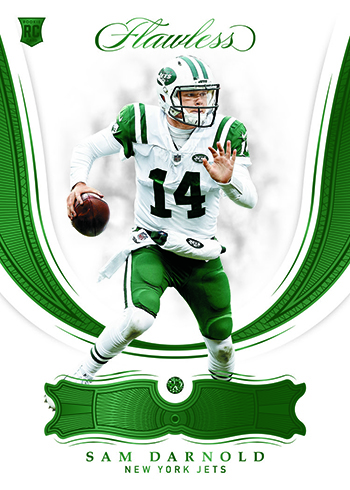 Gems are found in other parts of the product as well. Following past years' team-focused sets, the Chicago Bears, Denver Broncos, Kansas City Chiefs, New York Giants and Philadelphia Eagles all get special cards with blinged out logos.
MVPs is a new gem insert for 2018 Panini Flawless Football.
Super Bowl Gems are book cards that have a diamond-highlighted Super Bowl logo on one side alongside autographs from either Tom Brady or Aaron Rodgers. Both cards are one-of-ones.
Autographs
Save for cut signatures, all 2018 Panini Flawless Football autographs are on-card. And like much of the set, signers mix young players, current stars and ones from the past.
Rookie Patch Autographs (/25) are one of the combinations that can translate to a lot of products. Here, the swatches are on the large side and print runs are small. Besides the main versions, there are Silver (/20), Ruby (/15), Sapphire (/10), Emerald (/5) and Platinum (1/1) parallels.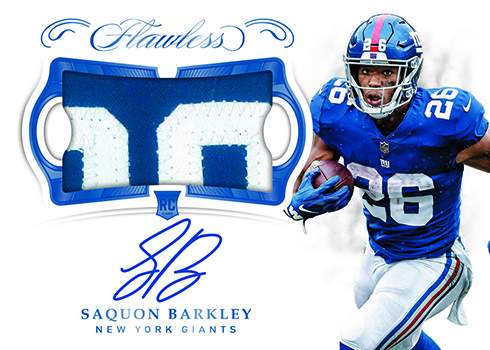 Rookie Dual Patch Autographs (/25) keep a similar format only with a pair of premium pieces instead of one. Parallel levels match the Rookie Patch Autographs.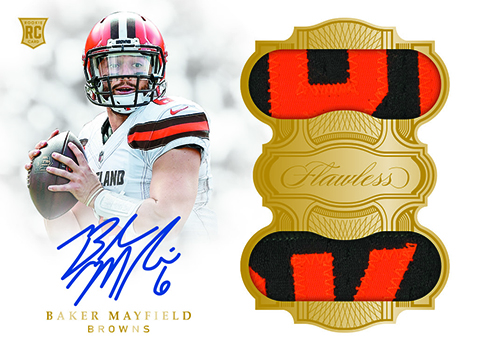 Patch Autographs (/25 or less) highlight NFL vets. Like the rookie version, swatches are large. Parallels can be found in Silver (/20 or less), Ruby (/15 or less), Sapphire (/10 or less), Emerald (/5 or less) and one-of-one Platinum.
Other autographed memorabilia themes in 2018 Panini Flawless Football include Laundry Tag Signatures and Star Swatch Signatures (/25 or less).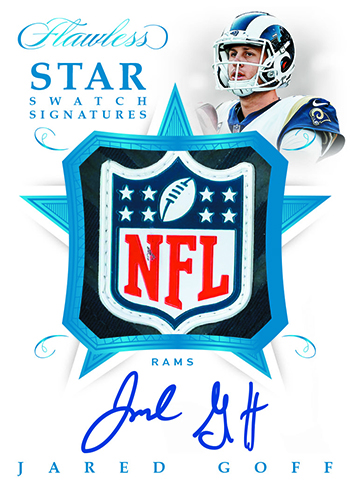 On top of these are booklets that offer larger memorabilia pieces along with autographs. Veterans and Rookies both have separate checklists, all limited to ten copies or less. Parallels feature things like logos, nameplate letters and shields.
Not all autographs have memorabilia with them. Career Progressions (/25 or less) highlight players and the various uniforms they've worn over the years.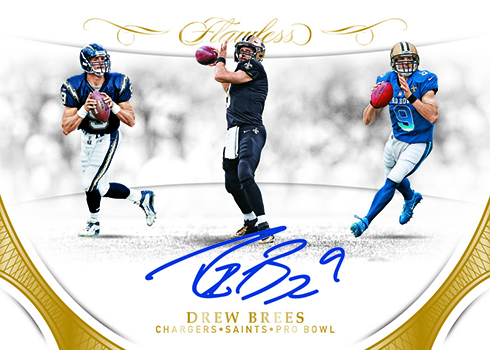 Cut Signatures are randomly inserted in the product. Among the autographs found on these are Walter Payton, Reggie White, Pat Tillman and Derrick Thomas.
2018 Panini Flawless Football cards at a glance:
Cards per pack: 10
Packs per box: 1
Boxes per case: 2
Set size: 175 cards
Release date: April 19, 2019
What to expect in a hobby box:
Autographs – 6
Memorabilia Cards – 2
Gem Cards – 2
2018 Panini Flawless Football Checklist
Base
Autographs
Memorabilia
Gem Inserts
Updates
Team Sets