2018 Panini Playbook Football is making a return after taking a year off. And this time, it comes with some changes. As the name implies, book cards remain a big focus. But there have been some changes, both in the cards themselves and how they're being distributed.
The hobby edition of 2018 Panini Playbook Football brings a lot of the high-end sizzle. However, there's also a retail component that compliments hobby to tell the entire Playbook story.
2018 Panini Playbook Football hobby boxes are only hits. They come with four cards, one of which is guaranteed to be a booklet. Retails adds the base portion along with parallels, inserts and some additional autographs and memorabilia.
2018 Panini Playbook Football – Hobby
Rookie Playbook Jersey Autograph Booklets
The bulk of these book cards fall under the Rookie Playbook Jersey Autographs banner, which land three out of four boxes. Besides opening up to reveal a jumbo swatch, there's also an on-card signature. This is the first time these booklets have come hard-signed since 2012. Ensuing years used things like trapped acetate but for 2018 the signatures are done directly on the card.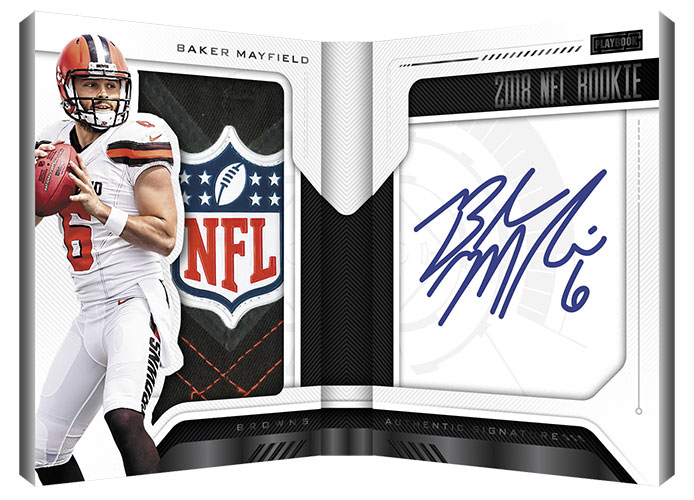 Base versions are limited to 125 copies or less. Parallels with multiple copies include Gold (/99 or less), Platinum (/49 or less), Green (/25 or less), Red (/10), and Gloves (/5). Separate one-of-ones are available in Laundry Tag and NFL Shield as well as four different Printing Plates (Black, Cyan, Magenta and Yellow).
Additional Booklets
Playbook Material Autographs book cards (/49 and under) highlight veterans and retired players with three swatches and a signature. Signers include Tom Brady, Peyton Manning, Aaron Rodgers and Ray Lewis. As for parallels, there are Green (/25 or less), Red (/10 or less), Printing Plates (1/1), NFL Shield Black (1/1) and Nike Swoosh Black (1/1).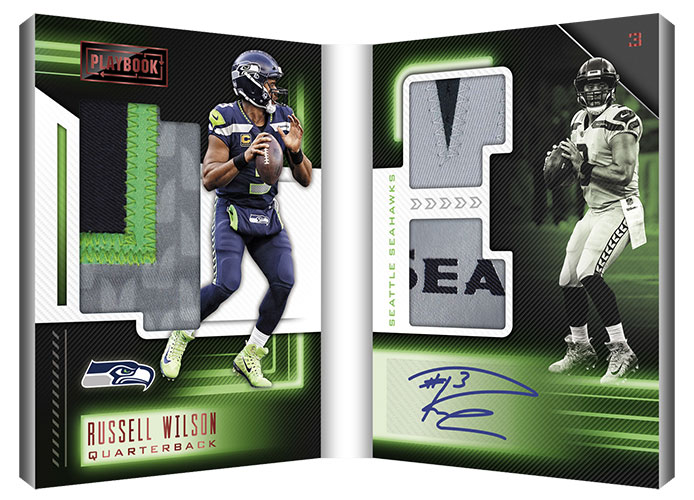 Vault Tri Fold Jersey Auto booklets (/25 or less) are new to 2018 Panini Playbook Football. These use acetate for a backdrop to showcase eight pieces of memorabilia and an autograph across what's essentially three connected cards. Gold (/10 or less) and Premium (1/1) are the only parallels.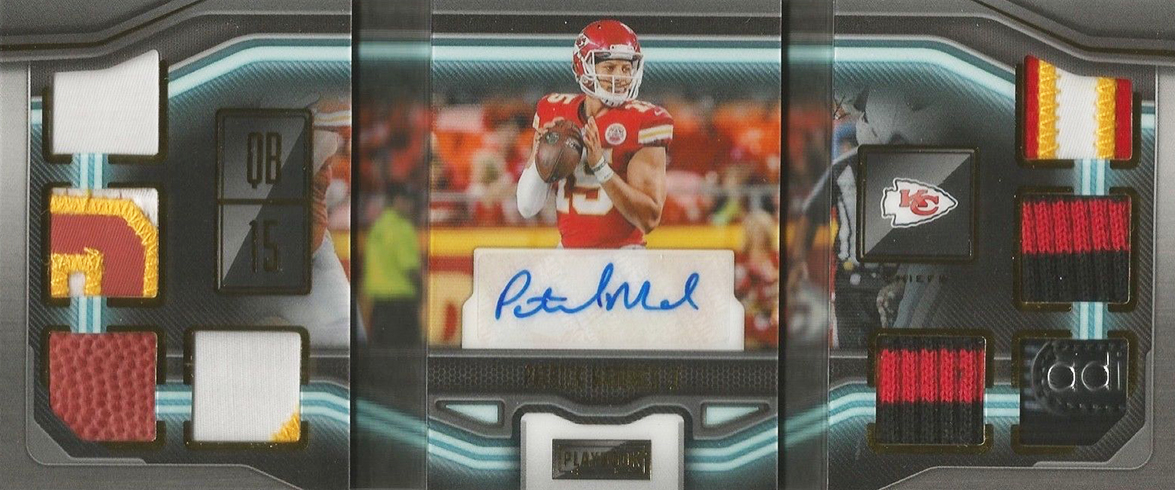 Nexus is another series of book cards that open up to three panels, all with jumbo pieces. Base versions have no more than 25 copies each while parallels land in Gold (/10 and under) and Premium (1/1).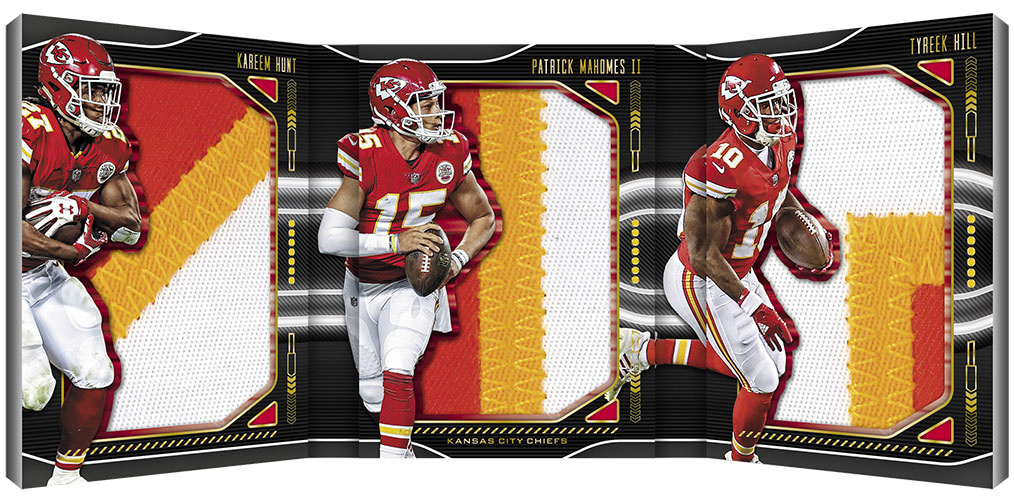 Front 4 Signatures (/25 or less) have autographs and memorabilia from four teammates. Prime (/10 or less) and Tag (1/1) are the lone parallels for these.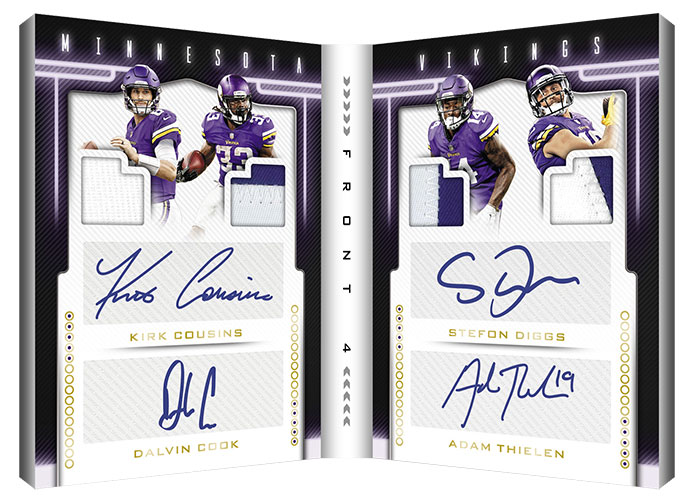 Game of Inches returns. In Playbook's relatively short history, this is one of its hallmarks. The cards use a die-cut action shot spread across both parts of the horizontal booklet to showcase a couple of big memorabilia pieces. This time, the cards are done with acetate as well. Regular Game of Inches cards have print runs of 25 or less. There are also Gold (/10 or less) and Premium (1/1) versions.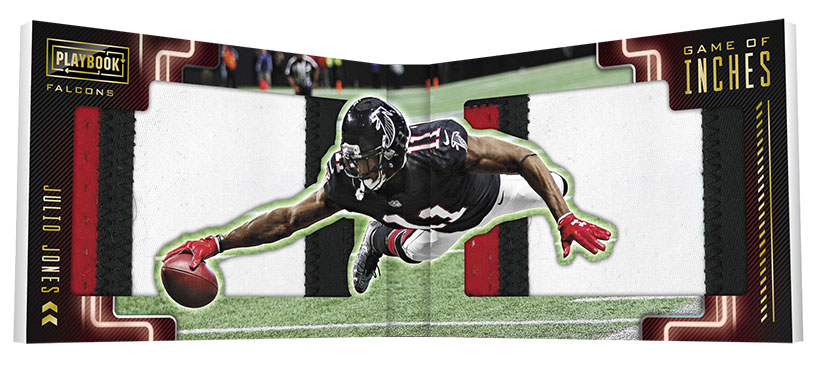 Armory and Red Zone booklets also return with acetate.
Rookie Jumbo Memorabilia (/49) cards may not have signatures but they do have two large pieces of gear. Parallels are done in Prime (/25) as well as several different one-of-ones: Complete Logo, Nike Swoosh, NFL Shield, Leather NFL Shield, and Gloves.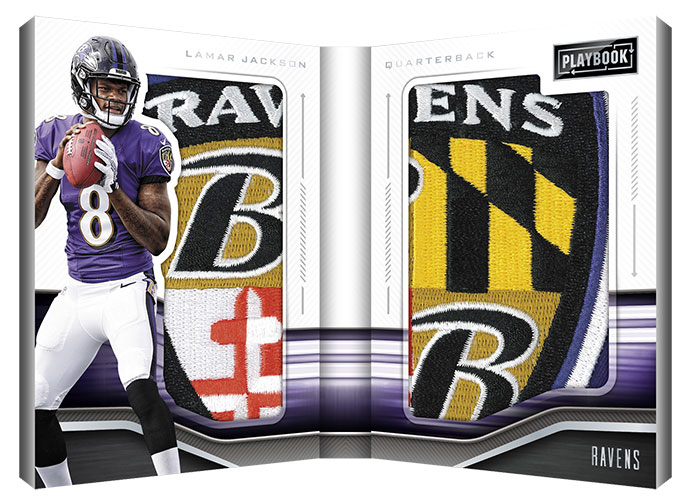 Additional Autographs and Memorabilia Cards
2018 Panini Playbook Football hobby boxes have more than booklets. Among them are Hail Mary Signatures (/199 or less), which are dedicated to quarterbacks and combine an autograph with memorabilia. Prime (/25 or less) and Premium (1/1) versions are also available.
The checklist headliners include Tom Brady, Derek Carr, Carson Wentz and Patrick Mahomes.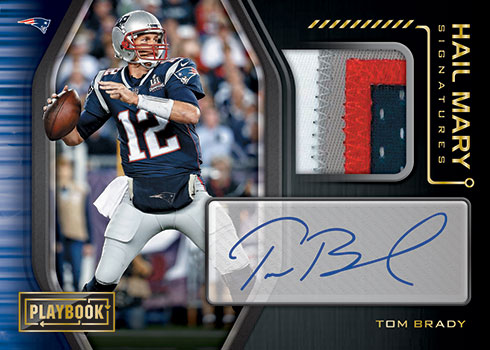 Rookie Signatures parallels are also available in hobby. These are an extension of the retail base Rookie Signatures cards. Hobby is where you find the Platinum (/49), Green (/25), Gold (/10), Black (/5), Red (1/1) and Printing Plate (1/1) versions.
2018 Panini Playbook Football – Retail
Retail packs and blaster boxes for 2018 Panini Playbook Football include elements found in traditional products. For starters, there's a 200-card base set that's divided equally between veterans and rookies.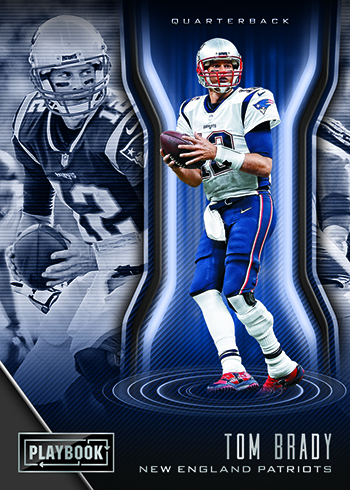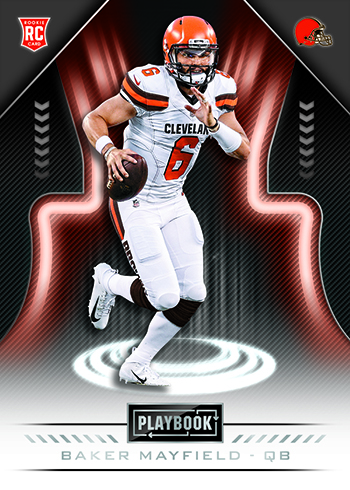 These have several levels of parallels. Purple, Green (/25), Gold (/10) and Red (1/1) are all exclusive to blasters. Orange versions are only in fat packs. On top of these are Platinum (/49) and Printing Plate (1/1) parallels that are available in both pack types.
While the book cards and most of the super premium elements for Playbook are in hobby, retail does have autographs, memorabilia cards and additional inserts.
Rookie Signatures put an autograph spin on the first-year base cards. Regular versions are in retail while the parallels are only in hobby.
Four retail-exclusive insert sets are Blitz, Play Action, X's and O's, and Zoning Commission. In addition to the main insert forms, these all have memorabilia versions. Those relics have Prime parallels numbered to 10 or less.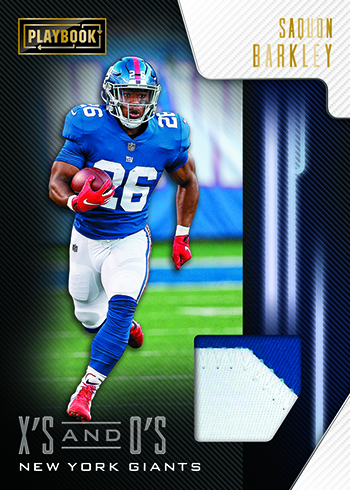 2018 Panini Playbook Football at a glance:
Cards per pack: Hobby – 4
Packs per box: Hobby – 1
Boxes per case: Hobby – 16 (two 8-box inner cases)
Set size: Retail – 200 cards
Release date: December 12, 2018
What to expect in a hobby box:
• Book Cards – 1
• Additional Autographs or Memorabilia Cards – 3
2018 Panini Playbook Football Checklist
Base
Autographs
Memorabilia
Inserts
Team Sets