2018 Panini Xr Football Checklist, Team Set Lists and Details
2018 Panini Xr Football opts for pop once again. The brand's sophomore release brings back bold designs that are somewhat reminiscent of recent Elite releases but even bigger.
Boxes come with a pair of packs. All told a 2018 Panini Xr Football hobby box delivers a Rookie Autograph Jersey card, another autograph and either a jumbo or triple memorabilia card.
2018 Panini Xr Football Overview
Things start with the base set, which consists of 100 veterans, 60 Rookies and 40 Rookie Triple Swatch Autographs.
Parallels for the main set, which average out to two per pack plus one rookie, come in Red (/299), Blue (/199), Orange (/75), Gold (/10), Green (/5) and Black (1/1).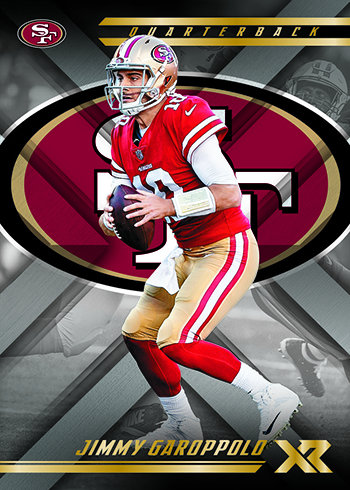 Rookie Triple Swatch Autographs come with a variety of parallels as well. As the print runs get lower, the memorabilia gets more premium in nature.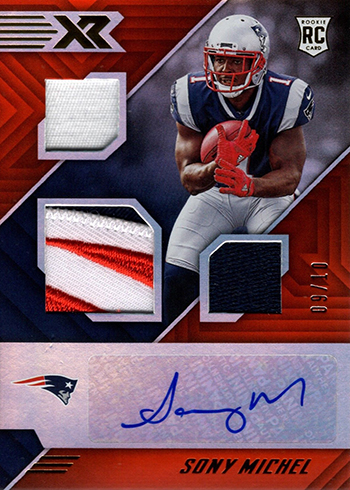 There are also triple swatch and jumbo swatch versions. Rookie Jumbo Swatch Autographs have one-of-one Super Prime varions that have an NFL Shield.
Rookie Swatch Autographs come in a variety of forms including patch and laundry tag parallels.
2018 Panini Xr Football has some additional signature memorabilia cards as well. Dual Autographs Memorabilia pair up a veteran with a rookie, both from the same team. Triple Autographed Swatches come with three-player combinations.
Luminous Endorsements is a rookie autograph insert set that has a couple of distinct features. First, the signatures come on a piece of acetate. Layered under the ink is a multiple-exposure photo showing the motions of a play.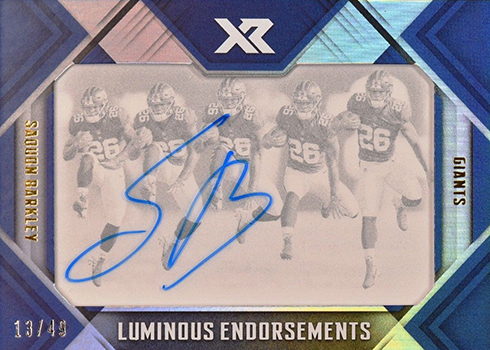 Rookie Autographs go deep with the season's crop of first-year talent. Base versions have no more than 199 copies each while parallels come in multiple colors including Gold (/49 or less) and Black (1/1).
Between the autographed memorabilia cards and other relics, the product has a lot of combinations of rare pieces like shields, tags and other one-of-ones.
2018 Panini Xr Football has some regular inserts as well. Among them is Mirrored (/49), that pairs a rookie with a veteran with a similar skill set. Parallels include Red (/25), Blue (/15), Orange (/10), Gold (/5), Green (/3) and Black (1/1).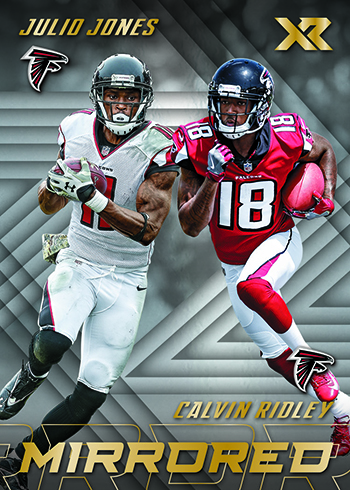 All told, each case of 2018 Panini Xr Football has a one-of-one autograph of some sort.
2018 Panini Xr Football at a glance:
Cards per pack: 7
Packs per box: 2
Boxes per case: 15
Set size: 200 cards
Release date: September 19, 2018
What to expect in a hobby box:
• Rookie Autograph Jersey Cards – 1
• Additional Autographs – 1
• Jumbo or Triple Memorabilia Cards – 1
• Inserts – 1
• Parallels – 4
2018 Panini Xr Football Checklist
Base
Autographs
Memorabilia
Inserts
Team Sets