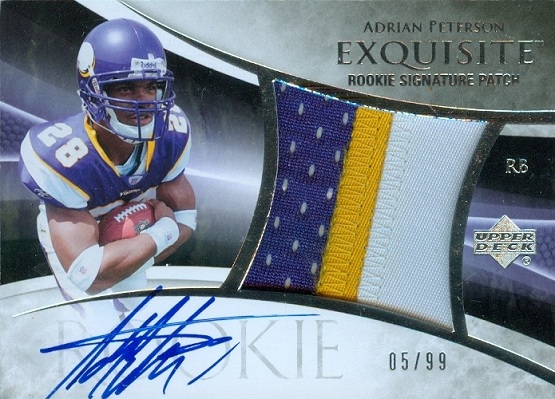 By Susan Lulgjuraj | Beckett Football Editor
Quarterbacks. Quarterbacks. Quarterbacks.
That's pretty much what everyone talks about when it comes to football cards. The reason is that they usually sell well. Even a mediocre quarterback in the NFL could be sold for a decent price because these guys push the league.
However, it seems Adrian Peterson is making a case for running backs once again.
The Minnesota Vikings RB has a legitimate chance to reach 2,000 yards this season (he sits at 1,812), and possibly break Eric Dickerson's single season rushing record of 2,105. With two games left, Peterson is just 294 yards away.
Peterson had a great start to his career. He rushed for 1,341 yards and 12 touchdowns his rookie season. He followed that up with 1,760 and 10 TDs the next year.
While still putting up good numbers, Peterson's yardage regressed over the next three years and put 970 yards in 12 games last season, which was cut short after he tore ligaments in his left knee.
Some football careers ended soon after suffering similar injuries as Peterson's.
But not Peterson. He's only having the best year of his NFL life.
Football collectors who always wanted to have a Peterson card in their collection probably had a chance this offseason to seize cards that are normally out of reach. However, his card prices have skyrocketed over the last couple of months because of his impressive season where he's averaging 6.3 yards a carry.
If Peterson does manage to grab a hold of the single-season rushing record, how much more value can collectors get out of his cards?
Susan Lulgjuraj is an editor of Beckett Football. You can email her here with questions, comments or ideas. Follow her on Twitter here.