NBA Rookie Cards finally arrive … well, sort of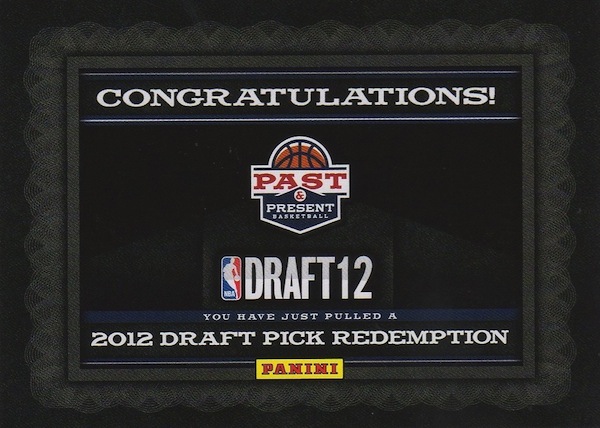 By Chris Olds | Beckett Basketball Editor | Commentary
With the arrival of 2011-12 Past & Present from Panini America today, the hobby finally has its first Rookie Cards for this season's young stars.
Well, sort of.
As previously announced, the rookies are found via redemption cards and there are three types of cards to chase — all looking pretty similar to each other. (Need a checklist or OPG when available soon? Click here.)
First, there are autographed redemptions for the 2011-12 NBA Draft class, capped by Rookie of the Year Kyrie Irving of the Cleveland Cavaliers. There are 35 cards in that one — but all redemptions are blind. There will be a "draft" assigning players to the redemption cards (letters A-Z and then AA-II) live and online in late October. The company has not announced whether all cards were created in the same quantities.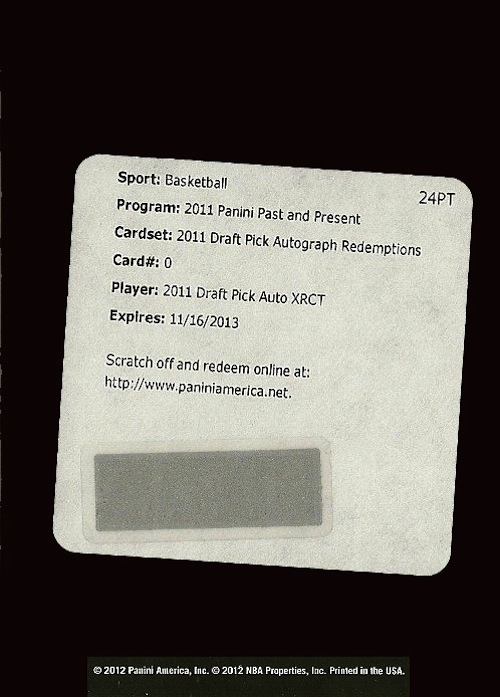 Second, there are redemptions for cards of the 2012-13 NBA Draft class — these cards are specific to the actual draft pick number, meaning you can pull the No. 1 or No. 2 pick and so on. There are 25 cards in this one.
Third, there is a complete set redemption for all 25 cards in the 2012-13 NBA Draft class.
The most-expensive seller so far in online auctions has been the No. 2 card for the 2012-13 class, which sold for $200, while a 2011-12 "Card A" sold for $150 — but remember, that card does not mean it will be of the No. 1 pick because of the online draft set for Oct. 29. The only other two cards to sell so far in the opening day were in the $50-$60 range and were cards from each set.
Which ones will end up being most-popular is anyone's guess, but asking prices for the unsigned set card have pushed $1,000 as collectors are perhaps unsure about what they have at this point — or how rare those cards might be. Clearly, the signed cards should be more in-demand than the unsigned cards of players to be drafted next year, but one has to wonder whether any certain cards might be tougher to find than others or whether the random draw for those cards will (as it should) float the boat for all sales of the redemptions. (Side question: How would you feel paying about more for a card if it ends up being a guy who was the final pick in the draft?)
So, yes, the move is creative — and it's one that should help spark some action on the secondary market for these cards. But one does have to wonder whether it might frustrate collectors who just want a Rookie Card of the new guys right now (or last month). After all, the season is over and none of this year's rookies have even a single standard, basic Rookie Card yet — let alone anything autographed. And, optimistically, it's going to be November before collectors get their hands on those cards. (The move and delay is reportedly so the league can do a combined rookie photo shoot/signing session with members of both draft classes all at once, but that has not been formally announced.)
So, now, with the arrival of Past & Present we have the RCs … but we don't.
Will this work? How will it really work out as more and more cards arrive up for sale? It's a fair pair of questions, and it's a topic that will be talked about just as much as the efforts to make the players' cards creative — and more valuable. That's a good move to a degree, but one just has to wonder whether most collectors will respond positively to innovation and creativity if it makes their hobby more complicated and draws out the wait for what many of them have been asking for for some time. Some collectors will love the results, others still just want basic cards — and could have been satisfied with game-action photography from last fall.
There is no right or wrong answer here, but how collectors respond to these cards — with their buying habits — will show us all precisely what they think in the coming days and weeks.
Chris Olds is the editor of Beckett Basketball magazine. Have a comment, question or idea? Send an email to him at colds@beckett.com. Follow him on Twitter by clicking here.