Oyo Sportstoys adds football to its lineup
Oyo Sportstoys started its business on the diamond, but the company is expanding to the gridiron.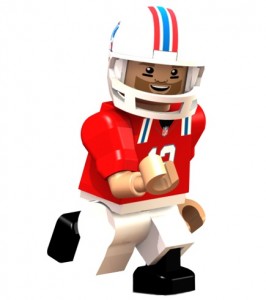 The company creates building block-type of minifigures that resemble Legos. Many parts are interchangeable, so in case your favorite player is traded or signs with a new team, you can always get a new helmet.
The football figures won't be ready until after the Jan. 1, 2013, but Oyo is taking orders on its website for more than 100 available players from the 32 NFL teams.
Each figure is moveable and it can be shown in a number of different poses.
In addition, Oyo understands the collectability factor. Each minifigure comes with a DNA number that identifies when the product was produced.
Each figure will come with a football, helmet with a removable facemask, water bottle and a stand to prop it up.
Oyo released images of the football toys on its Facebook recently, but a trip to its official website shows a number of players ready to find a home. The collectibles are fully licensed by the NFL and NFLPA, so it can display every player in the league.
New England Patriots fans will have the most options with 18 to choose from including several players with throwback jerseys. Fans of other teams won't be as lucky such as the St. Louis Rams, which only feature Sam Bradford and Steven Jackson.
The baseball figures sell for around $12.99 in retail outlets.