2018 Panini Illusions Football Checklist, Team Set Lists, Details
2018 Panini Illusions Football brings the brand back for a second year. Once again, time plays a big part in the set's theme, both on the checklist and with its influences. Past and present collide in the base set. Time also plays a factor in Illusions' look and feel. Many of the designs have a definite '90s vibe to them in that they're bright and bold.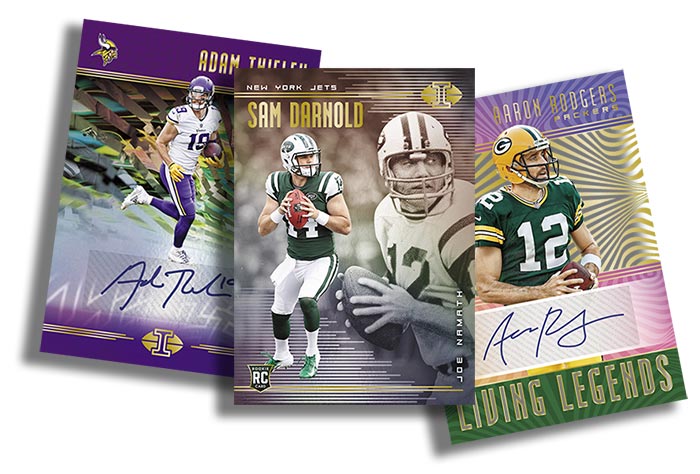 2018 Panini Illusions Football packs a lot of variety into each ten-pack box. They have a total of three autographs, one of which is a signed memorabilia card and one that's in a separate box topper pack. Other box highlights include a pair of memorabilia cards, eight inserts and a handful of parallels.
2018 Panini Illusions Football Base Set Basics
Like 2017, one of the trademarks for Illusions is its base set. While a current player is prominent in the forefront, they're paired with someone from the same franchise's past. The two-photo layout brings a Flair Showcase vibe, albeit with a pair of players instead of one.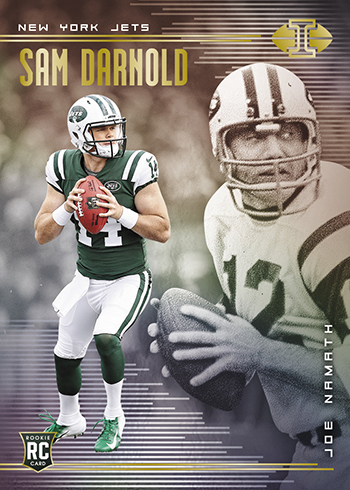 Parallels, which are six per box, take on the Trophy Collection name. They come in Gold (/499), Blue (/249), Red (/199), Green (/99), Pink (/75), Black (/25) and Purple (1/1).
Autographs and Memorabilia Cards
2018 Panini Illusions Football has several places for collectors to find autographs and memorabilia cards. Rookies play prominent roles with the one-per-box signature relics. For starters, there's First Impressions Memorabilia Autographs, which have no more than 499 copies each. Parallels include Blue (/100), Red (/50), Green (/25) and Purple (1/1).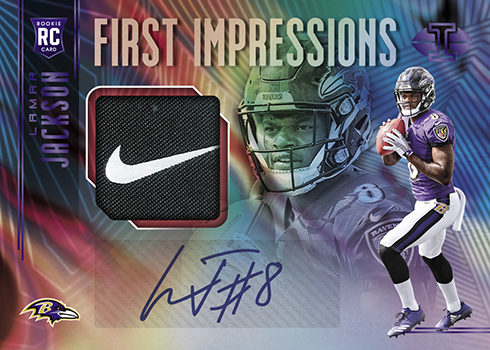 Rookie Reflections Dual Patch Autographs are tough with each card having 50 copies or less. These have signatures and prime swatches from a pair of players. Blue (/15), Red (/10), Green (/5) and Purple (1/1) are the parallels.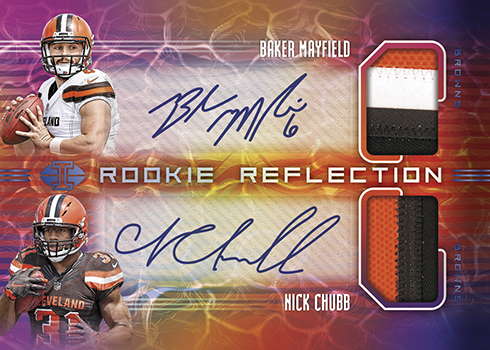 Other multi-autograph cards include Mirror Dual Signatures (/25 or less), Rookie Dual Signs and Rookie Reflection Dual Autographs.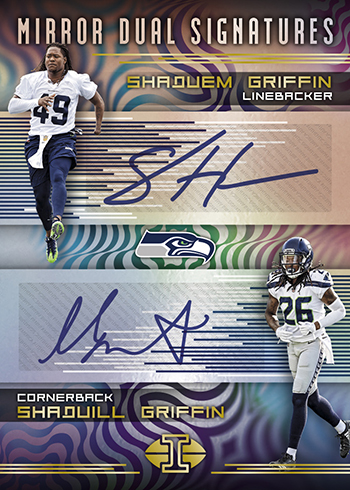 The regular autographs in 2018 Panini Illusions Football bring more first-year players in the form of Rookie Signs and Rookie Endorsements (/150 or less).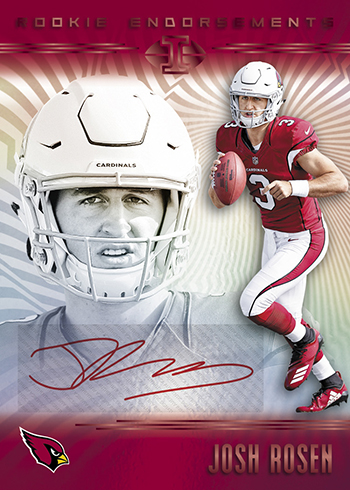 But vets and retired players bring their penmanship as well. Veteran Signs (/150 and under) have Blue (/50), Red (/25), Green (/5) and Purple (1/1) parallels.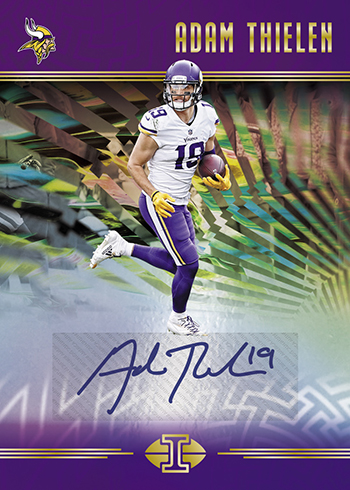 Elusive Ink appears in 2018 Panini Illusions Football, bringing with it players who don't have a lot of recent autograph cards.
Legacies Dual and Triple Memorabilia shares some thematic similarities with the base set in that they trace different eras of a particular franchise. Base versions are numbered to 100 or less while parallels drop down to as low as one-of-one.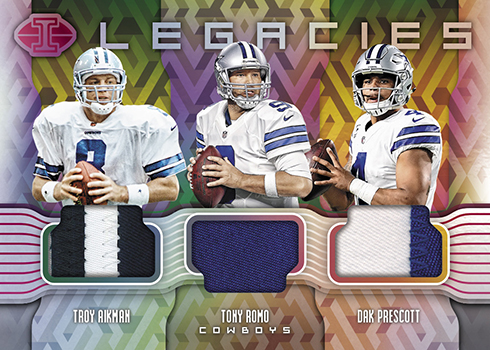 Other relic inserts include Spotlight Memorabilia, First Impressions Memorabilia and Rookie Idols Dual Memorabilia.
Box Topper Autographs
Some autographed inserts are only available in the box topper packs.
The checklist for the acetate Illusionists Autographs includes such retired stars as Brett Favre, Barry Sanders and Jerry Rice. These have a maximum of 99 copies for the Holo Silver versions. Holo Gold parallels are one-of-ones.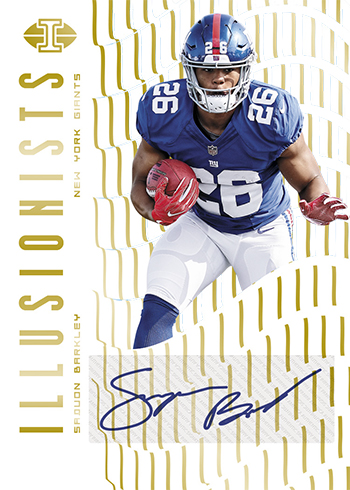 Living Legends, another set with colorful acetate designs, has similar numbering. Antonio Brown, Aaron Rodgers and Drew Brees are among the signatures available here.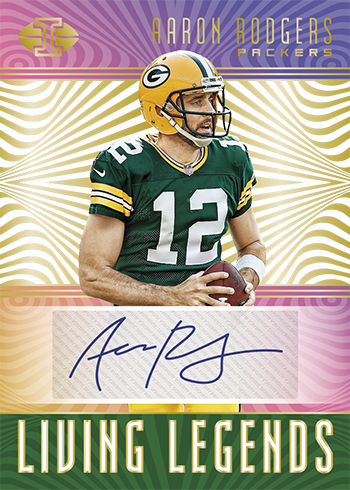 Other box topper-exclusives are Rookie Endorsements Autograph Variations and Mystique Autographs.
2018 Panini Illusions Football at a glance:
Cards per pack: 5
Packs per box: 10
Boxes per case: 16 (two 8-box inner cases)
Set size: 188 cards
Release date: October 3, 2018
What to expect in a hobby box:
• Autographed Memorabilia Cards – 1
• Additional Autographs – 1
• Autographed Box Toppers – 1
• Memorabilia Cards – 2
• Inserts – 5
• Insert Parallels – 3
• Parallels – 6
2018 Panini Illusions Football Checklist
Base
Autographs
Memorabilia
Inserts
Team Sets