2018 SAGE Hit Premier Draft Football Box Busters
Join Paul Wirth and Eric Norton as they open some 2018 SAGE Hit Premier Draft Football.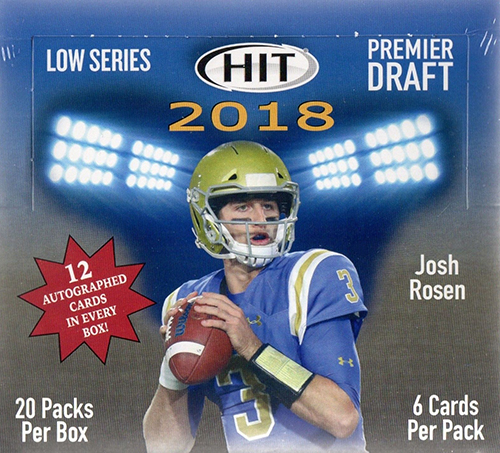 What will they find? Watch and find out.
Please note that we are trying out some new lighting techniques and set-ups. In the process, we realized there was an issue with close-ups of the cards in a small batch of Box Busters videos. We've already worked on improving it. There is a large gallery of cards from the box below the breakdown.
2018 SAGE Hit Premier Draft Football Box Breakdown
Here's a look at the box and what we pulled.
Packs per box: 20
Cards per pack: 6
Cards per box: 120
Base Set Completion (53/65): 82%
Duplicates: 30
Parallels: 18
Gold: 18
Autographs: 12
Autographs: 5
Poona Ford
Riley Ferguson
Cody O'Connell
Fred Warner
Leighton Vander Esch
Gold Autograph: 3
Daurice Fountain /250
John Wolford /250
Anthony Miller /250
Instant Impact: 1
Corey Davis
Peak Performance Silver: 1
Derwin James/10
Premium Portrait: 1
Ryan Nall
Premium Portrait Red: 1
Orlando Brown, Jr. /25
Memorabilia Cards: 0
Inserts: 7
Peak Performance: 4
Terry Swanson, Jr.
Michael Dickerson
Saeed Blackwell
Stephen Mitchell, Jr.
Premium Portrait: 3
Jeremiah Briscoe
Cedrick Wilson Jr.
Anthony Wilson