2018 Donruss Baseball Box Busters
Join Eric Norton and Paul Wirth as they open some 2018 Donruss Baseball.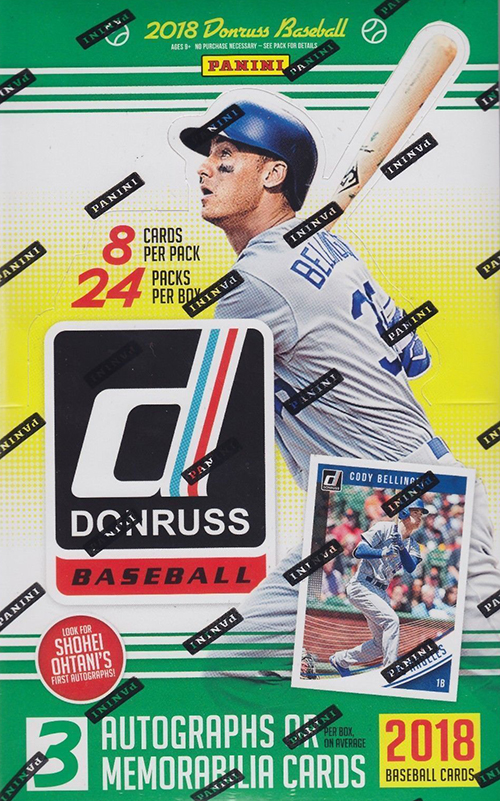 What will they find? Watch and find out.
Please note that we are trying out some new lighting techniques and set-ups. In the process, we realized there was an issue with close-ups of the cards in a small batch of Box Busters videos. We've already worked on improving it. There is a large gallery of cards from the box below the breakdown.
2018 Donruss Baseball Box Breakdown
Here's a look at the box and what we pulled.
Packs per box: 24
Cards per pack: 8
Cards per box: 192
Base Set Completion (128/270): 47%
Duplicates: 0
Variations: 52
Base Variations: 51
Father's Day Ribbon Variations: 1
Anthony Rizzo /49
Parallels: 5
Blank Back: 1
Miguel Sano
Career Stat Line: 1
Nolan Ryan /324
Season Stat Line: 1
Wil Myers/263
Teal Border: 2
Dustin Fowler /199
Miguel Cabrera RETRO /199
Autographs: 1
Signature Series: 1
Alex Verdugo
Memorabilia Cards: 2
1984 Retro Materials: 1
Andrew Benintendi
Diamond Collection: 1
Braden Shipley
Inserts: 4
Elite Series Silver: 1
Bryce Harper/349
Foundations: 1
Mike Trout/999
Out of this World: 1
Marcell Ozuna/999
Whammy: 1
Shohei Ohtani
See Also: 2018 Donruss Baseball Checklist and Price Guide Access