2018 Elite Football Checklist and Team Set Lists
2018 Elite Football is one of the season's earlier NFL releases. With it comes cards of the 2018 rookie crop pictured in their pro uniforms.
A brand that has been around for a long time, some parts of 2018 Elite Football will feel familiar to long-time collectors while other elements offer something new.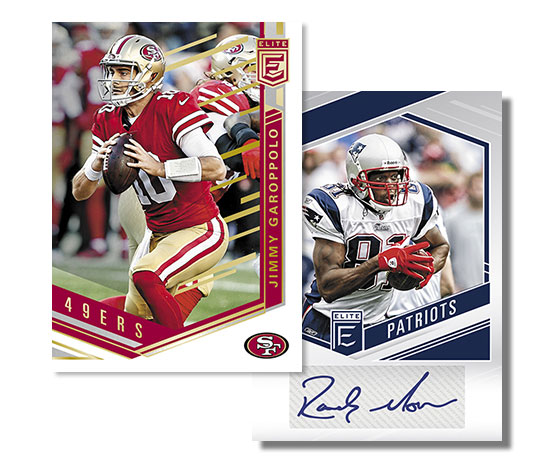 2018 Elite Football Base Set
Spanning 200 cards, the 2018 Elite Football base set is split even between veterans and rookies. That said, first-year players are short prints that combine to land three per hobby box. They're also numbered to 699 or less.
Rookie Aspirations and Status (/99 or less) are among the parallel themes, both long-time parts of the brand. In addition are Rookie Aspirations and Status Die Cut (/24), Rookies Orange (/25), Rookies Blue (/10) and Rookies Black (1/1).
All parallels combine to fall six per hobby box.
One thing that's noticeable about the main set is the expanded focus on photography. Often, Elite base cards have the player isolated in the shot. This time around, it folds in more of the background.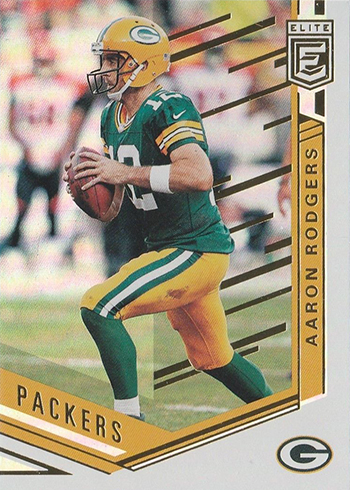 Digging Deeper Into the 2018 Elite Football Checklist
Signatures in 2018 Elite Football come in several forms with rookies making up much of the checklist. That said, collectors can find veteran and retired player autographs as well.
Turn of the Century Autographs is one place to find draft picks. No matter the version or color, none have more than 199 copies.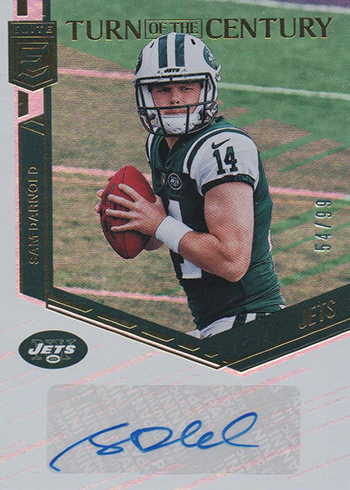 Pen Pals is back for another year. The checklist has rookies and the signatures come hard signed. Parallels are based not on the color of the card but the color of the ink. Besides black, there's blue, red and green.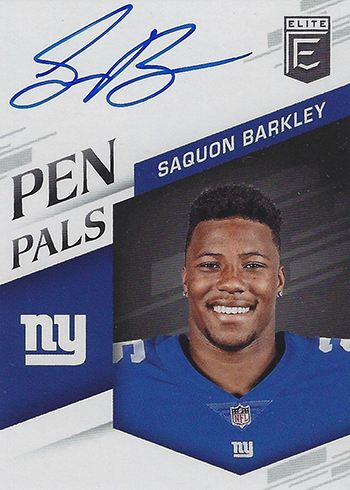 Elite Signatures (/99 or less) doesn't have a checklist of first-year players. Instead, it's greats including Randy Moss and Jerry Rice.
Impact Impressions (/99 or less) spotlight 'graphs from an often overlooked area of the game when it comes to football cards — defensive players. Names range from current players to Hall of Fame standouts.
2018 Elite Football has a couple of multi-signature inserts. Passing the Torch Signatures Double return. These double-sided cards pair ink from a legend with an autograph from a young star.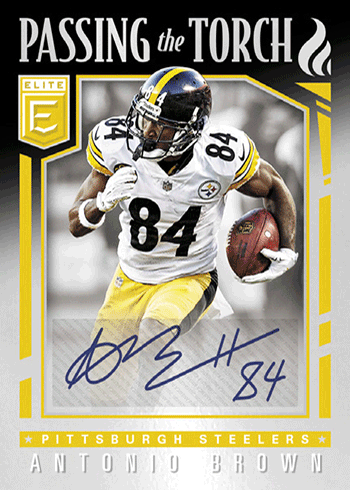 Team Lineage Signatures (/15 or less) focus on a single franchise and have three autographs that span generations.
Among the memorabilia card sets is Throwback Threads, which focus on players from the past. Prime versions with patches and premium swatches are numbered to 15 or less.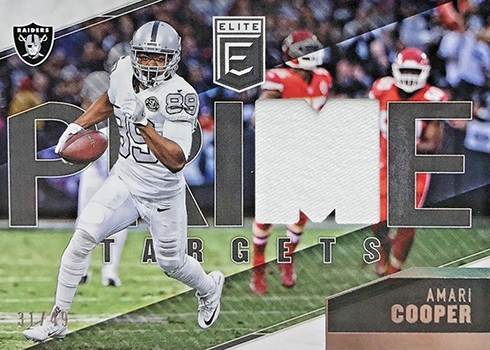 Panini has a few other insert sets in 2018 Elite Football. These land eight total per box. Rookie Elitist looks at players who had strong college careers and are now looking to duplicate that success in the NFL. Parallels come in Gold (/25) and Black (1/1).
Other insert sets include Hard Hats, Captain Clutch, Dual Threats and Elite Deck.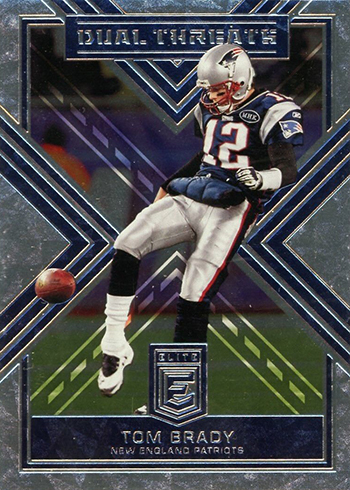 All told, every pack of 2018 Elite Football has something beyond a base card. That's either an autograph, memorabilia card, short print Rookie Card, insert or parallel.
2018 Elite Football at a glance:
Cards per pack: 5
Packs per box: 20
Boxes per case: 12
Set size: 200 cards
Release date: June 27, 2018
What to expect in a hobby box:
• Autographs – 2
• Memorabilia Cards – 1
• Inserts – 8
• Parallels – 6
• Rookies – 3
2018 Elite Football Checklist
Base
Autographs
Memorabilia
Inserts
Team Sets