2019 Panini Absolute Football brings back a lot of the elements the line is known for. At the hobby level, that translates into most packs coming with a pair of hits. Each box promises a Rookie Premiere Material Autograph, two additional autographs and a pair of memorabilia cards.
2019 Panini Absolute Football Overview
Rookie Premiere Material Autographs remain one of Absolute's cornerstones. These come in several versions and variations, some with as many as five pieces of memorabilia. And it's not just jersey swatches, either. New on the 2019 Absolute checklist are jumbo versions. Base Rookie Premiere Material Autograph have no more than 399 copies each. Parallels include Spectrum (/99 or less), Jumbo (/99 or less), Jumbo Quad (/25), Quad Spectrum (/10), Five (/5), Jumbo Spectrum (/5), Five Spectrum (1/1) and Shield (1/1).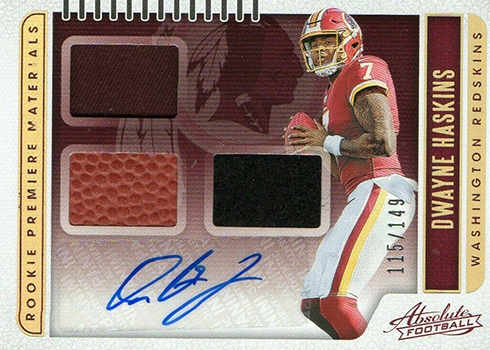 Signatures Rookies Spectrum (/199 or less) offer up more first-year autographs. In Absolute fashion, there are lots of parallel levels: Spectrum Red (/100 or less), Spectrum Orange (/75 or less), Spectrum Blue (/50 or less), Spectrum Green (/25), Spectrum Gold (/10), Spectrum Purple (/5) and Spectrum Black (1/1).
Tools of the Trade comes back with more multi-swatch cards. Tools of the Trade Double (/99 or less) and Triple (/75 or less) have Prime (/49 or less), Autographs (/99 or less) Autograph Prime (/25 or less) and Autographs Platinum (1/1) versions. Collectors can also find Tools of the Trade Quad (/60 or less) and Five (/60 or less) cards and their slightly tougher Prime parallels (/49 or less).
Leather & Lace (/25 or less) also returns. These stick with Absolute's focus on different types of memorabilia. The 'leather' comes from a piece of football while the 'lace' originates on a cleat. One-of-one Platinum is the lone parallel.
Head to Toe (/99 or less) is another insert series that goes beyond just jerseys.
Other memorabilia themes in 2019 Panini Absolute Football include Jumbo NFL Shields (/5 or less) and Cleat Combos (/49 or less).
Boss Hogg Autographs, Iconic Ink, Marks of Fame and Signature Standouts offer up more penmanship.
When Absolute Goes Kaboom
Not all of the chase elements in 2019 Absolute Football are autographs and memorabilia cards. Kaboom inserts move over to the line. Mixing wild foil backgrounds and cartoon interpretations of players, these cards are tough, landing one per case. In addition to the base versions, there are Gold (/10) and one-of-one Green parallels.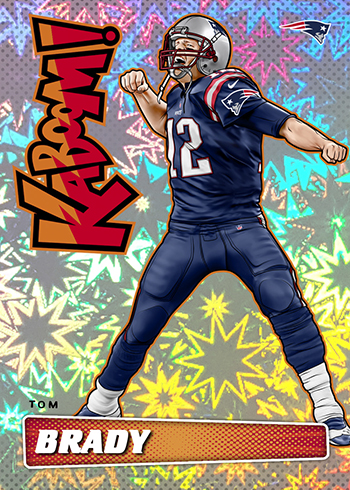 2019 Panini Absolute Football cards at a glance:
Cards per pack: 5
Packs per box: 3
Boxes per case: 12 (two 6-box inner cases)
Set size: 240 cards
Release date: August 28, 2019
Shop for 2019 Absolute Football boxes on eBay:
What to expect in a hobby box:
Rookie Premiere Material Autographs – 1
Additional Autographs – 2
Memorabilia Cards – 2
2019 Panini Absolute Football Checklist
Base
Autographs
Memorabilia
Inserts
Team Sets