2018 Panini Instant Football Checklist and Full Details
2018 Panini Instant Football cards are like the hobby's version of a highlight package on the news. The online-exclusive set takes the biggest moments of the football season — starting months before the first official kickoff.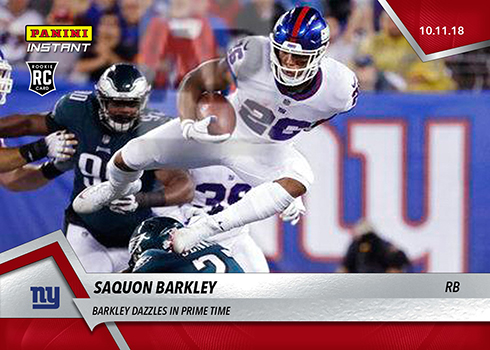 Beginning at the NFL Scouting Combine in March and running all the way through to the Super Bowl, it's storytelling through football cards.
2018 Panini Instant Football marks the third season for the print-on-demand set. Usually, cards are offered individually through the company's website for just 24 hours. Sometimes, though, there are special events and mini sets that can be available for different timeframes.
For example, the set's first installment, seven Combine cards, were available for a few days, both individually and as a group set for $29.99.
New for the regular season, Panini is offering weekly passes every Monday that cover the full slate of base cards. So if you plan to chase the set, you can lock in, at a discounted rate cheaper than buying cards individually, and not worry about missing a day.
For the main 2018 Panini Instant Football base set, cards have open-ended production runs. The number of cards printed is based on what's ordered — no more, no less.
Base cards also come with a couple of parallels, Green (/10) and Black (1/1). Select players also have limited autograph versions as well. Rather than the set time approach, these are available until they're sold out.
2018 Panini Instant Football Checklist
Given the nature of 2018 Panini Instant Football, this checklist will expand as the year unfolds. If you're looking for a specific card, click on the link to see what's currently available on eBay.
* notes players with autographs as well (Orange /10, Black 1/1)
1 Saquon Barkley – Barkley Stars During NFL Combine
2 Josh Allen – Allen Makes His Case to Be No. 1 Overall
3 Sam Darnold – Darnold Runs 40-Yard Dash in 4.85 Seconds
4 Josh Rosen – Rosen Shows Fine Form at NFL Combine
5 Lamar Jackson – Jackson Shows Off Quarterback Skills
6 Baker Mayfield – Mayfield Impresses at His Combine Workout
7 Shaquem Griffin – Griffin Dominates the NFL Combine
8 Brian Dawkins, Philadelphia Eagles – Hall of Fame
9 Jerry Kramer, Green Bay Packers – Hall of Fame
10 Ray Lewis, Baltimore Ravens – Hall of Fame
11 Randy Moss, Minnesota Vikings – Hall of Fame
12 Brian Urlacher, Chicago Bears – Hall of Fame
Week 1
13 James Conner, Pittsburgh Steelers – Conner Dazzles in Opener (9.9.18)
14 Tom Brady, New England Patriots – Brady Tosses Three TD Passes (9.9.18)
15 Alvin Kamara, New Orleans Saints – Kamara Scores Three Times (9.9.18)
16 Saquon Barkley, New York Giants – Barkley Scores First Career TD (9.9.18)
17 Adrian Peterson, Washington Redskins – Peterson Stars in His Redskins Debut (9.9.18)
18 Patrick Mahomes II/Tyreek Hill, Kansas City Chiefs – Duo Ignites Chiefs in Win (9.9.18)
19 Phillip Lindsay, Denver Broncos – Lindsay Scores on 29-Yard Catch (9.9.18)
20 Will Dissly, Seattle Seahawks – Rookie Tight End Hits Century Mark (9.9.18)
21 Khalil Mack, Chicago Bears – Mack Disruptive in Bears Debut (9.9.18)
22 Aaron Rodgers, Green Bay Packers – Rodgers Leads Second-Half Comeback (9.9.18)
23 Sam Darnold, New York Jets – Darnold Wins Debut (9.10.18)*
Week 2
24 Calvin Ridley, Atlanta Falcons/DJ Moore, Carolina Panthers – Rookie Wideouts Record Their First Touchdowns (9.16.18)*
25 Josh Allen, Buffalo Bills – Rookie QB Makes His First NFL Start (9.16.18)
26 Stefon Diggs/Adam Thielen, Minnesota Vikings – Vikings Duo Comes Up Big in OT Thriller (9.16.18)
27 Antonio Callaway, Cleveland Browns – Callaway Scores on 47-Yard TD Grab (9.16.18)
28 Patrick Mahomes, Kansas City Chiefs – Mahomes Sets NFL Record (9.16.18)*
29 Keelan Cole, Jacksonville Jaguars – Cole Makes Incredible One-Handed Snag (9.16.18)*
30 Phillip Lindsay/Royce Freeman, Denver Broncos – Broncos Rookie RBs Star in Win (9.16.18)
31 Sam Darnold, New York Jets – Darnold Youngest to Throw for 300 Yards (9.16.18)
32 Saquon Barkley, New York Giants – Barkley Ties Rookie Reception Record (9.16.18)
33 Anthony Miller, Chicago Bears – Miller Hauls in First Career TD Reception (9.17.18)
Week 3
34 Baker Mayfield, Cleveland Browns – Believeland: Baker Leads Epic Comeback in Pro Debut (9.20.18)*
35 Carson Wentz, Philadelphia Eagles – Wentz Leads Eagles to Victory in His Return (9.23.18)
36 Josh Allen, Buffalo Bills – Allen Powers Bills to Upset Win (9.23.18)*
37 Calvin Ridley, Atlanta Falcons – Ridley Nets Hat Trick (9.23.18)
38 Drew Brees, New Orleans Saints – Brees Sets All-Time Completions Record (9.23.18)
39 Saquon Barkley, New York Giants – Barkley Scores on 15-Yard TD Run (9.23.18)
40 Kerryon Johnson, Detroit Lions – Johnson Ends Lions' Rushing Drought (9.23.18)
Week 4
41 Jared Goff/Cooper Kupp, Los Angeles Rams – Rams Duo Combines for Career Passing Night (9.27.18)
42 Ezekiel Elliott, Dallas Cowboys – Elliott's Big Catch Sets Up Game-Winning FG (9.30.18)
43 Marcus Mariota/Corey Davis, Tennessee Titans – Mariota Finds Davis for Game-Winning Touchdown (9.30.18)*
44 Keke Coutee, Houston Texans – Coutee Hits Century Mark in Debut (9.30.18)*
45 Mitchell Trubisky, Chicago Bears – Trubisky Throws Six TD Passes in Win (9.30.18)*
46 Nyheim Hines, Indianapolis Colts – Hinds Finds End Zone Twice (9.30.18)
47 Sony Michel, New England Patriots – Michel Rushes for First NFL Touchdown (9.30.18)*
48 Alvin Kamara, New Orleans Saints – Kamara Scores Three Times in Second Half (9.30.18)
49 Josh Rosen, Arizona Cardinals – Rosen Makes His First Career Start (9.30.18)
50 Nick Chubb, Cleveland Browns – Chubb Scores Twice on Long Runs (9.30.18)*
51 Baker Mayfield, Cleveland Browns – Mayfield Makes His Frist Career Start (9.30.18)
Week 5
52 Tom Brady, New England Patriots – Brady Scores 500th Career Touchdown Pass (10.4.18)
53 James Conner/Antonio Brown, Pittsburgh Steelers – Steelers Duo Provides Offensive Power in Win (10.7.18)
54 Baker Mayfield, Cleveland Browns – Mayfield Records His First 300-Yard Passing Game in OT Win (10.7.18)
55 Sam Darnold, New York Jets – Darnold Tosses Three Touchdown Passes in Big Win (10.7.18)
56 Odell Beckham Jr./Saquon Barkley, New York Giants – Beckham to Barkley for Six (10.7.18)
57 Josh Rosen/Christian Kirk, Arizona Cardinals – Rookie Duo Hooks Up for 75-Yard TD Pass (10.7.18)
58 Josh Allen, Buffalo Bills – Allen Part of Historic Week for Rookie Quarterbacks (10.7.18)
59 Drew Brees, New Orleans Saints – Brees Becomes All-Time Passing Leader (10.8.18)
Week 6
60 Saquon Barkley, New York Giants – Barkley Dazzles in Prime Time (10.11.18)
61 Adam Thielen, Minnesota Vikings – Thielen Makes NFL History (10.14.18)*
62 Sam Darnold, New York Jets – Darnold Leads Jets to Big Win (10.14.18)
63 Todd Gurley II, Los Angeles Rams – Gurley Runs for Career High (10.14.18)
64 Bradley Chubb, Denver Broncos – Chubb Records Hat Trick (10.14.18)
65 Dak Prescott, Dallas Cowboys – Prescott Does It All in Cowboys Win (10.14.18)
66 Tom Brady, New England Patriots – Brady Records 200th Win (10.14.18)
67 Sony Michel, New England Patriots – Michel Scores Twice on Sunday Night (10.14.18)
Week 7
68 Andrew Luck, Indianapolis Colts – Luck Tosses Four Touchdown Passes (10.21.18)
69 Cam Newton, Carolina Panthers – Newton Leads Second-Half Comeback (10.21.18)
70 Nick Chubb, Cleveland Browns – Chubb Runs for 80 Yards, Scores in His First Start (10.21.18)
71 Ronald Jones II, Tampa Bay Buccaneers – Jones Score First Career Touchdown (10.21.18)*
72 Adam Thielen, Minnesota Vikings – Thielen Extends 100-Yard Streak (10.21.18)
73 Kerryon Johnson, Detroit Lions – Johnson Runs for 158 Yards (10.21.18)
74 Drew Brees, New Orleans Saints – Brees Tosses 500th Career Touchdown Pass (10.21.18)*
75 Lamar Jackson, Baltimore Ravens – Jackson Rushes for His First Career Touchdown (10.21.18)
76 Patrick Mahomes II, Kansas City Chiefs – Mahomes Continues His Historic Start (10.21.18)*
Week 8
77 Deshaun Watson/DeArndre Hopkins, Houston Texans – Watson Tosses Five TD Passes; Hopkins Grabs Two (10.25.18)*
78 Lamar Jackson/Hayden Hurst, Baltimore Ravens – Ravens Rookies Connect for First TDs (10.28.18)
79 Adam Vinatieri, Indianapolis Colts – Vinatieri Becomes NFL's All-Time Leading Scorer (10.28.18)*
80 Josh Rosen/Christian Kirk, Arizona Cardinals – Rosen Connects with Kirk for Game-Winning TD (10.28.18)
81 Jared Goff/Todd Gurley II, Los Angeles Rams – Duo Rallies Rams to First 8-0 Start Since 1969 (10.28.18)
82 Adam Thielen, Minnesota Vikings – Wideout Sets One Receiving Mark, Ties Another (10.28.18)*
Week 9
83 Nick Mullens, San Francisco 49ers – Mullens Makes Historic NFL Debut (11.1.18)
84 Baker Mayfield, Cleveland Browns – Mayfield Racks Up 297 Yards and Two Touchdowns (11.4.18)
85 Calvin Ridley, Atlanta Falcons – Ridley Rips Off 40-Yard Touchdown (11.4.18)
86 Michael Thomas, New Orleans Saints – Thomas Breaks Saints Single-Game Receiving Record (11.4.18)
87 Tom Brady, New England Patriots/Aaron Rodgers, Green Bay Packers – Brady Outduels Rodgers in Primetime Showdown (11.4.18)
Week 10
88 Larry Fitzgerald, Arizona Cardinals – Fitzgerald Moves to 2nd All-Time in Receiving Yards (11.11.18)
89 Drew Brees, New Orleans Saints – Brees Passes Favre for 2nd-Most Passing TDs (11.11.18)
90 Nick Chubb, Cleveland Browns – Rookie Rips Off Longest Run in Browns History (11.11.18)*
91 Baker Mayfield, Cleveland Browns – "Dangerous" – Mayfield Tosses Three TDs in Win (11.11.18)
92 Anthony Miller, Chicago Bears – Miller Hits the Century Mark (11.11.18)
93 Rashaad Penny, Seattle Seahawks – Penny Breaks Out with 108 Yards and a Score (11.11.18)*
94 Ezekiel Elliott, Dallas Cowboys – Elliott Powers Cowboys Past Defending Champs (11.11.18)*
Week 11
95 Gus Edwards, Baltimore Ravens – Undrafted Rookie Has Breakout Game (11.18.18)
96 Lamar Jackson, Baltimore Ravens – Jackson Stars in First NFL Start (11.18.18)
97 DJ Moore, Carolina Panthers – Moore Grabs Seven for 157 and a Score (11.18.18)*
98 Saquon Barkley, New York Giants – Barkley Totals Three Touchdowns (11.18.18)
99 Brett Maher, Dallas Cowboys – Maher Hits Game-Winner as Time Expires (11.18.18)
100 Tre'Quan Smith, New Orleans Saints – Rookie Wideout Has Huge Day (11.18.18)*
101 Phillip Lindsay, Denver Broncos – Lindsay Scores Twice in Road Win (11.18.18)*
102 Josh Rosen, Arizona Cardinals – Rosen Tosses Three Touchdowns (11.18.18)*
103 Jared Goff, Los Angeles Rams/Patrick Mahomes, Kansas City Chiefs – Goff Outduels Mahomes in Epic MNF Battle (11.19.18)*
Week 12
104 Amari Cooper, Dallas Cowboys – New Cowboys Wideout Stars on Thanksgiving (11.22.18)
105 Tom Brady, New England Patriots – NFL's All-Time Passing Leader (11.25.18)
106 Sony Michel, New England Patriots – Michel Powers Patriots in Win (11.25.18)
107 Josh Adams, Philadelphia Eagles – Adams Scores Late Go-Ahead Touchdown (11.25.18)
108 Saquon Barkley, New York Giants – Barkley Has Big First Half (11.25.18)
109 Christian McCaffrey, Carolina Panthers – McCaffrey Makes Panthers History (11.25.18)*
110 Gus Edwards, Baltimore Ravens – Edwards Hits Century Mark in First Start (11.25.18)
111 Lamar Jackson, Baltimore Ravens – Jackson Sets Rookie QB Rushing Record (11.25.18)
112 Josh Allen, Buffalo Bills – Allen Leads Bills to Win in Return (11.25.18)
113 Philip Rivers, Los Angeles Chargers – Rivers Has Historic Day Passing (11.25.18)*
114 Nick Chubb, Cleveland Browns – Chubb Scores Twice in Browns Win (11.25.18)
115 Baker Mayfield, Cleveland Browns – Mayfield Tosses Career-High 4 TD Passes (11.25.18)
116 JuJu Smith-Schuster, Pittsburgh Steelers – JuJu Takes 97-Yarder to the House (11.25.18)
117 Alejandro Villanueva, Pittsburgh Steelers – Villanueva Catches First Career Touchdown (11.25.18)*
118 Phillip Lindsay, Denver Broncos – Lindsay Leads Broncos Over Steelers (11.25.18)