2018 Panini Absolute Football is about variety. From card types to what goes into them, there's a fair bit going on for a product that has 15 total cards per hobby box.
Each hobby box has five total hits including one Rookie Premiere Material Autograph that has at least three memorabilia pieces to go along with the signature.
2018 Panini Absolute Football Base Set Overview
The main 2018 Panini Absolute Football set is broken down into three sections. It starts with 100 veterans and 50 short print rookies. All 150 cards come with Spectrum Red (/100), Spectrum Orange (/65), Spectrum Green (/25), and Spectrum Purple (/5) parallels.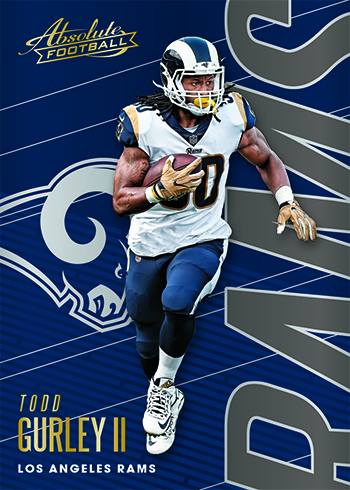 Rookie Premiere Material Autographs round out the checklist with another 40 cards. In addition to the base versions are Spectrum (/99), Quad (/25), Quad Spectrum (/10), Fives (/5) and Fives Spectrum (1/1) versions.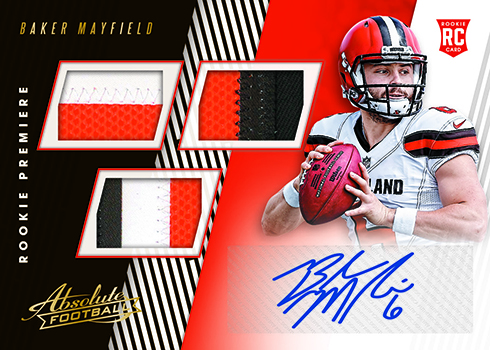 Additional Autographs, Memorabilia Cards and Inserts
Besides the Rookie Premiere Material Autograph card in every 2018 Panini Absolute hobby box, there's four additional hits. These are split evenly between autographs and memorabilia cards.
Tools of the Trade return. This is where a lot of different memorabilia types are mixed up into a single card. Inserts have as many as five pieces embedded in them. The multi-swatch cards come numbered to 99 or less. Prime parallels have no more than 49 copies each.
Select dual- and triple-swatch cards also have Tools of the Trade Autographs (/50 or less). Parallels for these are Prime (/25 or less) and Platinum (1/1).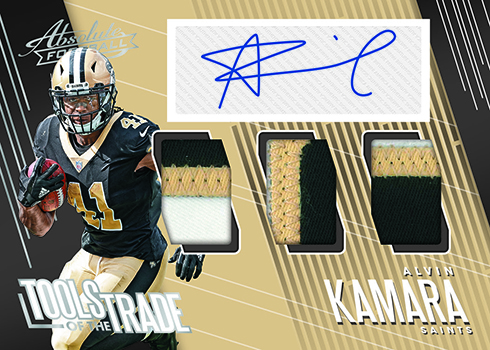 Football pieces are the focus of scarce Jumbo NFL Shields (/10) cards. The pigskin takes up nearly the entire front of the card. Platinum parallels are one-of-ones.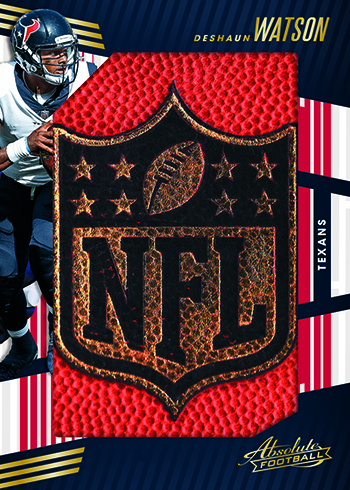 Head to Toe (/99 or less, Platinum – 1/1) inserts come with a pair of memorabilia pieces, neither of which are traditional jerseys. The first is a piece of helmet. The 'toe' comes in the form of a cleat piece.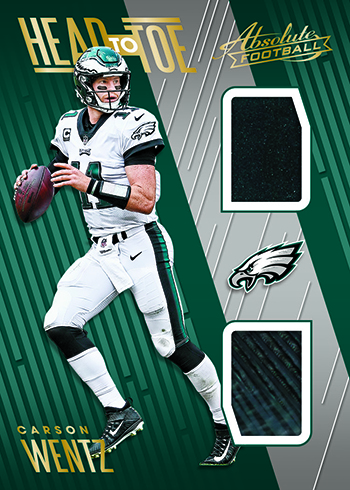 More footwear can be found in Jumbo Cleats and Cleat Combos.
Hall of Famers make up the checklist for Canton Absolutes. While base versions have no more than 199 copies, Prime parallels are limited to 49 or less.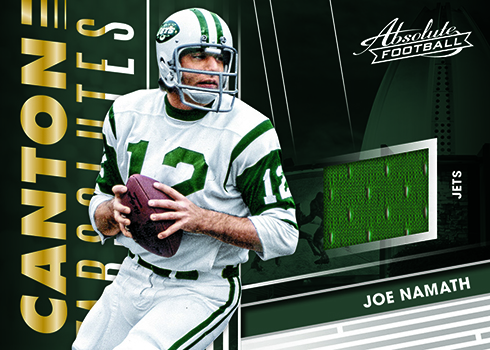 Iconic Ink highlights autographs from franchise players. In addition to single-signed cards, these have Dual, Triple and Quad versions (/99). Parallels are limited to Platinum, which are all one-of-ones.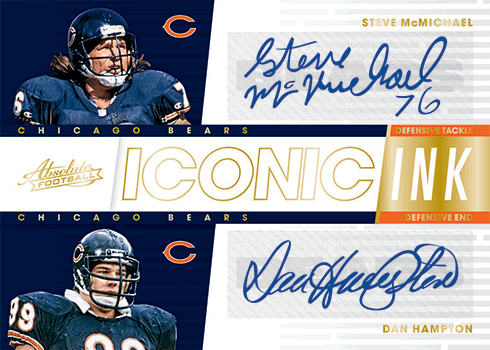 Besides the signatures and relics, 2018 Panini Absolute Football has one regular insert per box. One-Two Punch is about standout teammates who make magic happen together on the field.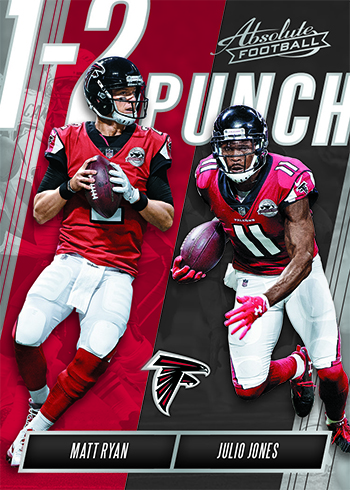 Another of the product's inserts is Introductions, which spotlights top rookies.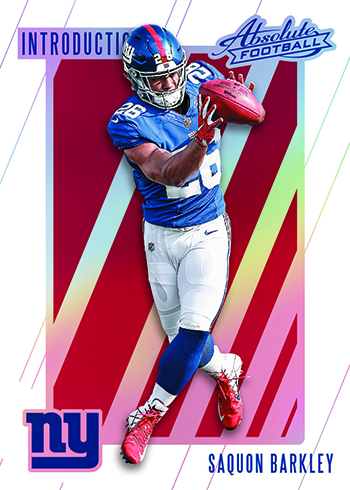 2018 Panini Absolute Football at a glance:
Cards per pack: 5
Packs per box: 3
Boxes per case: 10
Set size: 189 cards
Release date: September 7, 2018
What to expect in a hobby box:
Rookie Premiere Material Autographs – 1
Additional Autographs – 2
Additional Memorabilia Cards – 2
Inserts – 1
Parallels – 2
2018 Panini Absolute Football Checklist
Base
Autographs
Memorabilia
Inserts
Team Sets