2018 Panini Classics Football Checklist Combines Old and New
2018 Panini Classics Football is a set for the ages in that it puts its focus on several different generations. Checklist-wise, there are plenty of veterans and rookies. But there's a strong contingent of retired stars and Hall of Famers as well.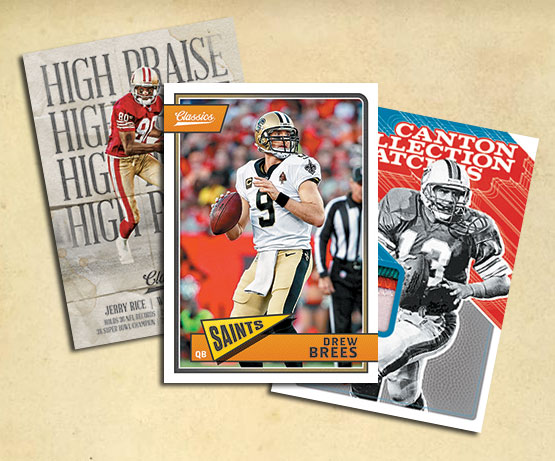 As far as design goes? It's nostalgia. As a whole, they've got a vibe that's rooted in the 1950s or '60s.
Bringing things full circle, 2018 Panini Classics Football does have modern additions like autographs and memorabilia cards. And let's not forget chrome.
2018 Panini Classics Football Base Set Basics
The main 2018 Panini Classics Football checklist has 300 cards. This is divided into three sections, each with 100 cards: veterans, rookies and legends. The design is a throwback style, complete with things like trivia on card backs.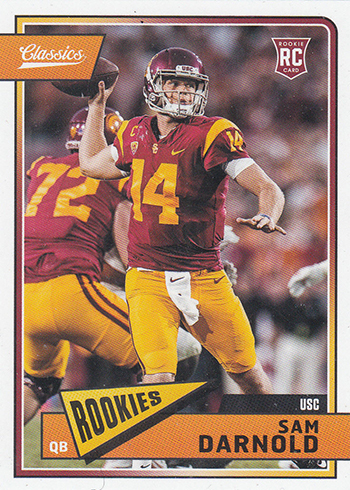 New to the set are Premium Edition parallels that are done on chromium card stock. These land four per hobby box, one of which is sequentially numbered.
Parallels come in a variety of other forms as well. These include Red Back (/299), Blank Back (/50), No Name (/10) and Full Name (/5). Color-based parallels also under the Timeless Tributes banner like Gold (/99), Orange (/25), Blue (/10) and Black (1/1).
Non-chrome parallels fall six per hobby box.
Autographs and Memorabilia Cards
Each 2018 Panini Classics Football hobby box comes with both an autograph and a memorabilia card.
Signifcant Signatures bring the same mix of generations as much of the rest of the checklist. These are a lot like base cards with the addition of the autograph.
Buback autographs land approximately one per ten-box inner case. These are original cards from the past that have an on-card autograph added to them. Buyback years range from 1988 through to 2017.
Classic Combo Signatures are dual autographs done on Prizm stock. Chromium-style signatures are also part of Premium Edition Autographs.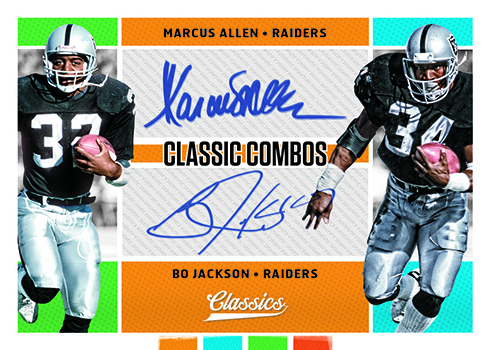 Memorabilia inserts, like Canton Collection Swatches, Classic Combos and Classic Materials, have Prime parallels in addition to the regular cards.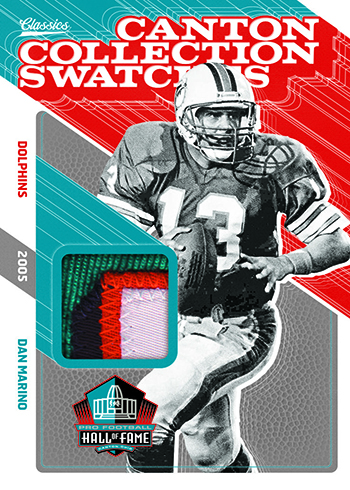 Inserts and Stickers
Stickers used to be a staple in the card collecting world. They still are to a certain extent with the various sticker collections available still, but the two formats are often separate unless they involve Garbage Pail Kids or Wacky Packages.
Collectors have three different sticker inserts to chase including Team Pennants, Vintage Logos and Award Winners. These combine to fall about two per hobby box.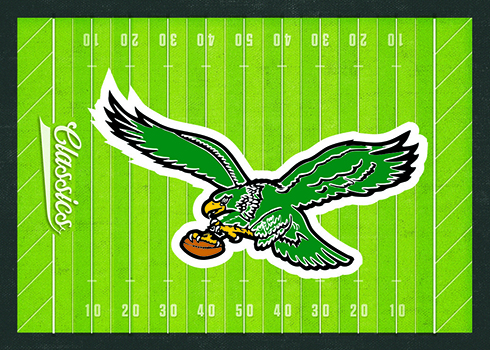 2018 Panini Classics Football has several other regular insert sets as well. Six total of these are in the average hobby box.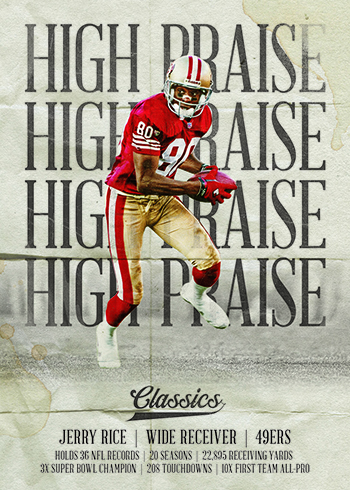 2018 Panini Classics Football at a glance:
Cards per pack: 10
Packs per box: 14
Boxes per case: 20 (two 10-box inner cases)
Set size: 300 cards
Release date: May 23, 2018
What to expect in a hobby box:
• Autographs – 1
• Memorabilia Cards – 1
• Inserts – 14
• Stickers – 2
• Premium Edition Parallels – 4
• Additional Parallels – 6
2018 Panini Classics Football Checklist
Base
Autographs
Buybacks
Memorabilia
Inserts
Team Set Lists
Comments? Questions? Contact Ryan Cracknell on Twitter @tradercracks or by email.