2018 Panini Obsidian Football Checklist, Team Set Lists and Details
No matter what time of day you hit the Las Vegas strip, it's a thing to behold. But it's a totally different world when you arrive after the sun's gone down and neon lights up the night sky. 2018 Panini Obsidian Football takes a similar approach with opti-chrome cards. The cards may not actually light up, but the combination of dark backgrounds and bright outlines create something different from other sets using similar chromium stock.
2018 Panini Obsidian Football is a premium product with seven cards per box. Four of those are of the autograph or memorabilia variety. No card in the product has more than 100 copies.
2018 Panini Obsidian Football Base Set Overview
The main set in Obsidian consists of 200 cards. Half of these are rookies. All come numbered to 100 copies.
Whereas opti-chrome lines like Panini Prizm and Topps Chrome usually use silver backgrounds for their shine, this set paints it black. For starters, this creates a lot of contrast with the photo. But the real pop comes in the Electric Etch parallels.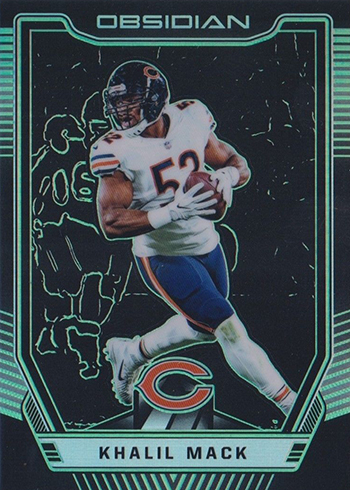 If you dig through most of your chrome cards, you'll notice an outline around the player and some of the other elements. This is referred to as etching. Usually this is done in a way that just blends in with the card. It's noticeable but more a compliment.
2018 Panini Obsidian Football Electric Etch cards add bright color to that etching. Combine that with the black backdrop and you've got a very different effect.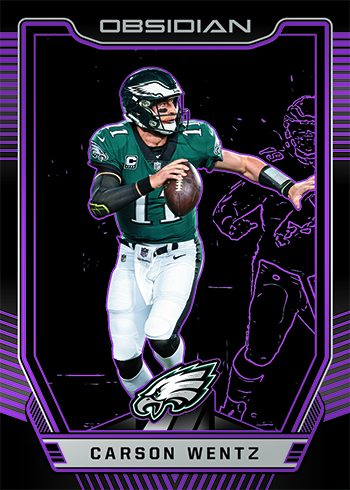 Electric Etch parallels for veterans and rookie include Purple (/75), Orange (/50), Green (/25), Yellow (/10), Red (/5) and White Finite (1/1).
Autographs, Memorabilia Cards and Other Inserts
Signatures in 2018 Panini Obsidian Football start with the rookies. These include a couple of different themes, Rookie Jersey Autographs and Rookie Jersey Ink, which have a pair of memorabilia swatches. Electric Etch parallels for both are available in Orange (/50), Green (/25), Yellow (/10), Red (/5) and White Finite (1/1).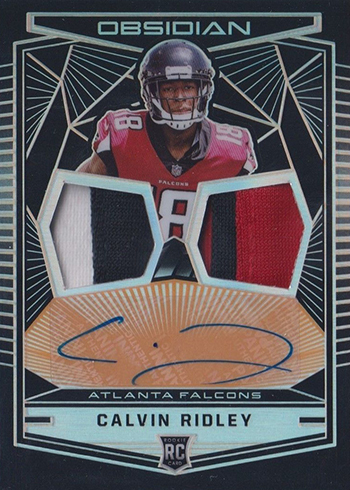 Vets and retired stars bring their penmanship to Aurora Autos and Lightning Strike. Parallels here are limited to Electric Etch Green (/25 or less), Yellow (/10 or less), Red (/5 or less) and White Finite (1/1).
Matrix Material Autos are another place where memorabilia is paired with signatures.
Among the veterans signing for Obsidian are Tom Brady, Ben Roethlisberger, Carson Wentz and Aaron Rodgers. Joe Montana and Peyton Manning are among the retired legends.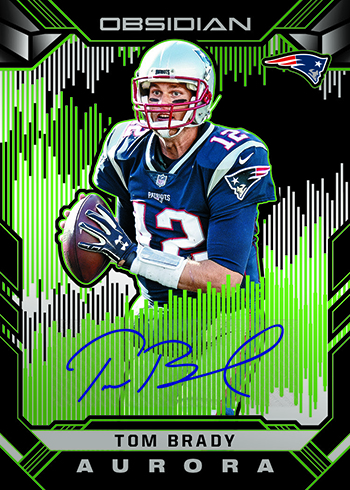 On the strictly memorabilia side, Rookie Eruption add a die-cut element to the black opti-chrome and colorful etching. Base versions top out at 100 copies while five levels of parallels are limited to 50 and under.
Additional die-cuts are found in Galaxy Gear, Cutting Edge and Vitreous, a case-hit insert.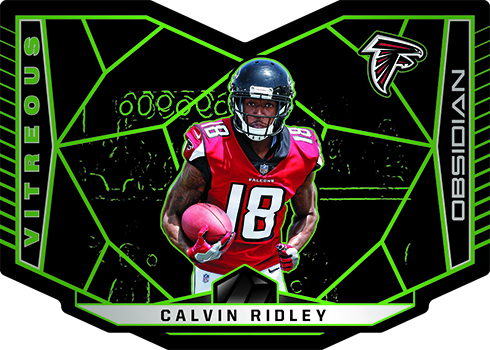 2018 Panini Obsidian Football at a glance:
Cards per pack: 7
Packs per box: 1
Boxes per case: 12
Set size: 200 cards
Release date: December 5, 2018
What to expect in a hobby box:
• Autographs or Memorabilia Cards – 4 Total
• Inserts or Parallels – 2 Total
• Base Cards – 1
2018 Panini Obsidian Football Checklist
Base
Autographs
Memorabilia
Inserts
Team Sets