2019 Panini Certified Football cards stick with a lot of the same elements as the past. Foil designs, bright colors and a focus on autographs and memorabilia cards run throughout. Each hobby box, which comes with ten packs, has four total hits, one of which is a Freshman Fabrics Signatures.
2019 Panini Certified Football Base Set Basics
The main part of the checklist features both rookies and veterans. First-year players come numbered to 399. Along with their parallels, rookies fall two per hobby box. Mirror versions of veterans have 450 copies a piece. Rookie Mirror cards are somewhat more tough, coming in at 299 copies.
Additional parallels match up on both sides with Mirror Orange (/199), Mirror Red (/99), Mirror Blue (/50), Mirror Teal (/35), Mirror Gold (/25), Mirror Purple (/10), Mirror Green (/5) and Mirror Black (1/1).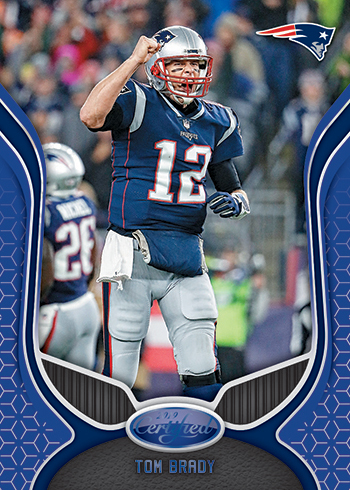 Parallels land three per hobby box.
Freshman Fabric Signatures have been a staple with the brand for some time. On them, autographs are joined by jumbo swatches. Base versions come numbered to 499 or less while Mirror parallels can be found in Orange (/299 or less), Red (/199 or less), Blue (/99 or less), Teal (/35) Gold (/25), Purple (/10), Green (/5) and Black (1/1).
Additional Autographs, Memorabilia Cards and Inserts
Another Certified cornerstone are Fabric of the Game Signatures (/199 and under). Swatches on these are big, stretching across a large portion of the card from. Parallels are limited to Prime (/50 or less) and new one-of-one Super Prime.
Mirror Signatures (/99 or less) come with a deep checklist of 100 players. Parallels come in seven levels.
Established Autographs (/99 or less) is another place to find veteran ink. Five parallel colors are all numbered to 35 and under.
With no more than ten copies each, Gold Team Mirror Signatures Gold Etch cards ranked among the toughest in 2019 Panini Certified Football. One-of-one Black Etch are the lone parallels.
Using similar technology as the Gold Team autographs are Rookie Signatures Mirror Etch (/25). In addition to these are Gold Etch (/10), Purple Etch (/5), Green Etch (/3) and Black Etch (1/1) versions.
Among the other memorabilia inserts in 2019 Certified Football are New Generation Jerseys, all of which have jumbo swatches from rookies. While base versions do not have serial numbers, Mirror parallels do: Orange (/299 or less), Red (/199 or less), Blue (/99 or less), Teal (/35), Gold (/25), Purple (/10), Green (/5) and Black (1/1).
Superb Swatches are also available. These are new for 2019.
Besides the hits and parallels, 2019 Certifed hobby packs average one regular insert. Themes include Diamonds, Gold Team, Raise the Banner, Record Breakers and Seal of Approval.
2019 Panini Certified Football at a glance:
Cards per pack: 5
Packs per box: 10
Boxes per case: 24 (two 12-box inner cases
Set size: 240 cards
Release date: July 24, 2019
Shop for 2019 Panini Certified Football boxes on eBay:
What to expect in a hobby box:
Freshman Fabrics Signatures – 1
Additional Autographs – 1
Memorabilia Cards – 2
Inserts – 10
Parallels – 3
Rookies or Rookie Parallels – 2
2019 Panini Certified Football Checklist
Base
Autographs
Memorabilia
Inserts
Team Sets