2018-19 Panini Treble Soccer is a debuting brand that looks at the global soccer scene. But rather than showing players on their respective national teams like a lot of other sets from the card maker, Treble brings things to the club level.
At the hobby level, the product leans towards the high end with just three packs per box. Each pack has either an autograph or a memorabilia card (or one that has both).
2018-19 Panini Treble Soccer Base Set Basics
The main part of the 2018-19 Panini Treble Soccer checklist consists of 200 total cards. Over 20 different clubs are included such as FC Barcelona, Real Madrid and Chelsea FC. Treble is also the first set of traditional trading cards from Panini to have Cristiano Ronaldo in a Juventus uniform.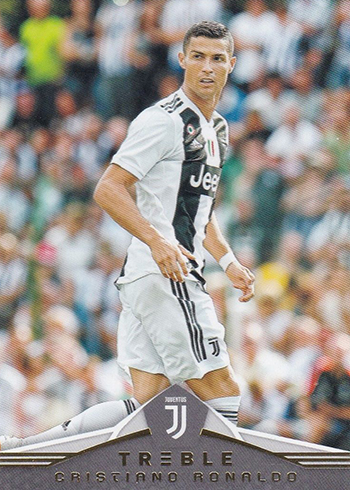 The Panini Premiere subset looks to young players on the international soccer scene, offering up Rookie Cards. A total of 25 are in the set with one landing in every hobby box and two in retail blasters.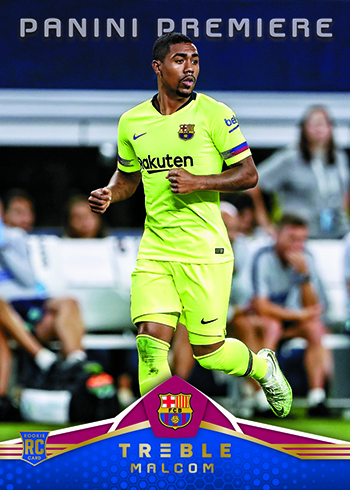 2018-19 Panini Treble Soccer has several parallels. Hobby boxes deliver three, all of which are done with micro etching and come numbered to 75 or less. These include Blue (/75), Purple (/49), Gold (/25), Green (/10) and Platinum (1/1). On top of these are Silver versions that are only in blasters and Orange, which are retail fat pack exclusives.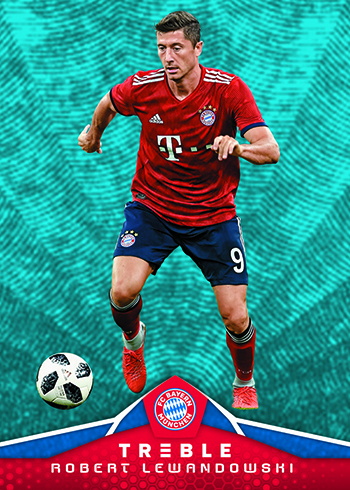 Autographs, Memorabilia Cards and Other Inserts
Of the three hits per hobby box, one is an autographed memorabilia card. These fall under a couple of categories: Dynamic Autographed Memorabilia and Jersey Autographs.
2018-19 Panini Treble Soccer gives a very different take on sticker autographs. Sticker Tribute Signatures pair autographs with World Cup stickers. These are then converted into traditionally sized trading cards. Signers here span generations and include Ronaldo, Lionel Messi, Rivaldo, Diego Maradona and more.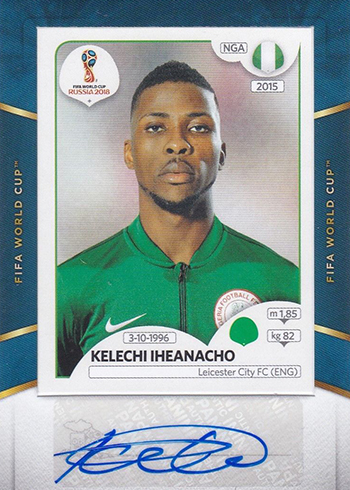 Zenith Signatures is another place where current and past players are available. Parallels come in Red (/50 or less), Gold (/25 or less) and one-of-one Platinum.
First Ink offers up the first autograph cards for featured players like Marco Asensio.
All told, 2018-19 Panini Treble Soccer has seven different autograph insert sets.
Treble Threads is one of the product's memorabilia sets. These include oversized swatches and, for some, premium patches. Red (/35 or less), Gold (/25 or less), Silver (/10 or less) and Platinum (1/1) are the parallels.
Team Threads and Spirit of the Game are memorabilia sets available only in blaster boxes. These small retail boxes promise one autograph or relic.
The 2018-19 Panini Treble Soccer checklist rounds out with a handful of additional inserts. Hidden Gems may have a small lineup of just five players, but these are tough pulls.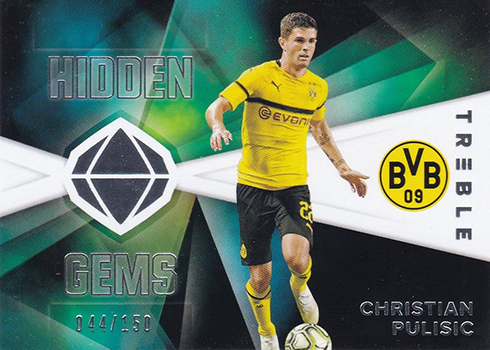 New Sensations (30 cards) looks at those joining new teams. Team Chemistry cards feature a pair of players from the same club. Other inserts include Stallions (20 cards), Atmosphere (15 cards) and Midfield Majesty.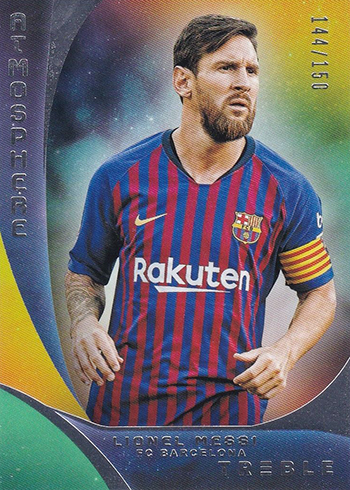 2018-19 Panini Treble Soccer at a glance:
Cards per pack: 5
Packs per box: 3
Boxes per case: 10 (two 5-box inner cases)
Set size: 200 cards
Release date: December 5, 2018
What to expect in a hobby box:
• Autographed Jersey Cards – 1
• Additional Autographs or Memorabilia Cards – 2
• Inserts – 2
• Parallels – 3
2018-19 Panini Treble Soccer Checklist
Base
Autographs
Memorabilia
Inserts
Team Sets