2018 Panini Phoenix Football Checklist, Team Set Lists and Details
2018 Panini Phoenix Football sees the bright colors and modern foil designs emerge for a third time. Besides a broad mix of inserts and parallels, autographs and memorabilia cards come into play. Each hobby box has a pair of signatures and one relic.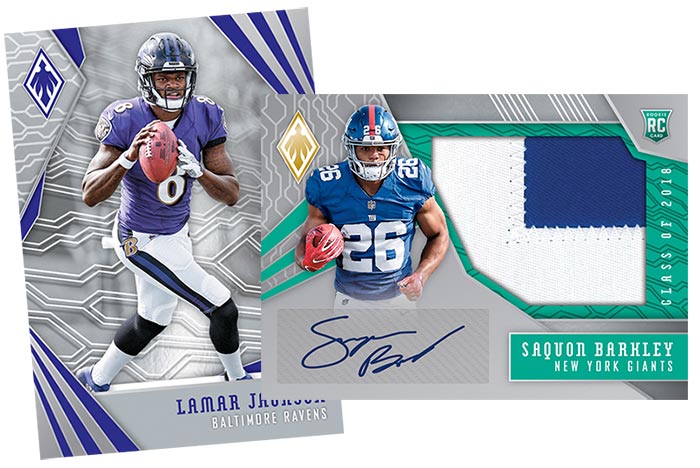 2018 Panini Phoenix Football Base Set and Inserts
The main 2018 Panini Phoenix Football set consists of 200 total cards. Half of them are veterans. Rookies, which make up the second half of the checklist, are moderate short prints. First-year players combine to land one per pack.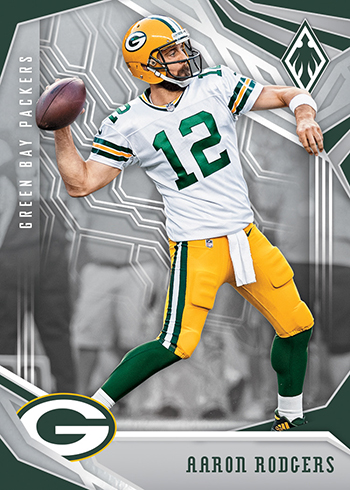 Parallels also average out to one per pack. Colors come in Red (/299), Pink (/199), Purple (/149), Orange (/99), Yellow (/75), Green (/25), Black (/10), and Blue (1/1). One-of-one Printing Plates are also randomly inserted.
Color Burst parallels return. These are inserted as hot packs falling one per hobby box. In addition to base Color Burst cards, a handful of inserts have them as well: Adrenaline Rush, Agility, Most Valuable, QB Vision, and Unmatched.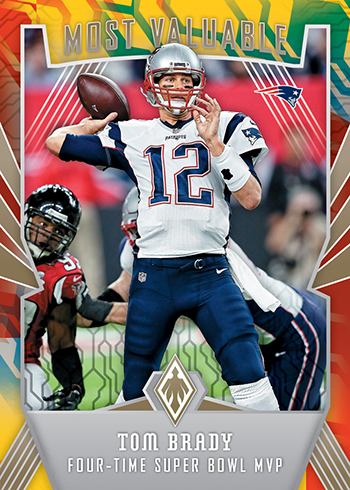 Autographs and Memorabilia Cards
Autograph memorabilia cards play a prominent role in 2018 Panini Phoenix Football, particularly when it comes to rookies.
RPS Rookie Autograph Jersey cards have 299 copies each or less. It's the same for Rising Rookie Material Signature cards, which have relic pieces from things other than jerseys. These include footballs, helmets and gloves.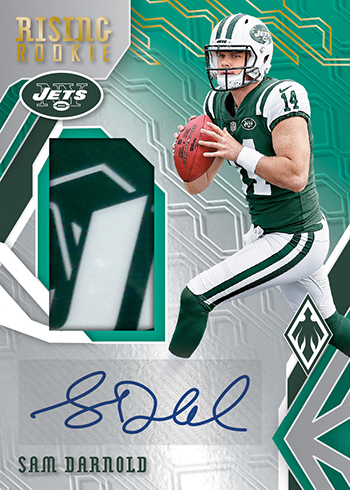 RPS Rookie Jersey Autograph parallels come in Orange (/149 and under), Yellow (/75 and under), Green (/25 and under), Blue Super Prime (1/1), Brand Logo (1/1), Laundry Tag (1/1), and NFL Shield (1/1). Rising Rookie Material Signatures have a few one-of-0ne versions such as NFL Shield, Nike Swoosh, Team Logo and Vapor Jet.
The first-year theme continues with RPS Rookie Jumbo Autographs (/149 or less). These have seven types of parallels including Brand Logo, Laundry Tag, NFL Shield and Blue Super Prime that are all one-of-ones.
Triple Patch Autographs have swatches and signatures from a trio of players.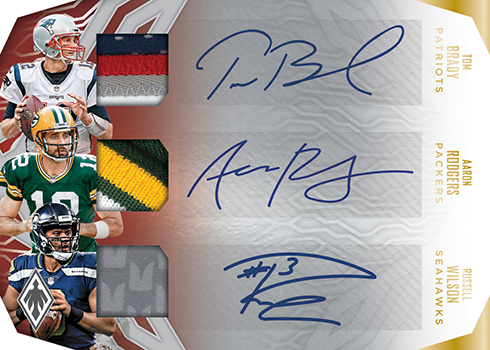 Among the memorabilia offerings in 2018 Panini Phoenix Football is Veteran Materials. Nearly two dozen players are featured with base versions having 199 copies or less. Quantities are similar for RPS Jumbo Memorabilia. Both of these have Purple (/75 or less), Prime Yellow (/25 or less), Prime Green (/10 or less) and Super Prime Blue (1/1) parallels.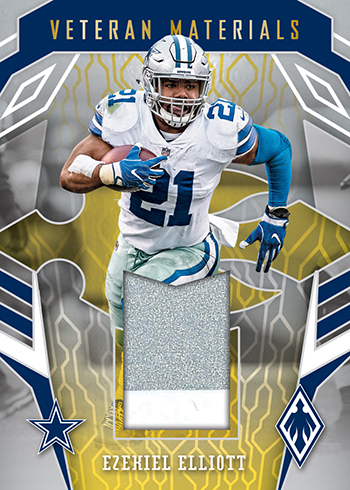 2018 Panini Phoenix Football at a glance:
Cards per pack: 5
Packs per box: 12
Boxes per case: 16
Set size: 200 cards
Release date: October 17, 2018
What to expect in a hobby box:
• Rookie Autograph Memorabilia – 1
• Additional Autographs – 1
• Memorabilia Cards – 1
• Inserts – 9
• Parallels – 12
2018 Panini Phoenix Football Checklist
Base
Autographs
Memorabilia
Inserts
Team Sets