2019 Panini Prizm Draft Picks Football kicks off the new NCAA card season with lots of color and autographs. It's the first time the Prizm brand has been used for a pre-season college set since 2016.
As expected from all things Prizm, there's no rainbow shortage in any aspect of the release.
On the autograph front, they combine to land five per hobby box, which averages out to one per pack.
2019 Panini Prizm Draft Picks Football Overview
As with most other Panini NCAA products, the main base set depicts current pros in their college threads.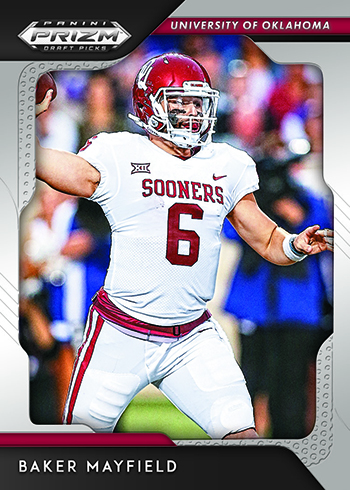 The Draft Picks portion of the set highlights incoming rookies and players hoping to be taken in the 2019 draft. Draft Picks Prizms parallels have both hobby and retail exclusives. Hobby packs have Silver, Red/White/Blue (/99), Hyper (/75), Mojo (/49), Camo (/25), Gold (/10), Green (/5) and Black (1/1). Blue Prizms can be found at retail while Orange and Purple Prizms are in retail fat packs.
Mascots are a new addition for 2019 Panini Prizms Draft Picks Football. Several years ago, Upper Deck did a run of mascot patch cards, which were tough inserts. In Prizm, they take a more traditional approach.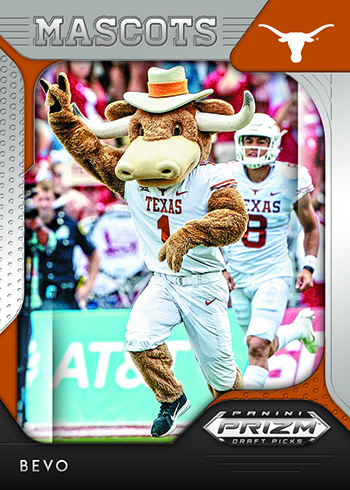 Stained Glass and Crusade cards are also in the product.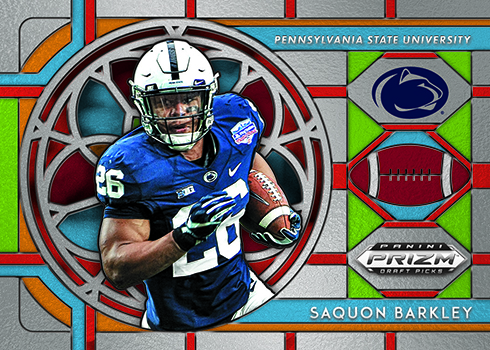 When it comes to autographs, Draft Picks Signatures is the place on the checklist where most are found. These are the first college-licensed autographs for the incoming rookie class.
Hobby-exclusive College Ties Autographs have a pair of signatures from players from the same school.
2019 Panini Prizm Draft Picks Football cards at a glance:
Cards per pack: Hobby – 8, Blaster – 5, Fat Packs – 15
Packs per box: Hobby – 5, Blaster – 6, Fat Packs – 12
Boxes per case: Hobby – 16
Set size: TBA
Release date: March 27, 2019
What to expect in a hobby box:
Autographs – 5
Base Prizms – 5
Additional Prizms and Inserts – 5 Total
What to expect in a retail blaster box:
Autographs – 1
Blue Prizms – 2