2018 Panini Elements Football Checklist, Team Set Lists and Details
2018 Panini Elements Football takes parts of the periodic table as inspiration for various types of cards. Much of the comes through with metal replacing traditional cardboard as the foundation.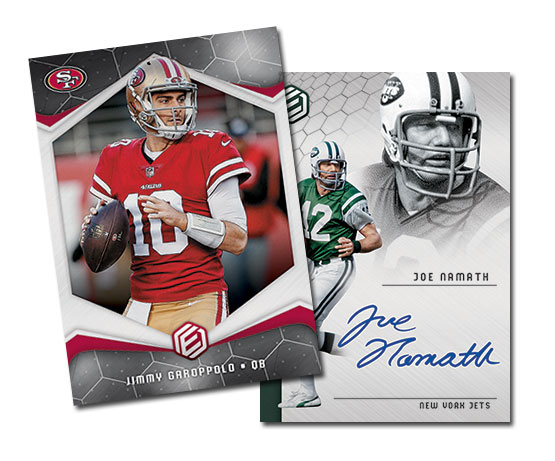 Each box comes with four total cards. At least two are autographs to go with one memorabilia card.
2018 Panini Elements Football Base Set Overview
The heavy metal approach of 2018 Panini Elements Football starts with the base set. All cards come on metal stock. This is similar to 2017 Pantheon. With that brand not returning in 2018, it opened up a spot for the distinctly styled cards to go.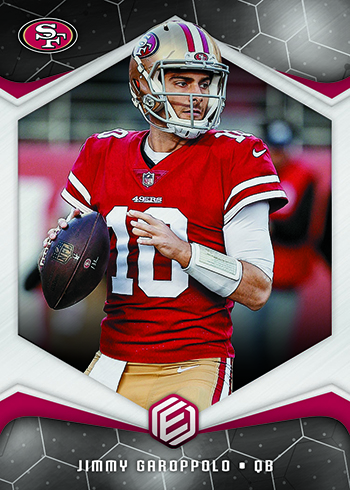 In addition to regular base cards, there are also variations that come with a few different themes including photos with things like Throwback and Color Rush jerseys.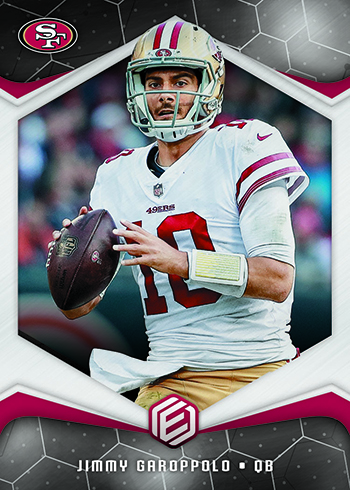 All base cards are numbered to 75 and have Copper (/25), Gold (/10) and Platinum (1/1) parallels.
Autographs, Memorabilia Cards and Other Inserts
Metal isn't just for base cards. Each 2018 Panini Elements Football hobby box comes with an on-card autograph done on the heavy stock. The Steel Signatures (/199 or less) checklist consists of veteran and retired players. Similar RPS Rookie Steel Signatures feature key names from the draft. Steel Signatures parallels come in Gold (/25) and Platinum (1/1).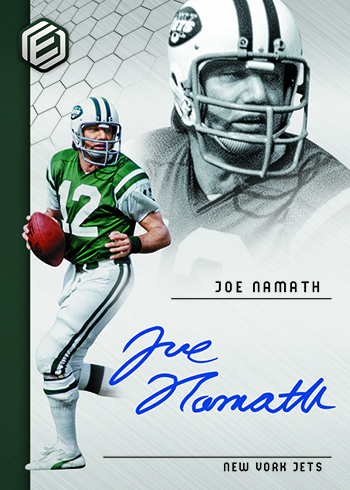 Rookie Titanium Autographs aren't totally metal but they do have a signature on a metallic plate. Versions include Copper (/299 and under), Silver (/99) and Gold (1/1).
A second autograph in each box is either another on metal or one that comes with the signature on acetate. These include Neon Signatures. As one might expect, the overall design of these features bright colors. Signers are both current and from the past. Neon Orange are the most common versions with no more than 125 copies each. Rarer cards come in Neon Blue (/50 or less) and Neon Yellow (1/1).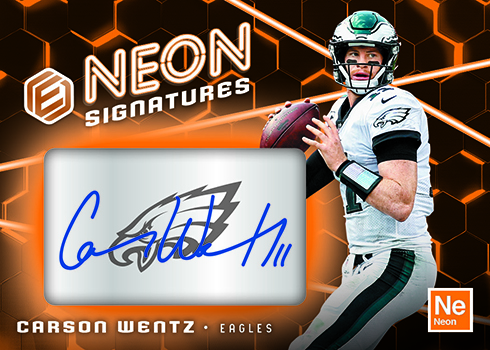 2018 Panini Elements Football doesn't have metal card stock for its memorabilia cards, but they do have metal frames. These inserts combine to fall one per box. Among the themes is Transition Materials (/75 or less), which showcase a pair of players that bridge one franchise era to the next.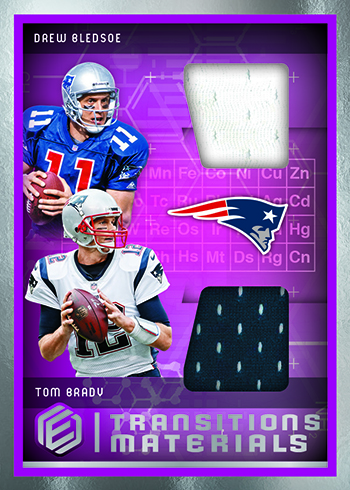 Other framed memorabilia cards, all of which are numbered to 125 or less, include Radioactive Materials and Xenon Rookie Jumbo Materials.
Mettle Moments (/50) is a 20-card insert set that spotlights specific big NFL moments. Like the base set, these are done on metal. Parallels come in Copper (/25), Gold (/10) and Platinum (1/1). Mettle Moments cards combine to land approximately one per case.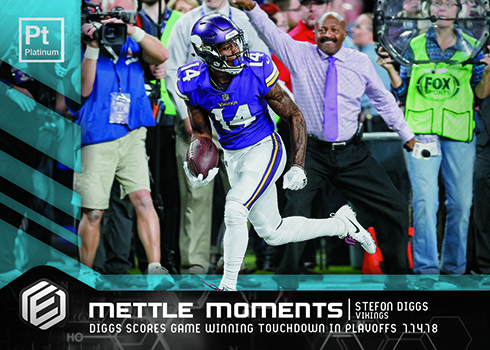 2018 Panini Elements Football at a glance:
Cards per pack: 4
Packs per box: 1
Boxes per case: 12
Set size: 112 cards
Release date: August 1, 2018
What to expect in a hobby box:
• Metal Autographs – 1
• Trapped Metal or Acetate Autographs – 1
• Metal Framed Memorabilia Cards – 1
• Metal Base Cards – 1
2018 Panini Elements Football Checklist
Base
Autographs
Memorabilia
Inserts
Team Sets