2018 Panini Prestige Football is bypassing hobby and heading straight to retail. That means several different pack and box configurations, each with their own exclusives and angles. For those looking for autographs and memorabilia, Box Buy boxes and blasters are the way to go. Box Buy boxes have a pair of hits while blasters have one.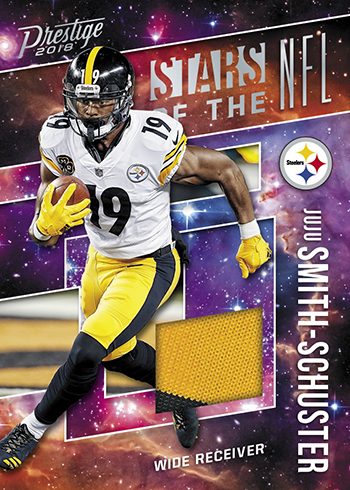 2018 Panini Prestige Football Base Set
The 2018 Panini Prestige Football base set is fairly comprehensive with 300 total cards. The first 200 are vets while Rookie Cards make up the final third of the checklist. Rookies are listed with their NFL teams.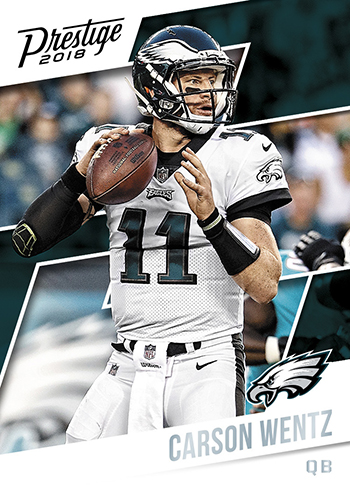 Xtra Points cards return as the parallels. These come in Blue, Green, Purple and Red. Printing Plates are also randomly inserted. Xtra Points Green parallels are exclusive to hanger boxes while Xtra Points Purple are only in fat packs.
Autographs, Memorabilia Cards and Other Inserts
All autographs in 2018 Prestige Football fall under the Signatures and Rookie Signatures banners. These are done with essentially the same design as the main set. Select Signatures cards have Xtra Points Blue and Xtra Points Red parallels but these are blaster exclusives.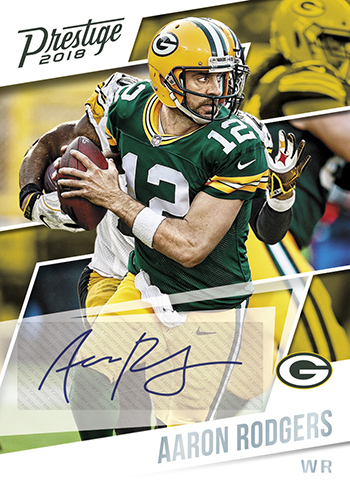 Rookie Signatures have Xtra Points Blue and Red versions that, like Signatures parallels, are found in blasters. Rookie Signatures Xtra Points Gold versions are numbered to 25 or less and are a Box Buy exclusive.
Prestige has five regular insert sets: Highlight Reel, Stars of the NFL, NFL Passport, Power House and Rising Stars.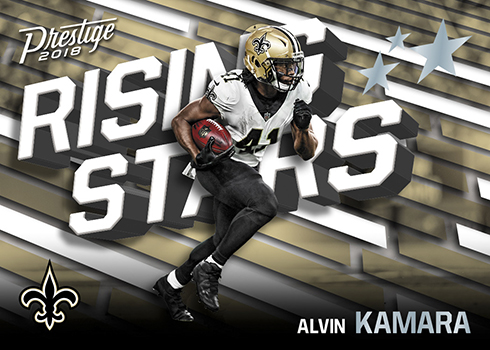 All have a similar slate of five different Xtra Points parallels. However, this is where a lot of the exclusive come into play. For Stars of the NFL, the Xtra Points versions are only in blasters. Power House parallels are fat pack exclusives. Hanger boxes have NFL Passport Xtra Points cards and Highlight Reel parallels are in gravity feed packs.
These inserts are also the inspiration for the product's memorabilia sets.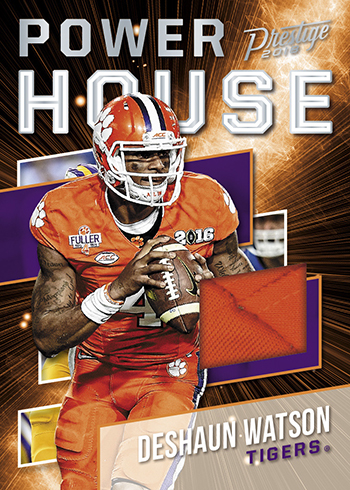 Prime Gold parallels, the vast majority of which are numbered to 25, are only in blasters.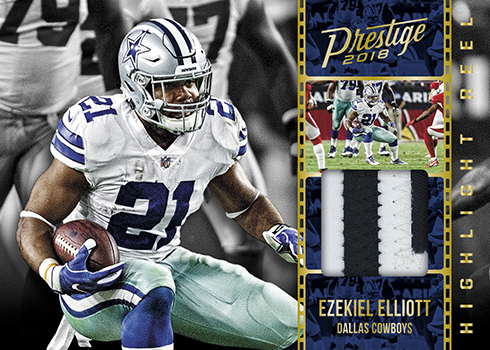 2018 Panini Prestige Football does have a connection to another release — 2018 Luminance Football. Box Buy boxes have Orange parallels from the release that are not in Luminance hobby boxes.
2018 Panini Prestige Football at a glance:
Cards per pack: Gravity Feed – 10
Packs per box: Gravity Feed – 36
Boxes per case: Gravity Feed – 6
Set size: 300 cards
Release date: June 6, 2018
Box Buy Breakdown:
• Autographs or Memorabilia Cards – 2 Total
• Inserts – 4
• Parallels – 2
• Rookies – 12
Blaster Box Breakdown:
• Autographs or Memorabilia Cards – 1
• Inserts – 6
• Parallels – 3
• Rookies – 8
Hanger Box Breakdown:
• Inserts – 5
• Parallels – 5
• Rookies – 5
Gravity Feed Box Breakdown:
• Inserts – 18
• Parallels – 18
• Rookies – 36
Fat Pack Breakdown:
• Inserts – 4
• Parallels – 2
• Rookies – 4
2018 Panini Prestige Football Checklist
Base
Autographs
Memorabilia
Inserts
Team Sets