2018 Rittenhouse WNBA Checklist Includes A'ja Wilson Autographs
2018 Rittenhouse WNBA Basketball continues with the trend of offering a limited edition factory set with a bit of a premium twist. In addition to a full collection of base cards, each set has a pair of autographs from some of the league's biggest stars.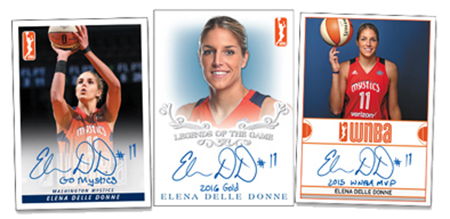 The full 2018 Rittenhouse WNBA factory set comes with 112 cards. Of those, 110 make up the main set. The checklist promises at least seven players from each of the league's 12 teams.
Going beyond the base set are the autographs. A'ja Wilson, the first overall pick in the draft, is one of the signed cards in every set. The Las Vegas Aces rookie's signature card has three different variations: Game Action, Posed in Uniform and Street Clothes. This makes things tougher for completists. It also keeps the print runs low on individual cards.
The second autograph card in 2018 Rittenhouse WNBA sets can be one of two players, Seimone Augustus or Elena Della Donne. Besides having a pair of possibilities, there are a couple of additional layers to these. First, they're inscribed. That in itself presents several possibilities. Photo variations also come into play. Like Wilson, both players have three different versions that show them in their uniforms, in the midst of a game or in their street clothes.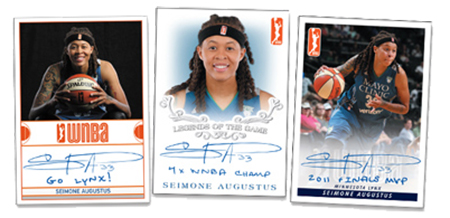 2018 Rittenhouse WNBA has a production run of 500 total sets.
2018 Rittenhouse WNBA Basketball at a glance:
Cards per factory set: 112
Set size: 110 cards
Release date: August 1, 2018
What to expect in a factory set:
• 110-Card Base Set
• Autographs – 2
2018 Rittenhouse WNBA Basketball Checklist
Base
Base Set Checklist
110 cards.
1 Angel McCoughtry, Atlanta Dream
2 Brittney Sykes, Atlanta Dream
3 Elizabeth Williams, Atlanta Dream
4 Jessica Breland, Atlanta Dream
5 Layshia Clarendon, Atlanta Dream
6 Monique Billings, Atlanta Dream
7 Renee Montgomery, Atlanta Dream
8 Tiffany Hayes, Atlanta Dream
9 Alaina Coates, Chicago Sky
10 Allie Quigley, Chicago Sky
11 Astou Ndour, Chicago Sky
12 Cheyenne Parker, Chicago Sky
13 Courtney Vandersloot, Chicago Sky
14 Diamond DeShields, Chicago Sky
15 Gabby Williams, Chicago Sky
16 Jamierra Faulkner, Chicago Sky
17 Kahleah Copper, Chicago Sky
18 Stefanie Dolson, Chicago Sky
19 Alex Bentley, Connecticut Sun
20 Alyssa Thomas, Connecticut Sun
21 Brionna Jones, Connecticut Sun
22 Chiney Ogwumike, Connecticut Sun
23 Courtney Williams, Connecticut Sun
24 Jasmine Thomas, Connecticut Sun
25 Jonquel Jones, Connecticut Sun
26 Lexie Brown, Connecticut Sun
27 Morgan Tuck, Connecticut Sun
28 Rachel Banham, Connecticut Sun
29 Shekinna Stricklen, Connecticut Sun
30 Allisha Gray, Dallas Wings
31 Azura Stevens, Dallas Wings
32 Glory Johnson, Dallas Wings
33 Kaela Davis, Dallas Wings
34 Karima Christmas-Kelly, Dallas Wings
35 Kayla Thornton, Dallas Wings
36 Liz Cambage, Dallas Wings
37 Skylar Diggins-Smith, Dallas Wings
38 Candice Dupree, Indiana Fever
39 Erica McCall, Indiana Fever
40 Erica Wheeler, Indiana Fever
41 Kayla Alexander, Indiana Fever
42 Kelsey Mitchell, Indiana Fever
43 Natalie Achonwa, Indiana Fever
44 Stephanie Mavunga, Indiana Fever
45 Tiffany Mitchell, Indiana Fever
46 Victoria Vivians, Indiana Fever
47 Cappie Pondexter, Indiana Fever
48 A'ja Wilson, Las Vegas Aces
49 Dearica Hamby, Las Vegas Aces
50 Jaime Nared, Las Vegas Aces
51 Ji-Su Park, Las Vegas Aces
52 Kayla McBride, Las Vegas Aces
53 Kelsey Bone, Las Vegas Aces
54 Kelsey Plum, Las Vegas Aces
55 Lindsay Allen, Las Vegas Aces
56 Nia Coffey, Las Vegas Aces
57 Tamera Young, Las Vegas Aces
58 Alana Beard, Los Angeles Sparks
59 Candace Parker, Los Angeles Sparks
60 Chelsea Gray, Los Angeles Sparks
61 Essence Carson, Los Angeles Sparks
62 Jantel Lavender, Los Angeles Sparks
63 Nneka Ogwumike, Los Angeles Sparks
64 Odyssey Sims, Los Angeles Sparks
65 Riquna Williams, Los Angeles Sparks
66 Alexis Jones, Minnesota Lynx
67 Cecilia Zandalasini, Minnesota Lynx
68 Danielle Robinson, Minnesota Lynx
69 Lindsay Whalen, Minnesota Lynx
70 Maya Moore, Minnesota Lynx
71 Rebekkah Brunson, Minnesota Lynx
72 Seimone Augustus, Minnesota Lynx
73 Sylvia Fowles, Minnesota Lynx
74 Tanisha Wright, Minnesota Lynx
75 Amanda Zahui B, New York Liberty
76 Bria Hartley, New York Liberty
77 Epiphanny Prince, New York Liberty
78 Kia Nurse, New York Liberty
79 Kia Vaughn, New York Liberty
80 Marissa Coleman, New York Liberty
81 Shavonte Zellous, New York Liberty
82 Sugar Rodgers, New York Liberty
83 Tina Charles, New York Liberty
84 Briann January, Phoenix Mercury
85 Brittney Griner, Phoenix Mercury
86 Camille Little, Phoenix Mercury
87 DeWanna Bonner, Phoenix Mercury
88 Diana Taurasi, Phoenix Mercury
89 Leilani Mitchell, Phoenix Mercury
90 Marie Gulich, Phoenix Mercury
91 Sancho Lyttle, Phoenix Mercury
92 Alysha Clark, Seattle Storm
93 Breanna Stewart, Seattle Storm
94 Courtney Paris, Seattle Storm
95 Jewell Loyd, Seattle Storm
96 Jordin Canada, Seattle Storm
97 Kaleena Mosqueda-Lewis, Seattle Storm
98 Natasha Howard, Seattle Storm
99 Sue Bird, Seattle Storm
100 Ariel Atkins, Washington Mystics
101 Elena Delle Donne, Washington Mystics
102 Kristi Toliver, Washington Mystics
103 Krystal Thomas, Washington Mystics
104 LaToya Sanders, Washington Mystics
105 Monique Currie, Washington Mystics
106 Myisha Hines-Allen, Washington Mystics
107 Natasha Cloud, Washington Mystics
108 Shatori Walker-Kimbrough, Washington Mystics
109 Tianna Hawkins, Washington Mystics
110 Tierra Ruffin-Pratt, Washington Mystics
Autographs
2018 Rittenhouse WNBA Autographs Checklists
Autographs
9 cards.
Seimone Augustus, Minnesota Lynx – Legends
Seimone Augustus, Minnesota Lynx – Uniform
Seimone Augustus, Minnesota Lynx – Game Action
Elena Delle Donne, Washington Mystics – Legends
Elena Delle Donne, Washington Mystics – Uniform
Elena Delle Donne, Washington Mystics – Game Action
A'ja Wilson, Las Vegas Aces – Street Clothes
A'ja Wilson, Las Vegas Aces – Uniform
A'ja Wilson, Las Vegas Aces – Game Action