To say the 2018-19 Panini Prizm Basketball Prizms rainbow is a big one might be an understatement. It's got color, patterns and plenty of exclusives. And for those who are able to complete it, all 300 base cards have 36 Prizms parallels to go along with the regular base version. If you're a page-and-binder type of collector, that's four pages worth.
Prizm has become one of the hobby's most popular lines and these bright and colorful cards are a big reason why.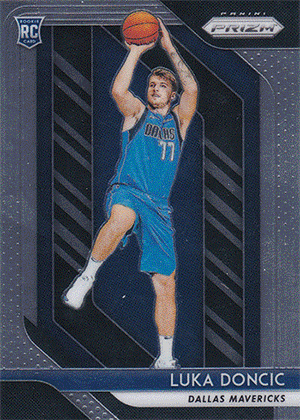 Tracking these down requires a lot of work and it's not just because of the varying print runs. The 2018-19 Panini Prizms Basketball Prizms are spread across several box and pack types. These aren't only a matter of hobby versus retail, but some specific to certain stores and configurations. In the case of Choice Prizms, it even means reaching out to other parts of the world.
Here's a breakdown of the various box and pack configurations and what you can find in each. After that is a massive gallery showcasing the individual Prizms as well as where you can find them.
Which Packs Have Which Prizms?
2018-19 Panini Prizm Basketball Prizms Rainbow Gallery
---
---
---
---
---
---
---
---
---
---
---
---
---
---
---
---
---
---
---
---
---
---
---
---
---
---
---
---
---
---
---
---
---
---
---
---