Card to Watch: 2009-10 Topps James Harden RC – Beckett Pricing Insider
James Harden, the reigning NBA MVP, has been on a historic hot streak of late. Having scored 35-plus points in eight straight games, Harden passed Oscar Robertson to become the NBA all-time leader in most consecutive games with at least 35 points and five assists. Moreover, Harden recently joined Michael Jordan and Kobe Bryant as the only players in the last 30 seasons to score 400 points in a ten-game span. Harden's current strong play has helped turn the Rockets season around and, hobby-wise, made his 2009-10 Topps Rookie Card one to keep an eye on.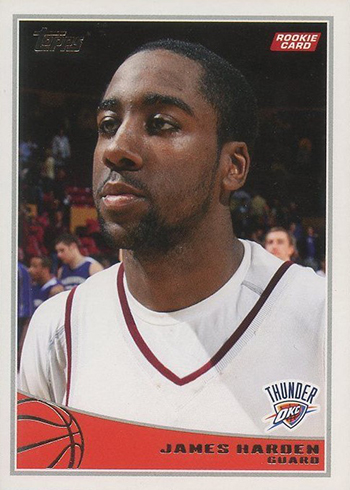 When Stephen Curry cards experienced a meteoric rise in value a few years back, his 2009-10 Topps RC was at the forefront, garnering significant hobby attention and selling in raw form for $300 plus. The card has since settled in price, but it remains a collector favorite and a fixture on the Beckett Hot List.
Is the James Harden Topps RC poised for a similar jump in popularity? While making occasional Hot List appearances in 2018, the card steadily rose in value to its current raw price of $20-$50. Prices were soft in late October and November as Houston got off to a sluggish start and among the NBA early-season disappointments.
Now, with Harden on fire and Houston climbing the Western Conference standings, demand for his Topps RC has picked up, with recent market activity indicating an upward trend. The last BGS 9.5 sale was for $100, but asking prices are significantly above that now. Raw card asking prices continue to increase as well. These current values may well be bargains if Harden continues to put up eye-popping numbers and the Rockets keep winning.