2018-19 Panini Cornerstones Basketball Checklist, Team Set Lists and Details
Like a rock, 2018-19 Panini Cornerstones Basketball brings back its trademark quad memorabilia autograph cards (and more). Although hits-focused, with three of every six cards in a box being of the autograph or memorabilia variety, there is more to the product.
2018-19 Panini Cornerstones Basketball hobby boxes break down to include a pair of autographs, one memorabilia card and one insert made with plastic PVC stock. The remaining two cards are base or parallels.
2018-19 Panini Cornerstones Basketball Overview
Cornerstones cards return in a few forms. Whether it's rookies, veterans or legends, these are highlighted by an on-card signature and four swatches of memorabilia that take a four-corners approach. Base versions for rookies have 199 copies each.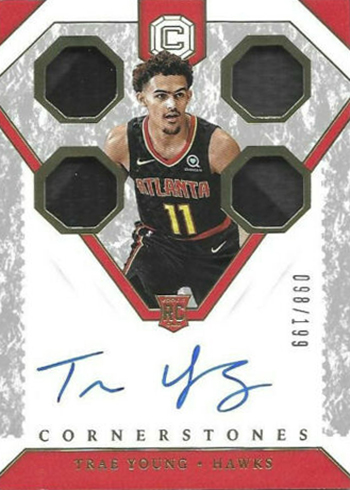 Once again, parallels look to minerals for inspiration rather than just colors. These include Crystal (/75), Quartz (/49), Marble (/10) and Onyx (1/1).
Legendary Cornerstones take a similar look and feel, only with retired players. Print runs for the base versions max out at 129 copies. Some are less. Parallel levels for these are Crystal (/49 and under), Quartz (/25 and under), Marble (/10 and under), and Onyx (1/1).
No matter the type, tougher Quartz, Marble and Onyx Cornerstones parallels include premium swatches.
More signatures can be found in 2018-19 Panini Cornerstones Basketball in Elemental Signatures and Franchise Pillars. All cards in both of these have no more than 129 copies. Parallels include Crystal (/49 or less), Quartz (/25 or less), Marble (/10 or less) and one-of-one Onyx.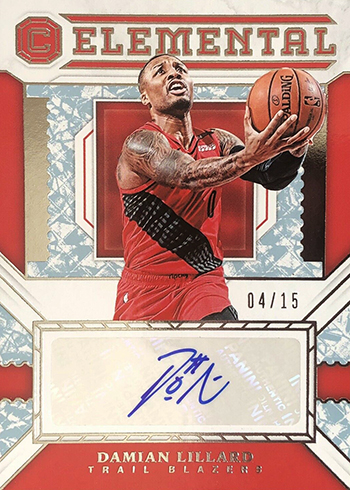 Among the strictly memorabilia cards on the checklist are scarce Memorabilia Super Prime cards. These are one-of-ones and come with tags taken from game-work jerseys.
The regular inserts in 2018-19 Panini Cornerstones Basketball stand out right away based on how they're constructed. They're not traditional card stock or even the more modern thick and glossy. Rather, they use a combination of holographic foil on the front and vinyl PVC on the back. Combining to land one per box, themes include Unbreakables, Startups and the return of the popular Downtown, which cast star players against an illustrated backdrop of the city they play in.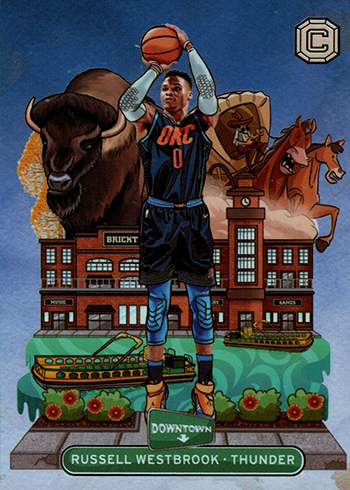 2018-19 Panini Cornerstones Basketball cards at a glance:
Cards per pack: 6
Packs per box: 1
Boxes per case: 12
Set size: 185 cards
Release date: March 20, 2019
What to expect in a hobby box:
Autographs – 2
Memorabilia Cards – 1
PVC Inserts – 1
2018-19 Panini Cornerstones Basketball Checklist
Base
Autographs
Memorabilia
Inserts
Team Sets