2019 Topps Inception Baseball Offers Up Autographs, Bold Designs for Rookies and Youngsters
2019 Topps Inception Baseball continues with where the line has left off the last couple of years. That means modern designs, a central focus on young players and a good amount of signatures.
Single-pack boxes have seven cards. Of those, one is either an autograph or an autographed patch card.
2019 Topps Inception Baseball Base Set
The main 2019 Topps Inception Baseball base set starts with 100 regular cards. Rookies and young veterans get the spotlight. This isn't a set where you'll find retired stars.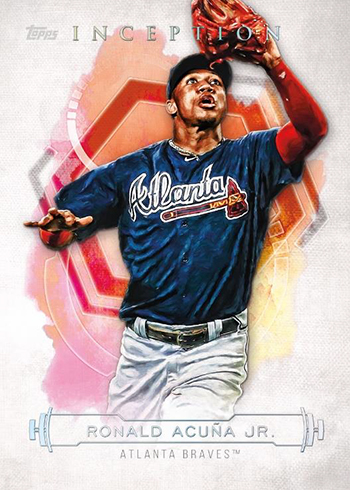 Parallels combine to land two per box. Green are the only ones that don't have a serial number. Others include Purple (/150), Magenta (/99), Red (/75), Orange (/50), Blue (/25), Printing Plates (1/1) and Inception (1/1).
Rookie and Emerging Stars Autographs bookend the checklist. Like many parts of the product, signatures are on-card. Parallels here are limited to Magenta (/99), Red (/75), Orange (/50), Blue (/25), and Inception (1/1).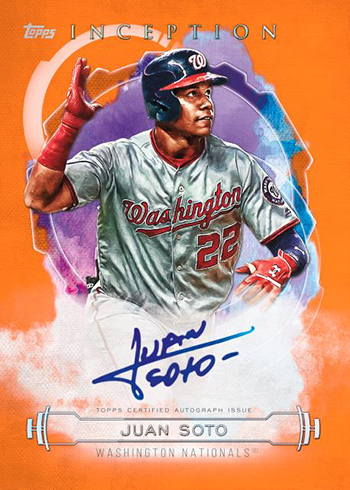 2019 Topps Inception Baseball Autographs
Plenty of autographed inserts can also be found in 2019 Topps Inception Baseball.
Silver Signings make a departure from the rest of the product's light designs, going for a black backdrop. Cards, which are case hits, come with on-card signatures done in silver ink. Parallels are Gold (/25) and Gold Inscription (1/1). Both of these are done with gold ink.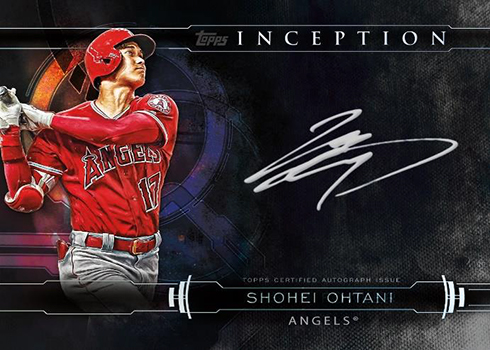 Inception Legendary Debuts Autographs (/20) picture signers as they were in the early part of their respective careers. Hard-signed at all levels, there are also Orange (/10), Blue (/5) and Inception (1/1) versions.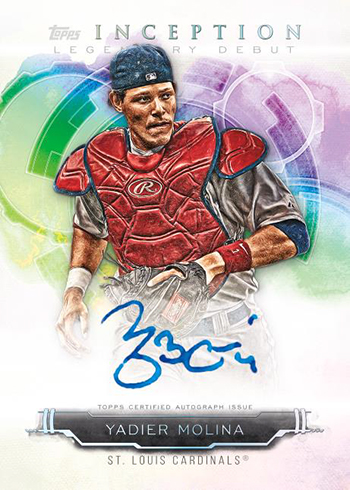 Short Print Inception Autographs are all current players. They get their name, in part, for their small print runs of ten.
Inception Autograph Patch cards kick off the signature memorabilia portion of the product. These fall approximately 1:4 boxes and come with a larger-than-average patch piece. All are numbered, including Magenta, Red (/25), Orange (/10) Blue Button (/6) and Inception Majestic Logo (1/1) parallels.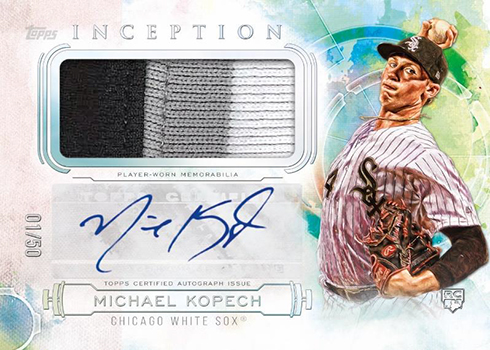 Inception Autograph Jumbo Patch cards have even larger swatches. They're also tougher to pull at one per case. The only parallels are Orange (/25), Blue (/10) and Inception(1/1).
Inception Autograph Jumbo Hat Patch cards go to head gear for swatches. These have three different versions, all with five copies each: Team Logo, New Era Logo, and MLB Silhouetted Batter Logo.
2019 Topps Inception Baseball has four set of book cards that are on the extremely tough side: Autographed Letter (/2), Autographed Team Logo Patch (/2), Autographed Laundry Tag (1/1), and Autograph MLB Silhouetted Batter Logo Patch (1/1). All have on-card signatures.

2019 Topps Inception Baseball at a glance:
Cards per pack: 7
Packs per box: 1
Boxes per case: 16
Set size: 100 cards + TBA Rookies and Young Stars Autographs
Release date: March 20, 2019
What to expect in a hobby box:
• Autographs – 1
• Parallels – 2
• Base Cards – 4