Pete Rose's exclusion in MLB products is nothing new — and it's MLB's call that he's out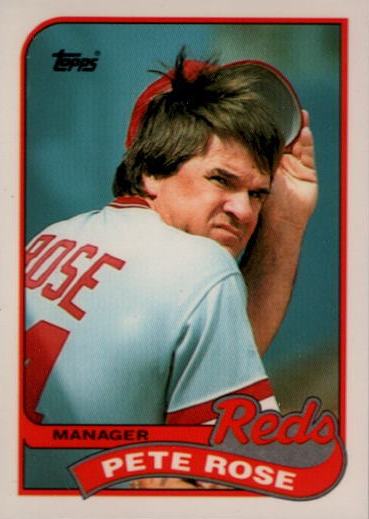 By Chris Olds | Beckett Baseball Editor | Commentary
Pete Rose has been banned from Major League Baseball and on its Ineligible List for more than 20 years now and that has meant one thing that should be obvious to collectors.
He hasn't had a single, officially licensed baseball card since.
It's nothing new, but his name being omitted from the Career Chase trivia lines in the 2013 Topps baseball set has at least one collector angry, who foolishly took Topps to task for something that's out if its hands.
And I'll use the word again. Foolish.
Why would I say that? Rose is on baseball's Ineligible List — banned for life from the game for his gambling habits while manager of the Cincinnati Reds. That bans him from MLB cards, too — and that's Major League Baseball's call. A player who is banned will not be in an MLB-approved product — period.
Otherwise? Topps won't be making MLB cards. Rose is perfectly welcomed elsewhere on cardboard — and he's been a draw for companies who have gone without licensing.
"Since Pete Rose is banned from baseball," said Matt Bourne, the MLB Vice President of Business Public Relations, on Wednesday, "he is not included in MLB-licensed products."
Clouding the issue today, of course, are the players with tarnished reputations — the Barry Bondses, the Mark McGwires — of the game. The players who have confessed to cheating or now have criminal records relating to steroids or PEDs.
However, they are not banned from the game.
A decade ago this week, I wrote about Rose and addressed his popularity in the game. I asked the card companies at the time about the "issue" of Rose — who hadn't yet admitted his gambling habits in his book, My Prison Without Bars. That admission of guilt — with profit — changed my view on Rose.

One of the Yahoo! bloggers documenting this meaningless hubbub unearthed my piece for The Tuscaloosa News (click here to read it). Here's the paragraph that matters most:
"Any player who is on the permanently ineligible list is prohibited from inclusion on any product officially licensed by Major League Baseball," said Kathleen Fineout, Major League Baseball's manager of properties. "Any player has the right to enter into licensing deals for products bearing his name or likeness as long as no trademarks of Major League Baseball are included on those products."
All these years later, nothing has changed with Rose.
Except he's admitted what he did — and made more than a few bucks with his book and his countless inscribed baseballs.
Should MLB address its steroids issues the same way? Perhaps, but it hasn't and I'm not sure it would want to face the potential lawsuits or annoyance that a ban of, say, Bonds might create.
After all, we already have one too many pariahs with Rose.
It's MLB's call to ban Rose — not Topps' — and it's the right one.
Rose' actions undermined the game — and frankly PEDs and steroids did, too — but those players aren't banned for life.
It's as simple as that.
Chris Olds is the editor of Beckett Baseball magazine. Have a comment, question or idea? Send an email to him at colds@beckett.com. Follow him on Twitter by clicking here.
BANNED FROM THE GAME — AND MLB-APPROVED BASEBALL CARDS
Here is a list of the players on the Ineligible List as provided by Matt Bourne, the MLB Vice President of Business Public Relations:
1919
Jean Dubuc — National League pitcher involved with Hal Chase and Heine Zimmerman in 1919.  Had advanced knowledge of Series fix.  Banned for life.
Lee Magee — National League outfield/infielder.  Confessed in 1919 to having helped Chase and Zimmerman fix games in 1918.  Banned for Life.
1920
Eddie Cicotte
Chick Gandil
Lefty Williams
Swede Risberg
Fred McMullin
Hap Felsch
Buck Weaver
Joe Jackson
Black Sox Scandal – Conspired to throw the 1919 World Series.
1921
Eugene Paulette — Accepted gifts or loans from two St. Louis gamblers.
Ray Fisher — Banned from Baseball in 1921 for alleged contract jumping.
Joe Gedeon — St. Louis second baseman.  Friend of Swede Risberg.  Served on Ad Hoc committee to throw the World Series.  Banned for life.
Benny Kauff — Permanently banished, indicted and acquitted for stealing a car and receiving stolen cars.
Heine Zimmerman — Outstanding National League third baseman (1907-1919); batting and home run champion in 1912.  In 1919 Zimmerman and Hal Chase allegedly tried to bribe Benny Kauff, Lee Magee, Fred Toney, Rube Benton, Jean Dubuc and others to help them fix games.  Banned for life.
1922
Phil Douglas — "Shufflin Phil" permanently banned.  In 1922 he wrote a letter to Les Mann, a former teammate with the Chicago Cubs (he was drunk at the time) opaquely offering to desert the Giants; if rewarded so that he would not have to help John McGraw, who he hated, win the pennant.
1924
John (Cozy) Dolan and Jimmy O'Connell — Permanently banished. Jimmy O'Connell (Giants) offered Heinie Sand (SS, Phillies) $500 not to "bear down" and Dolan (Giants Coach) knew about it.  (Sand turned him in).
1943
William Cox — Philadelphia Phillies Owner who was permanently banished for extensive betting (sentimental betting on his own club to win).
1989
Pete Rose — Commissioner Bart Giamatti made decision on August 23, 1989.  Violation of Major League Rule 21-gambling on baseball.  Declared permanently ineligible and placed on the ineligible list.
—
Click here for a full 2013 Topps checklist and Online Price Guide.