Here Are the Dates and Checklists for 2018 Topps National Baseball Card Day Stadium Giveaways
Promo Details/Dates
While hobby shops are a big focus of 2018 Topps National Baseball Card Day, it's not the only place. Topps and MLB are partnering to bring the promotion to every stadium in the league in the weeks ahead.
That means stadium giveaways with free cards (and exclusive cards at that).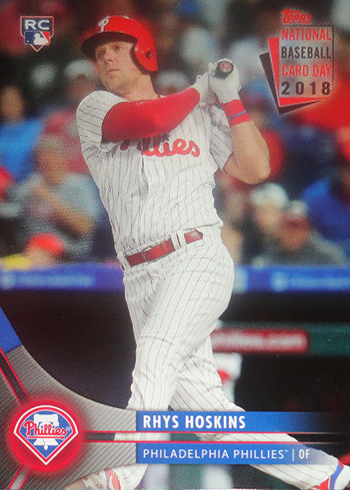 Dates vary from city to city with things having kicked off in Philadelphia on Tuesday, July 24. The Phillies set has ten cards. Next up is Detroit on Saturday, July 28. Ensuing National Baseball Card Day stadium promotions run through August 11–the same day that it's slated for hobby shops.
For those heading to the National Sports Collectors Convention, Cleveland has their NBCD promotion on Sunday, August 5.
Cards given out at stadiums are of the local team. They're different from the 2018 Topps National Baseball Card Day hobby set.
Here's a look at the various stadium giveaway dates:
Tuesday, July 24
Philadelphia Phillies
Saturday, July 28
Detroit Tigers
Sunday, July 29
Atlanta Braves
Wednesday, August 1
Los Angeles Dodgers
Minnesota Twins
Seattle Mariners
Thursday August 2
St. Louis Cardinals
Texas Rangers
Friday, August 3
Boston Red Sox
Saturday, August 4
Milwaukee Brewers
Boston Red Sox
Sunday, August 5
Arizona Diamondbacks
Boston Red Sox
Cleveland Indians
New York Mets
Oakland Athletics
Pittsburgh Pirates
Tampa Bay Rays
Washington Nationals
Monday, August 6
Los Angeles Angels
Wednesday, August 8
Chicago White Sox
Thursday, August 9
Houston Astros
Friday, August 10
Kansas City Royals
San Diego Padres
Toronto Blue Jays
Saturday, August 11
Baltimore Orioles
Chicago Cubs
Cincinnati Reds
Colorado Rockies
Miami Marlins
New York Yankees
San Francisco Giants
Checklists
2018 Topps National Baseball Card Day Stadium Giveaway Checklists
Atlanta Braves
Date handed out: July 29
AB-1 Freddie Freeman
AB-2 Tyler Flowers
AB-3 Dansby Swanson
AB-4 Nick Markakis
AB-5 Ozzie Albies
AB-6 Ender Inciarte
AB-7 Julio Teheran
AB-8 Sean Newcomb
AB-9 Arodys Vizcaino
AB-10 Chipper Jones
Arizona Diamondbacks
Date handed out: August 5
AD-1 Paul Goldschmidt
AD-2 David Peralta
AD-3 Robbie Ray
AD-4 Jake Lamb
AD-5 Zack Greinke
AD-6 A.J. Pollock
AD-7 Nick Ahmed
AD-8 Archie Bradley
AD-9 Alex Avila
AD-10 Ketel Marte
Baltimore Orioles
Date handed out: August 11
BO-1 Trey Mancini
BO-2 Adam Jones
BO-3 Kevin Gausman
BO-4 Mark Trumbo
BO-5 Chris Davis
BO-6 Dylan Bundy
BO-7 Alex Cobb
BO-8 Brian Roberts
BO-9 Tim Beckham
BO-10 Jonathan Schoop
Boston Red Sox
Date handed out: August 4-5
BR-1 Andrew Benintendi
BR-2 Rafael Devers
BR-3 Hanley Ramirez
BR-4 David Price
BR-5 JD Martinez
BR-6 Xander Bogaerts
BR-7 Drew Pomeranz
BR-8 Dustin Pedroia
BR-9 Chris Sale
BR-10 Craig Kimbrel
Chicago Cubs
Date handed out: August 11
CC-1 Kris Bryant
CC-2 Anthony Rizzo
CC-3 Kyle Schwarber
CC-4 Jon Lester
CC-5 Addison Russell
CC-6 Jose Quintana
CC-7 Javier Baez
CC-8 Ben Zobrist
CC-9 Kyle Hendricks
CC-10 Willson Contreras
Chicago White Sox
Date handed out: August 8
CWS-1 Jose Abreu
CWS-2 Matt Davidson
CWS-3 Carson Fulmer
CWS-4 Yoan Moncada
CWS-5 Tim Anderson
CWS-6 Nicky Delmonico
CWS-7 Lucas Giolito
CWS-8 Yolmer Sanchez
CWS-9 Welington Castillo
CWS-10 Reynaldo Lopez
Cincinnati Reds
Date handed out: August 11
CR-1 Joey Votto
CR-2 Homer Bailey
CR-3 Raisel Iglesias
CR-4 Eugenio Suarez
CR-5 Scooter Gennett
CR-6 Scott Schebler
CR-7 Adam Duvall
CR-8 Anthony DeSclafani
CR-9 Tucker Barnhart
CR-10 Billy Hamilton
Cleveland Indians
Date handed out: August 5
CI-1 Jose Ramirez
CI-2 Francisco Lindor
CI-3 Jason Kipnis
CI-4 Carlos Carrasco
CI-5 Yan Gomes
CI-6 Mike Clevinger
CI-7 Corey Kluber
CI-8 Edwin Encarnacion
CI-9 Trevor Bauer
CI-10 Bradley Zimmer
Colorado Rockies
Date handed out: August 11
COL-1 Nolan Arenado
COL-2 Jon Gray
COL-3 Charlie Blackmon
COL-4 Chad Bettis
COL-5 Gerardo Parra
COL-6 Trevor Story
COL-7 Tyler Anderson
COL-8 German Marquez
COL-9 Ian Desmond
COL-10 DJ LeMahieu
Detroit Tigers
Date handed out: July 28
DT-1 Miguel Cabrera
DT-2 Jose Iglesias
DT-3 James McCann
DT-4 Michael Fulmer
DT-5 Jordan Zimmermann
DT-6 Jeimer Candelario
DT-7 Victor Martinez
DT-8 Dixon Machado
DT-9 Shane Greene
DT-10 Nicholas Castellanos
Houston Astros
Date handed out: August 9
HA-1 Jose Altuve
HA-2 Josh Reddick
HA-3 Carlos Correa
HA-4 Alex Bregman
HA-5 Yulieski Gurriel
HA-6 Justin Verlander
HA-7 Dallas Keuchel
HA-8 Marwin Gonzalez
HA-9 Brian McCann
HA-10 George Springer
Kansas City Royals
Date handed out: August 10
KCR-1 Salvador Perez
KCR-2 Sluggerrr
KCR-3 Ian Kennedy
KCR-4 Cheslor Cuthbert
KCR-5 Danny Duffy
KCR-6 Alex Gordon
KCR-7 1985 World Series Trophy Photo
KCR-8 Whit Merrifield
KCR-9 Kelvin Herrera
KCR-10 2015 World Series Trophy Photo
Los Angeles Angels
Date handed out: August 6
AA-1 Mike Trout
AA-2 Andrelton Simmons
AA-3 Albert Pujols
AA-4 Kole Calhoun
AA-5 Martin Maldonado
AA-6 Justin Upton
AA-7 Zack Cozart
AA-8 Garrett Richards
AA-9 Ian Kinsler
AA-10 Shohei Ohtani
Los Angeles Dodgers
Date handed out: August 1
LAD-1 Clayton Kershaw
LAD-2 Alex Wood
LAD-3 Rich Hill
LAD-4 Chris Taylor
LAD-5 Cody Bellinger
LAD-6 Kenta Maeda
LAD-7 Kenley Jansen
LAD-8 Corey Seager
LAD-9 Justin Turner
LAD-10 Yasiel Puig
Miami Marlins
Date handed out: August 11
MM-1 Justin Bour
MM-2 J.T. Realmuto
MM-3 Jose Urena
MM-4 JT Riddle
MM-5 Magneuris Sierra
Milwaukee Brewers
Date handed out: August 4
MB-1 Ryan Braun
MB-2 Chase Anderson
MB-3 Lorenzo Cain
MB-4 Orlando Arcia
MB-5 Christian Yelich
MB-6 Zach Davies
MB-7 Jimmy Nelson
MB-8 Travis Shaw
MB-9 Corey Knebel
MB-10 Eric Thames
Minnesota Twins
Date handed out: August 1
MT-1 Byron Buxton
MT-2 Brian Dozier
MT-3 Joe Mauer
MT-4 Eddie Rosario
MT-5 Miguel Sano
MT-6 Ervin Santana
MT-7 Eduardo Excobar
MT-8 Jason Castro
MT-9 Jose Berrios
MT-10 Max Kepler
New York Mets
Date handed out: August 5
NYM-1 Michael Conforto
NYM-2 Noah Syndergaard
NYM-3 Amed Rosario
NYM-4 Jacob deGrom
NYM-5 Jay Bruce
New York Yankees
Date handed out: August 11
NYY-1 Aaron Judge
NYY-2 Brett Gardner
NYY-3 Giancarlo Stanton
NYY-4 Aroldis Chapman
NYY-5 Gary Sanchez
NYY-6 Luis Severino
NYY-7 CC Sabathia
NYY-8 Didi Gregorius
NYY-9 David Robertson
NYY-10 Masahiro Tanaka
Oakland Athletics
Date handed out: August 5
OA-1 Khris Davis
OA-2 Andrew Triggs
OA-3 Marcus Semien
OA-4 Kendall Graveman
OA-5 Sean Manaea
OA-6 Matt Joyce
OA-7 Stephen Piscotty
OA-8 Matt Chapman
OA-9 Blake Treinen
OA-10 Matt Olson
Philadelphia Phillies
Date handed out: July 24
PH-1 Rhys Hoskins
PH-2 Odubel Herrera
PH-3 Scott Kingery
PH-4 Maikel Franco
PH-5 Aaron Nola
PH-6 Jorge Alfaro
PH-7 Carlos Santana
PH-8 Jake Arrieta
PH-9 Cesar Hernandez
PH-10 J.P. Crawford
Pittsburgh Pirates
Date handed out: August 5
PP-1 Felipe Vazquez
PP-2 Trevor Williams
PP-3 Starling Marte
PP-4 Gregory Polanco
PP-5 Chad Kuhl
PP-6 Francisco Cervelli
PP-7 Josh Bell
PP-8 Adam Frazier
PP-9 Jameson Taillon
PP-10 Jordy Mercer
San Diego Padres
Date handed out: August 10
SD-1 Hunter Renfroe
SD-2 Clayton Richard
SD-3 Manny Margot
SD-4 Trevor Hoffman
SD-5 Austin Hedges
SD-6 Brad Hand
SD-7 Freddy Galvis
SD-8 Eric Hosmer
SD-9 Carlos Asuaje
SD-10 Wil Myers
San Francisco Giants
Date handed out: August 11
SF-1 Buster Posey
SF-2 Brandon Belt
SF-3 Johnny Cueto
SF-4 Jeff Samardzija
SF-5 Nick Hundley
SF-6 Evan Longoria
SF-7 Joe Panik
SF-8 Brandon Crawford
SF-9 Austin Jackson
SF-10 Andrew McCutchen
Seattle Mariners
Date handed out: August 1
SM-1 Edwin Diaz
SM-2 Dee Gordon
SM-3 James Paxton
SM-4 Felix Hernandez
SM-5 Kyle Seager
St. Louis Cardinals
Date handed out: August 2
SL-1 Yadier Molina
SL-2 Kolten Wong
SL-3 Dexter Fowler
SL-4 Marcell Ozuna
SL-5 Jedd Gyorko
SL-6 Tommy Pham
SL-7 Matt Carpenter
SL-8 Adam Wainwright
SL-9 Carlos Martinez
SL-10 Paul DeJong
Tampa Bay Rays
Date handed out: August 5
TB-1 Kevin Kiermaier
TB-2 Chris Archer
TB-3 Christian Arroyo
TB-4 Adeiny Hechavarria
TB-5 Matt Duffy
TB-6 Alex Colome
TB-7 Brad Miller
TB-8 Blake Snell
TB-9 Raymond
TB-10 James Faria
Texas Rangers
Date handed out: August 2
TR-1 Joey Gallo
TR-2 Elvis Andrus
TR-3 Rougned Odor
TR-4 Nomar Mazara
TR-5 Willie Calhoun
Toronto Blue Jays
Date handed out: August 10
TOR-1 Josh Donaldson
TOR-2 Kendrys Morales
TOR-3 Kevin Pillar
TOR-4 Justin Smoak
TOR-5 Aaron Sanchez
TOR-6 Marco Estrada
TOR-7 Curtis Granderson
TOR-8 Marcus Stroman
TOR-9 J.A. Happ
TOR-10 Russell Martin
Washington Nationals
Date handed out: August 5
WN-1 Bryce Harper
WN-2 Anthony Rendon
WN-3 Gio Gonzalez
WN-4 Adam Eaton
WN-5 Ryan Zimmerman
WN-6 Daniel Murphy
WN-7 Stephen Strasburg
WN-8 Max Scherzer
WN-9 Trea Turner
WN-10 Victor Robles