2018 Topps High Tek Baseball Patterns Variations Cheat Sheet and Guide
2018 Topps High Tek Baseball patterns variations are a big part of the set's identity. For those wishing to undertake it, it creates a chase to build a different kind of player rainbow (even though more traditional color parallels are included on the checklist as well). The patterns also create a puzzle of sort that needs to be solved.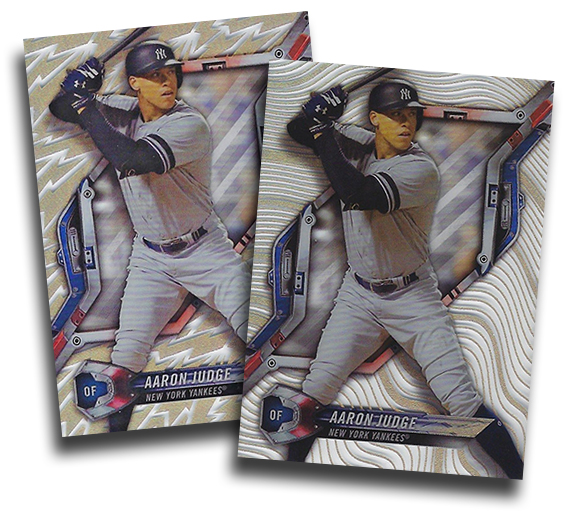 What patterns are there? Which ones are common and which are rare? What to call them?
Let's figure those out and make it a lot easier.
2018 Topps High Tek Baseball Patterns Variations Overview
As we dig in a little more to the 2018 Topps High Tek Baseball patterns, some patterns of their own will emerge. Generally, Topps gives each pattern a number (Pattern 1, Pattern 2, etc.). While helpful and fast, for some it's easier to work with a name.
The patterns are often abstract so even those names can be hard. But we'll do our best to cover both bases. Several sellers are online are also using names and consistency is good.
As far as rarity, several of the most common ones are available in very similar amounts. According to the initial info released by Topps, the base Pattern 1 cards land ten per box. Pattern 2 has eight. And it slowly decreases from there until some of the patterns become very scarce. How scarce? Gold SpecTEKular Diffractors are one-of-ones.
National League and American League Patterns?
Here's where things get a little more complicated. As with past years, it looks as though the checklist is split in half. One group of players has one set of patterns while the other group has different backgrounds. So Group A as a Pattern 1 and Group B has a Pattern 1 that are equally common but don't look the same.
Thankfully, it looks like we've figured out how the checklist splits. And if it's correct, it's pretty simple. National League players and American League players.
Sounds simple, right? It is as long as you think players and not necessarily teams. In a couple of instances, you have players from the past who played for a team that has since switched leagues. So while Jeff Bagwell is a member of the Houston Astros, his pattern variations match up with the National League ones.
We'll list a checklist at the bottom to clear things up and make any updates if necessary.
2018 Topps High Tek Baseball Patterns Variations Gallery
Here's the start of a gallery with the main 2018 Topps High Tek Baseball pattern variations you're going to encounter. We'll be keeping close tabs over the next little bit.
Based on the initial info from Topps, patterns 5 through 8 also come with backdrops traditionally held for parallels. And it looks like these might be combined with the existing patterns. But it's going to take a little extra time due to their rarity and making sure they don't get mixed up with the non-pattern parallels.
The following lists the pattern numbers as they appear to be, a name for each pattern, rarity based on early info from Topps (which may have changed — we're watching to check), and what parallels are known for each pattern.
Pattern numbers reflect whether they're AL or NL versions (ie Pattern 1A is the most common one for American League players, Pattern 1N is the most common for National League players).
Pattern 1
10 per pack.
Parallels:
Blue – /150
Green – /99
Black – /50
Orange – /25
Red – /10
Gold – 1/1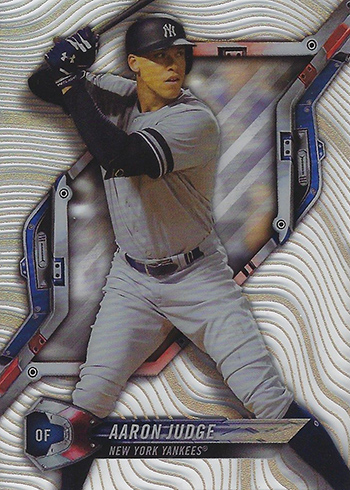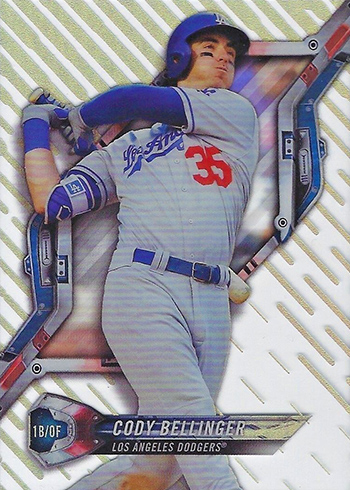 Pattern 2
8 per pack.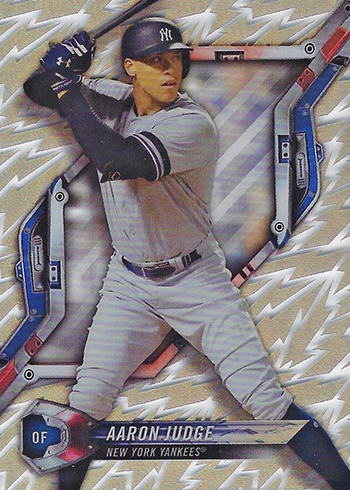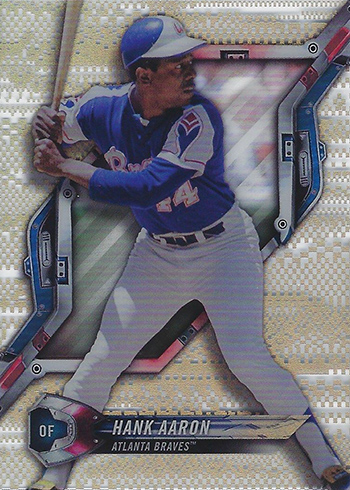 Pattern 3
6 per pack.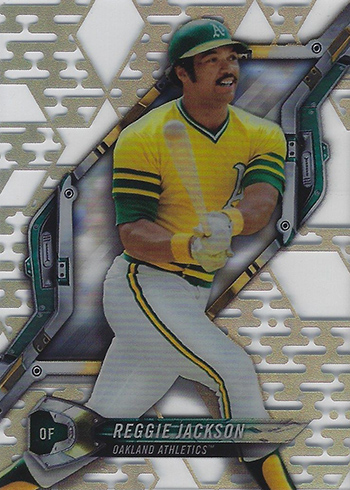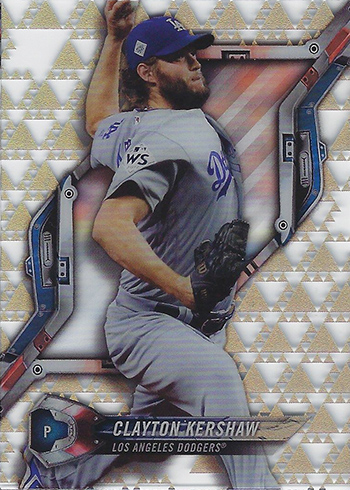 Pattern 4
4 per pack.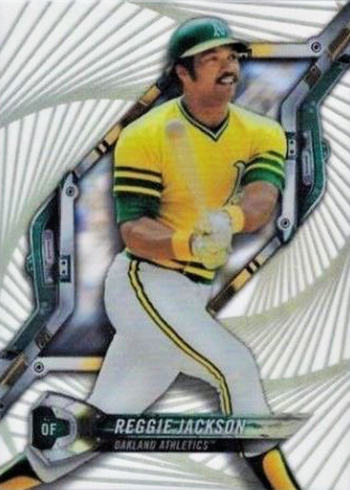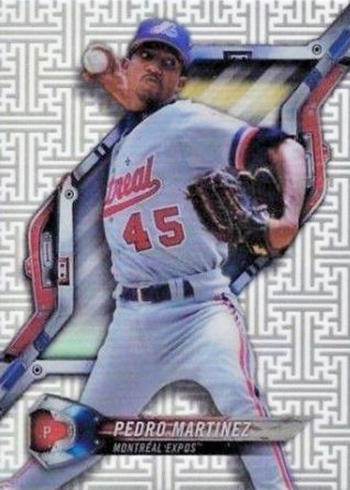 We'll be looking to add images for Pattern 5 through 8 shortly as more 2018 Topps High Tek Baseball is opened. It might be a case where they are, in fact, more like parallels or they could be different patterns with the additions infused into the acetate stock. Here's the original info the Topps information sheet had:
Magma Diffractor Pattern – 8 per pack
Parallels:
Green – /99
Black – /50
Orange – /25
Red – /10
Gold – 1/1
Orbit Diffractor Pattern – 2 per pack
Parallels:
Black – /50
Orange – /25
Red – /10
Gold – 1/1
Galactic Diffractor Pattern – 1 per pack
Parallels:
Orange – /25
Red – /10
Gold – 1/1
Gold SpecTEKular Diffractor Pattern – 1/1
2018 Topps High Tek Patterns Variation Checklist Split
This is what appears to be the lists for the two pattern groups, which appear to fall along AL and NL lines. We'll keep any eye out for any exceptions. If you spot any, please let us know.
American League Patterns
HT-AB Anthony Banda
HT-ABE Andrew Benintendi
HT-AH Austin Hays
HT-AJ Aaron Judge
HT-AP Andy Pettitte
HT-ARD Alex Rodriguez
HT-ASA Anthony Santander
HT-BB Byron Buxton
HT-BD Brian Dozier
HT-BWI Bernie Williams
HT-CC Carlos Correa
HT-CF Clint Frazier
HT-CR Cal Ripken Jr.
HT-CSI Chance Sisco
HT-DF Dustin Fowler
HT-DG Didi Gregorius
HT-DGO Dwight Gooden
HT-DJ Derek Jeter
HT-DM Don Mattingly
HT-DO David Ortiz
HT-EM Edgar Martinez
HT-FL Francisco Lindor
HT-FM Francisco Mejia
HT-GA Greg Allen
HT-GS Gary Sanchez
HT-GSP George Springer
HT-GST Giancarlo Stanton
HT-GT Gleyber Torres
HT-JA Jose Altuve
HT-JCA Jose Canseco
HT-JDA J.D. Davis
HT-JM Jordan Montgomery
HT-JR Jose Ramirez
HT-JS Justin Smoak
HT-JT Jim Thome
HT-JU Justin Upton
HT-MA Miguel Andujar
HT-MB Mookie Betts
HT-MM Mark McGwire
HT-MMA Manny Machado
HT-MOS Matt Olson
HT-MR Mariano Rivera
HT-MT Mike Trout
HT-ND Nicky Delmonico
HT-NG Nomar Garciaparra
HT-NR Nolan Ryan
HT-PB Paul Blackburn
HT-PBR Parker Bridwell
HT-RC Roger Clemens
HT-RD Rafael Devers
HT-RJA Reggie Jackson
HT-SO Shohei Ohtani
HT-TV Thyago Vieira
HT-TW Ted Williams
HT-WBO Wade Boggs
HT-WC Will Clark
HT-WM Whit Merrifield
HT-ZC Zack Cozart
National League Patterns
HT-AA Aaron Altherr
HT-AR Anthony Rizzo
HT-ARO Amed Rosario
HT-AS Andrew Stevenson
HT-AV Alex Verdugo
HT-BH Bryce Harper
HT-BW Brandon Woodruff
HT-CB Charlie Blackmon
HT-CBE Cody Bellinger
HT-CJ Chipper Jones
HT-CK Clayton Kershaw
HT-CKE Carson Kelly
HT-CS Carlos Santana
HT-CSE Corey Seager
HT-DS Dominic Smith
HT-DST Darryl Strawberry
HT-FF Freddie Freeman
HT-HA Hank Aaron
HT-JB Jeff Bagwell
HT-JBE Johnny Bench
HT-JC J.P. Crawford
HT-JD Jacob deGrom
HT-JE Jim Edmonds
HT-JF Jack Flaherty
HT-JL Jordan Luplow
HT-KB Kris Bryant
HT-KBR Keon Broxton
HT-KS Kyle Schwarber
HT-MO Marcell Ozuna
HT-MS Max Scherzer
HT-NA Nolan Arenado
HT-NS Noah Syndergaard
HT-NW Nick Williams
HT-OA Ozzie Albies
HT-PD Paul DeJong
HT-PG Paul Goldschmidt
HT-PM Pedro Martinez
HT-RA Ronald Acuña Jr.
HT-RH Rhys Hoskins
HT-RI Raisel Iglesias
HT-RJ Randy Johnson
HT-SA Sandy Alcantara
HT-SD Sean Doolittle
HT-SK Sandy Koufax
HT-SKI Scott Kingery
HT-TG Tom Glavine
HT-TM Tyler Mahle
HT-TN Tomas Nido
HT-TP Tommy Pham
HT-TT Trea Turner
HT-VR Victor Robles
HT-WB Walker Buehler
HT-YM Yadier Molina
HT-ZG Zack Godley