2018 Bowman Baseball Checklist and Team Set Lists
When you click on links to various merchants on this site, like eBay, and make a purchase, this can result in this site earning a commission.
2018 Bowman Baseball remains focused on the sport's prospects and rookies. And while there are some new additions (and familiar names in new places), the overall approach remains largely the same.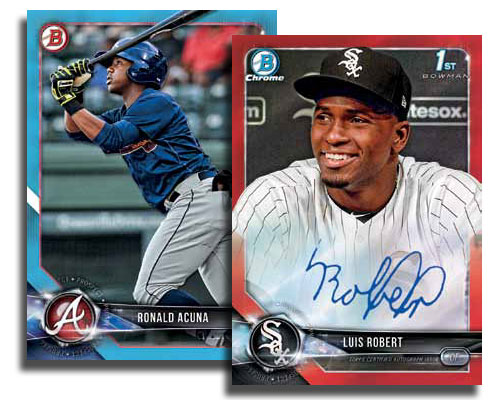 Autographs are still one per hobby box and three per hobby jumbo box with Chrome Prospect Autographs getting much of the attention.
Among them? Shohei Ohtani. He isn't part of the Prospects but his Chrome Rookie Autograph is on the checklist. And that brings the first Shohei Ohtani Superfractor autograph as well.

Base Set and Prospects
A big thing with the main Bowman baseball releases for the past several years is that they mix Bowman and Bowman Chrome. 2018 Bowman Baseball is no different. While the main base set is done entirely with Bowman, Prospects get the chromium treatment as well.
The base set is all veterans and rookies. On its own, it's not very big with just 100 cards.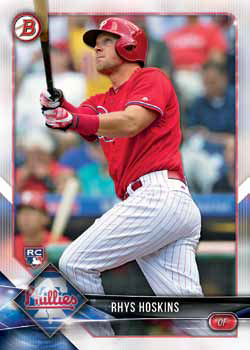 Prospects, which carry a similar design but are numbered differently, spotlight players working their way through the minors. The Bowman and Bowman Chrome Prospects checklists each have matching 150-card checklists.
Both the Bowman and Bowman Chrome base cards and prospects come with large parallel rainbows including Chrome Refractors. Each 2018 Bowman Baseball hobby box has an exclusive Chrome Prospect Atomic Variation Refractor. These are not in hobby jumbo or retail packs.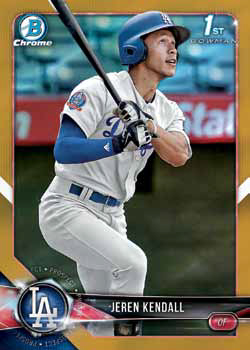 Autographs and Other Inserts
Bowman has traditionally been one of the top-performing brands in the hobby for autographs. Chrome Prospect Autographs continue to be a cornerstone for 2018 Bowman Baseball. These come with on-card signatures and have a vast Refractor rainbow. Hunter Greene, one of the key 2017 draft picks not in 2017 Bowman Draft, is one of the keys to the entire product.
Chrome Rookie Autographs take a similar hard-signed approach, albeit with players who have made their MLB debuts. This is where Ohtani comes in.
Exclusive to hobby and hobby jumbo packs are ROY Favorites Autographs. The checklist here highlights players with the potential to succeed Aaron Judge and Cody Bellinger as American League and National League Rookies of the Year.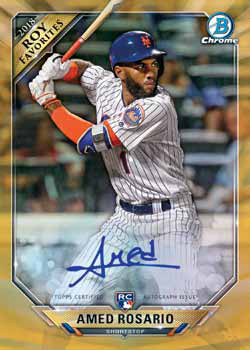 Dual Bowman Prospect Autographs are new for 2018. These are double-sided cards with a different player on each. All come serial-numbered.
All-America Game Autographs return. These were signed when participants were still in high school and held until they turned pro. Although not pictured in MLB uniforms, these have early signatures from players that are sometimes drastically different (and neater) than when they start signing in larger numbers.
New to 2018 Bowman Baseball is #BowmanTrending. Also prospect-focused, these look at players who had an especially strong 2017. These are somewhat similar in theme to Bowman Scouts' Top 100 inserts, which are also back.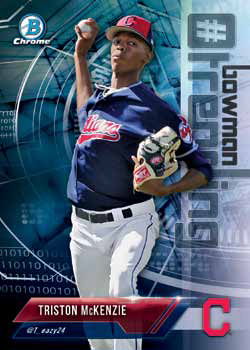 Bowman Sterling
The Bowman Sterling brand returns, although not as a standalone set. It will be an ongoing set spanning multiple releases. In 2018 Bowman Baseball, Sterling Continuity Autographs are only in hobby and hobby jumbo packs.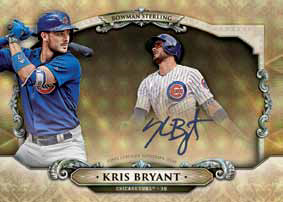 There's also an unsigned version with one Bowman Sterling insert in each hobby box and two in every hobby jumbo box.
2018 Bowman Baseball at a glance:
Packs per box: 24 (hobby), 12 (hobby jumbo)
Cards per pack: 10 (hobby), 32 (hobby jumbo)
Boxes per case: 12 (hobby), 8 (hobby jumbo)
Set size: 100 cards.
Release date: April 25, 2018
What to expect in a hobby box:
• Autographs – 1
• Bowman Sterling Cards – 1
• Prospect Atomic Variation Refractors – 1
What to expect in a hobby jumbo box:
• Autographs 3
• Bowman Sterling Cards – 2
2018 Bowman Baseball Checklist
Base
Prospects
Autographs
Inserts
Team Sets
Comments? Questions? Contact Ryan Cracknell on Twitter @tradercracks or by email.