Here's What Hunter Greene's 2018 Bowman Chrome Autographs Look Like
Hunter Greene was the biggest name from the draft not in 2017 Bowman Draft Baseball. But he is one of the headliners in 2018 Bowman Baseball.
And Greene has given fans and collectors a taste of what they can expect from his cards and the overall autograph design.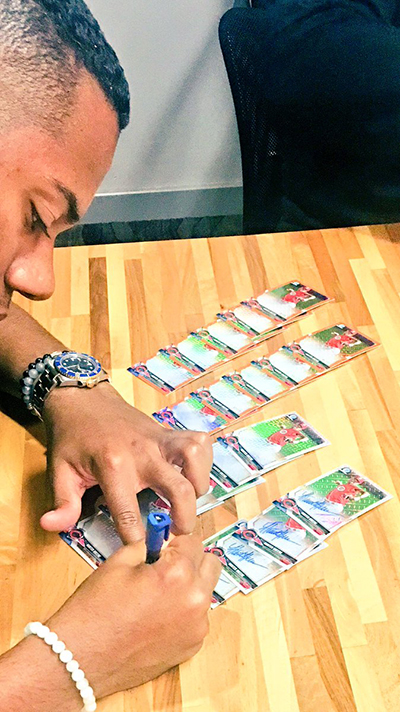 The young Reds prospect shared a shot on Twitter of some of his cards moments after they were signed.
I'm really happy about my partnership @Topps Nice job on the cards, I think the fans and collectors are going to like these. Much ❤️ 2 Marissa & my agent @greeneggsnhamil @CAA_Baseball pic.twitter.com/JRBh39tLuC

— Hunter Greene (@HunterGreene17) January 26, 2018
Not only are several 2018 Bowman Chrome Hunter Greene autographs visible, but there are also Bowman Sterling autographs (including the Superfractor).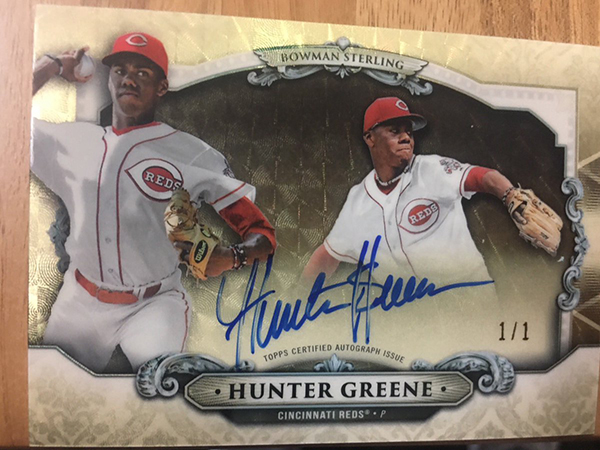 The brand isn't returning as a standalone release. Rather, it's an insert for 2018 Bowman products.
Greene will likely win some fans among collectors for his response to a compliment on his penmanship.
I have signed baseballs from either games or spring training when I was younger. I can't read most of them so I get it.

— Hunter Greene (@HunterGreene17) January 26, 2018
The Bowman Twitter account confirmed Greene's inclusion in the 2018 set last November.
Coming to 2018 Bowman Baseball …. Hunter Greene @HunterGreene17 pic.twitter.com/SKDHANTInT

— Bowman Baseball (@BowmanCards) November 14, 2017
2018 Bowman Baseball is scheduled to release at the end of April.