2018 Bowman Chrome Autographs and Prospect Breakdown
The 2018 Bowman Chrome autographs bring about a (mostly) new crop of up-and-coming players with some of their first MLB autograph cards. And for many, these cards will become a cornerstone of all of their baseball cards.
As the hobby evolves, Bowman Chrome autographs have become some of the most important — and coveted — cards in baseball. If you take a traditional take, they're not Rookie Cards. But that doesn't stop them from being treated similar to them. The 2018 Bowman Chrome autographs will become benchmarks for many players against which other cards are measured.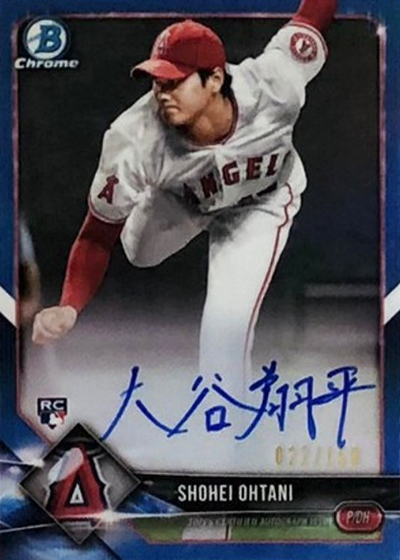 Keeping Tabs on the Different Releases with 2018 Bowman Chrome Autographs
As has been the case for several years, the 2018 Bowman Chrome autographs will be spread through several releases. The first batch arrives in 2018 Bowman Baseball. 2018 Bowman Chrome Baseball features the second batch.  The lineup rounds out with 2018 Bowman Draft Baseball, which covers the latest draft picks.
Out of the gate, 2018 Bowman Baseball had a couple of big guns. Shohei Ohtani gets his first Bowman Chrome autograph. The two-way phenom already had several other autographs, but this should still be one of his most popular. His card is found on the Bowman Chrome Rookie Autographs checklist. The one-of-one Superfractor parallel sold through Beckett Goodwin Auctions for over $180,000 in September.
There's also Hunter Greene, the second overall pick in the 2017 draft. He was one of the few big names not in 2017 Bowman Draft Baseball. But that should bode well for 2018.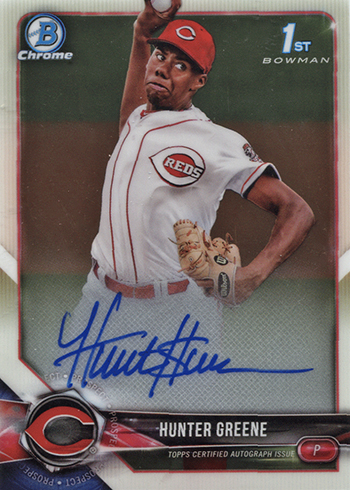 As far as novelty autographs go, Seattle Seahawks quarterback Russell Wilson has an autograph in 2018 Bowman Chrome Baseball. This isn't his first baseball card but it his first signature in the sport under the Bowman Chrome brand.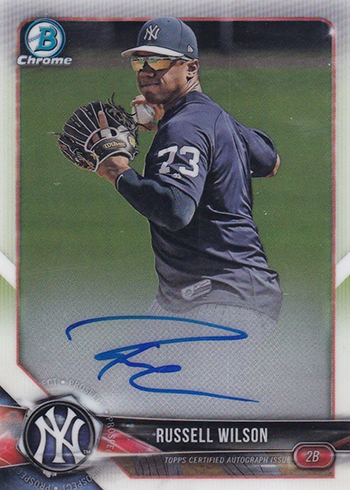 The Ups and Downs of Prospecting
By the time the final cards come out, don't be surprised if the full list encompasses more than 150 players. Over 200 isn't out of the question. Chances are, the vast majority of these players won't have careers that amount to much at the MLB level. Some probably won't even make it.
But part of the appeal of prospecting with Bowman Chrome autographs is in the predicting and following their progress through the minors. For many collectors, it's an exercise in patience and deep dives into stats. It's not for everyone. But for those who master the art, they're often able to find future stars and grab their cards before the masses catch on and prices explode.
2018 Bowman Chrome Autograph Checklist
Get a complete 2018 Bowman Chrome Autographs checklist as well as a prospect breakdown including basic info and easy access to real-time stats. Because it can get a little confusing as to which product they come from, that's listed as well.
We've also included links to other sites for additional info like up-to-date stats. This will help you easily keep tabs on the prospects you're watching so you may want to bookmark this page and come back from time-to-time.
Players are listed alphabetically by last name. You can use the tabs to move between Chrome Prospect Autographs and Chrome Rookie Autographs.
Chrome Prospect/Draft Pick Autos
2018 Bowman Chrome Prospect Autographs
---
---
---
---
---
---
---
---
---
---
---
---
---
---
---
---
---
---
---
---
---
---
---
---
---
---
---
---
---
---
---
---
---
---
---
---
---
---
---
---
---
---
---
---
---
---
---
---
---
---
---
---
---
---
---
---
---
---
---
---
---
---
---
---
---
---
---
---
---
---
---
---
---
---
---
---
---
---
---
---
---
---
---
---
---
---
---
---
---
---
---
---
---
---
---
---
---
---
---
---
---
---
---
---
---
---
---
---
---
---
---
---
---
---
---
---
---
---
---
---
---
---
---
---
---
---
---
---
---
---
---
---
---
---
---
---
---
---
---
---
---
---
---
---
---
---
---
---
---
---
---
---
---
---
---
---
---
---
---
---
---
---
---
---
---
---
---
---
---
---
---
---
---
---
---
---
---
---
---
---
---
---
---
---
Rookie Autos
2018 Bowman Chrome Rookie Autographs
---
---
---
---
---
---
---
---
---
---
---
---
---
---
---
---
---
---
---
---
---
---
---
---
---
---
---
---
---
---
---
---
---
---
---
---
---
---