Topps Living Set Baseball Is the Checklist That Never Ends
It's alive! Okay, maybe not in the breathing sense. But Topps Living Set Baseball is slated to carry on indefinitely. Open-ended at this point, that means that it could continue for years.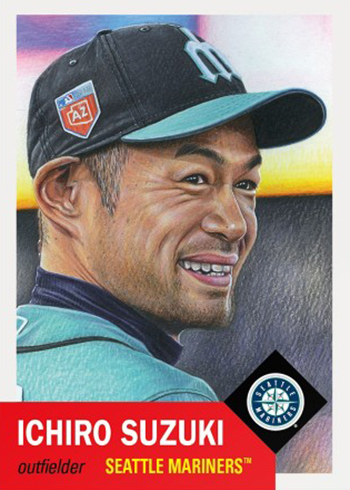 How the Topps Living Set Works
A living set means a checklist that doesn't have an end point. It's possible it could finish off one day, but that's not the plan right now.
Collectors shouldn't expect a lot of repetition on the Topps Living Set Baseball checklist, either. They get one card while they're with the same team. That means the only way they might appear again is when someone's traded or signs elsewhere as a free agent. So as long as Aaron Judge is on the New York Yankees, he won't have another Topps Living Set card as he kicked off the set in March, 2018 as #1.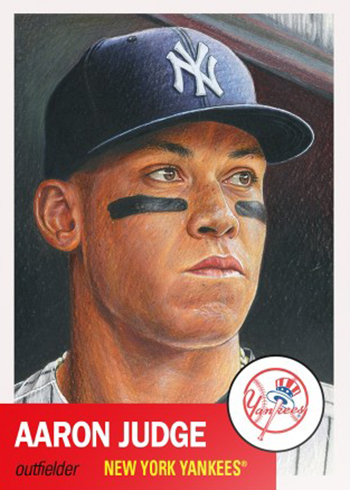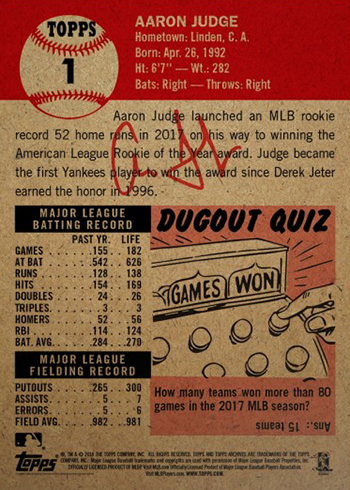 It's not just current players getting spots on the Topps Living Set Baseball checklist, either. Starting in the fourth batch of releases, retired legends were introduced. Derek Jeter was the first.
The set's design adopts something from the past, 1953 Topps Baseball. It's one of the most iconic looks the company has ever produced. It's not just the general layout that it's inspiring. Topps Living Set Baseball is retaining the art-based approach. Mayumi Seto is doing photo-realistic drawings of players. She has previously done work in 2016 and 2017 Topps Transcendent Baseball.
Each week, three new players are added to the Topps Living Set checklist. Exclusive to the Topps website, they're available as singles and as three-card weekly groups. Individual cards are $7.99 each with discounts for lots of five, ten or 20 of the same card. Dealers often take advantage of these lot discounts to order in bulk for shops or to sell online, sometimes at a discount from the Topps site. Weekly groups of cards are $14.99.
These cards are available for one week and then it's off to the secondary market for collectors who miss out. Topps Living Set Baseball does not currently have a subscription method. Like
Topps Now
, print runs are determined what's originally ordered.
Topps Living Set Baseball Checklist
New cards will be added as they're released. Confirmed print runs are noted.
Looking for a specific card? Click on the link to see what's available on eBay.
Checklist
1 Aaron Judge, New York Yankees (March 14, 2018) – 13,256
2 Joe Panik, San Francisco Giants (March 14, 2018) – 3,650
3 Nick Castellanos, Detroit Tigers (March 14, 2018) – 3,639
4 Rhys Hoskins, Philadelphia Phillies (March 21, 2018) – 5,446
5 Ian Happ, Chicago Cubs (March 21, 2018) – 3,042
6 Nick Markakis, Atlanta Braves (March 21, 2018) – 2,678
7 Shohei Ohtani, Los Angeles Angels (March 28, 2018) – 20,966
8 Russell Martin, Toronto Blue Jays (March 28, 2018) – 3,953
9 Jackie Bradley Jr., Boston Red Sox (March 28, 2018) – 3,959
10 Derek Jeter, New York Yankees (April 4, 2018) – 10,692
11 Alex Gordon, Kansas City Royals (April 4, 2018) – 4,143
12 Jean Segura, Seattle Mariners (April 4, 2018) – 4,052
13 Bryce Harper, Washington Nationals (April 11, 2018) – 9,515
14 Mallex Smith, Tampa Bay Rays (April 11, 2018) – 4,529
15 A.J. Pollock, Arizona Diamondbacks (April 11, 2018) – 4,221
16 Jose Altuve, Houston Astros (April 18, 2018) – 6,185
17 Chris Taylor, Los Angeles Dodgers (April 18, 2018) – 4,837
18 Paul DeJong, St. Louis Cardinals (April 18, 2018) – 4,936
19 Ronald Acuna, Atlanta Braves (April 25, 2018) – 46,809
20 Jose Ramirez, Cleveland Indians (April 25, 2018) – 9,671
21 Matt Olson, Oakland Athletics (April 25, 2018) – 9,631
22 Albert Pujols, Los Angeles Angels (May 2, 2018) – 9,403
23 Amed Rosario, New York Mets (May 2, 2018) – 7,637
24 Chase Headley, San Diego Padres (May 2, 2018) – 6,752
25 Ichiro Suzuki, Seattle Mariners (May 9, 2018) – 10,713
26 Yoan Moncada, Chicago White Sox (May 9, 2018) – 6,382
27 Jose Berrios, Minnesota Twins (May 9, 2018) – 6,065
28 Rickey Henderson, Oakland Athletics (May 16, 2018) – 6,851
29 Rafael Devers, Boston Red Sox (May 16, 2018) – 8,403
30 Brandon Morrow, Chicago Cubs (May 16, 2018) – 5,585
31 Charlie Blackmon, Colorado Rockies (May 23, 2018) – 6,585
32 Ozzie Albies, Atlanta Braves (May 23, 2018) – 14,036
33 Lewis Brinson, Miami Marlins (May 23, 2018) – 5,549
34 Gleyber Torres, New York Yankees (May 30, 2018) – 28,550
35 Adam Duvall, Cincinnati Reds (May 30, 2018) – 5,766
36 Jordy Mercer, Pittsburgh Pirates (May 30, 2018) – 5,731
37 Manny Machado, Baltimore Orioles (June 6, 2018) – 6,516
38 Christian Villanueva, San Diego Padres (June 6, 2018) – 5,296
39 Eric Sogard, Milwaukee Brewers (June 6, 2018) – 4,690
40 Scott Kingery, Philadelphia Phillies (June 13, 2018) – 7,277
41 Joey Rickard, Baltimore Orioles (June 13, 2018) – 5,791
42 Jackie Robinson, Brooklyn Dodgers (June 13, 2018) – 13,147
43 Juan Soto, Washington Nationals (June 20, 2018) – 28,572
44 Bartolo Colon, Texas Rangers (June 20, 2018) – 5,630
45 Brad Peacock, Houston Astros (June 20, 2018) – 5,440
46 Hank Aaron, Milwaukee Braves (June 27, 2018) – 11,233
47 Jordan Hicks, St. Louis Cardinals (June 27, 2018) – 6,099
48 Kevin Pillar, Toronto Blue Jays (June 27, 2018) – 5,505
49 Miguel Andujar, New York Yankees (July 4, 2018) – 12,794
50 Noah Syndergaard, New York Mets (July 4, 2018) – 6,167
51 Austin Hedges, San Diego Padres (July 4, 2018) – 5,354
52 Max Scherzer, Washington Nationals (July 11, 2018) – 6,277
53 Walker Buehler, Los Angeles Dodgers (July 11, 2018) – 7,503
54 Mitch Haniger, Seattle Mariners (July 11, 2018) – 5,187
55 Ted Williams, Boston Red Sox (July 18, 2018) – 10,927
56 Brian Anderson, Miami Marlins (July 18, 2018) – 5,218
57 Sean Manaea, Oakland Athletics (July 18, 2018) – 4,792
58 Giancarlo Stanton, New York Yankees (July 25, 2018) – 7,626
59 Freddy Peralta, Milwaukee Brewers (July 25, 2018) – 4,915
60 Pat Neshek, Philadelphia Phillies (July 25, 2018) – 12,736
61 Francisco Lindor, Cleveland Indians (August 1, 2018) 6,714
62 Andrew Benintendi, Boston Red Sox (August 1, 2018) 6,239
63 Austin Meadows, Pittsburgh Pirates (August 1, 2018) 5,639
64 Ryne Sandberg, Chicago Cubs (August 8, 2018) –
65 Dustin Fowler, Oakland Athletics (August 8, 2018) –
66 Yasiel Puig, Los Angeles Dodgers (August 8, 2018) –
67 Anthony Rizzo, Chicago Cubs (August 15, 2018) –
68 Daniel Murphy, Washington Nationals (August 15, 2018) –
69 Willy Adames, Tampa Bay Rays (August 15, 2018) –
Team Sets