Topps' Living Set concept has caught the attention of a passionate group of collectors who want to see this thing through…however long that may be.
On March 14, the first three cards of the Topps Living Set were made available for online purchase. Aaron Judge #1, Joe Panik #2 and Nicholas Castellanos #3 represented the leadoff group for a set that updates each and every week – three at a time – for a checklist that may never end.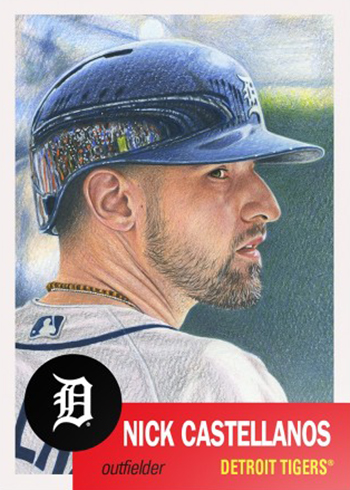 And since then, the Living Set has been alive and well, taking its place on the list of options for the consumer dollar.
Those who got in from the outset were thrilled to see some of the early cards reach triple digits in confirmed sales as more and more collectors discovered the set and wanted to complete it while the completing was somewhat affordable. Meanwhile, prices for the first two weeks of cards – including Nick Markakis #6, the card with the lowest print run (2,678) to date – continued to rise. And rise. And rise.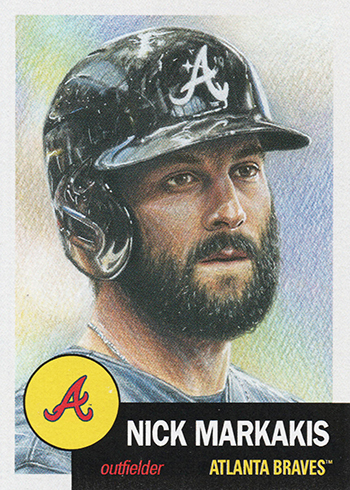 Topps Vice President of Product Development Clay Luraschi and his team are responsible for bringing the Living Set from white board concept to a new set competing for your attention. Luraschi spent some time with Beckett Baseball to discuss the set, where it's been and maybe where it's going.
BECKETT BASEBALL: How long had The Living Set been in the works before release? When was the concept finalized, and plans began moving forward?
CLAY LURASCHI: It was developed in the fall, then we had to start planning out the artwork because the artwork takes time – each piece takes a couple of days. We wanted to make sure we had enough artwork at launch to last us a couple of months. That's what we wanted to start with.
BB: How many are you sitting on now?
CL: We're about 20 ahead. But the thing is, subjects come up that get hot and we want to capture that player with the right timing. For instance, [Ronald] Acuna gets called up. We didn't have artwork for Acuna. We knew he was getting called up soon, so we had Mayumi, the artist, stop what she was working on and do an Acuna piece. She did that in a couple days.
BB: The timing was great. I think some collectors may think that Topps is sitting on 100 of these pieces of art and they
just pulled Acuna out because he was getting called up.
CL: Right, but that's not how it is. Like I said, we're about 20 ahead but when something big happens we have to act fast.
BB: Who makes the decision on what players are going to be released each week?
CL: It's a living set, so you can only do that player one time unless the player changes teams. So our team has to be very
careful on when we release these subjects. If you're going to release the biggest star in baseball, you have to keep in mind that it could happen only one time forever. You have to have a balance of players each week. You obviously want your star, and you want two other names that are going to help drive collectability. But at the same time you can't burn all the superstars in the first couple of months.
BB: Bryce Harper seemed like a good pick in Week 5 because he could change teams. Manny Machado would be another one – he could sign elsewhere as a free agent next year if he's not traded at the trade deadline. Is that how you look at it? Using guys that could change teams sooner rather than later?
CL: Candidly, we haven't been working that way. We saw the Harper art and thought it was amazing. We thought we had to get that out to collectors right then. The artwork on that piece is one of the most stunning pieces I've ever seen on a trading card. I guess in hindsight, yeah, he could be on a different team. But that's not why we did that card then. We're trying to issue the right subjects at the right time so they are topical. That's a key part of the e-commerce business model.
BB: Has the success of this set caught you by surprise?
CL: Internally we had a lot of passion for it. We liked it and thought it was very unique. The reception and the amount of people that want to build the complete set and see this thing to whenever, I wouldn't say it caught us off guard but I will say it's been a pleasant surprise.
BB: Are you sticking with the '53 Topps design? You're not going to suddenly switch to another design in the middle of this, are you?
CL: We're sticking with the '53 design. If you're going to do this type of artwork, it only makes sense on the 1953 design. We always said from the beginning the key to this product is going to be the look and feel of it. If we make a beautiful set, it will sell itself.
BB: Do you hear from collectors of this set?
CL: Yeah, we've been getting emails from collectors telling us they are going to buy this set just for the aesthetic sake. They tell us they want to build it, put it in the sheets of their binder and just enjoy it. This is a new concept and it evolves every week. We want feedback on how we're doing. We want feedback on who people want to see. We love the passion that people have for this product and we're so happy that they share this passion with us. This is a great set and everyone can be involved with it.
BB: Is the three-player release each week the right number?
CL: So far it seems to be right. And we don't want to overdo it. And we can keep this at an affordable price. We're selling a bunch of the bundles, because I think people are seeing that they can get three great looking cards for $5 each [in the bundle]. So it does seem like the right number each week. Why add to it and make people pay more money when it seems to be working fine now? The price point is perfect and people are happy with it. We don't want to play with that.
BB: It seems like one of the things that helps make this work is that these cards aren't tricked up. There aren't autographs, serial numbering or Chrome versions – things that work in other programs, but probably not this one. Can you say unequivocally that you aren't going to mess with the set?
CL: We're not going to mess with the set. This product is about simplicity. This product is supposed to harken back to the days of the 1953 set because that was the inspiration. You don't to do anything with it. People want the cards to enjoy them as they are. This was built in a particular way and it's going to stay that way. If you want Chrome or autographs, we've got other products that include those. Not this one.
BB: How important is the artwork to this venture?
CL: I can't speak enough about the artwork. Mayumi is an amazing, talented artist. She's just so humbled with the reaction that she's gotten from her artwork. Just the detail and work she puts into it…we're very fortunate to be working with someone like her and for her to be a part of this. And she understands what this set means to the company. This is the 1953 design, a cornerstone in the company's portfolio that has so much history.
BB: Will this set continue through the offseason, through the holiday season and leading up to 2019?
CL: That's something we had asked ourselves early on, was this just going to be through the baseball season. My feeling is that the appetite for this product and what I've seen so far is that people are going to want to see this all year round. As of right now, we will keep this thing going every week.
BB: As far as retired players go, if Topps has a deal with the player or estate, they're eligible to be in this set, right?
CL: Jeter is retired and we did a Jeter card. The idea is to, here and there, drop in a retired player.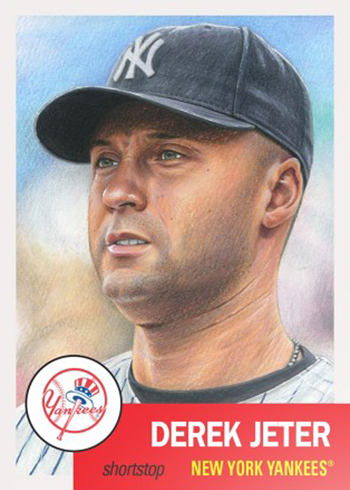 BB: What do you like most about this set?
CL: The one thing that I've always loved about this concept is the fact that it never ends – it's truly the first cross-generation product. Imagine today, you're building this set. Technically, your grandchild can be building the same set you started. I think there's something special about that. There's something to be said about collecting and passing it down and teaching tradition and that's what trading cards are all about, right? It's about passing it down from generation to generation. This set captures that.
BB: With respect to players changing teams, could that extend to retired greats and Hall of Famers, too? For instance, could you do Willie Mays with the New York Giants, the San Francisco Giants and Mets, or Babe Ruth with the Red Sox, Yankees and Boston Braves?
CL: We'll only do the retired players once.
BB: Even if they had multiple teams?
CL: Correct. We will only do multiple teams for a player if they are active, and have changed teams.
BB: We know there has been Judge and Jeter for the Yankees, but has there been a concerted effort to try and represent every team before doubling up on teams?
CL: With all of our products we try and get equal share. This one…we're kind of going week by week with it. We have some artwork that's been sitting there a while that hasn't been issued yet because we just didn't feel like that particular artwork was ready. The idea is to try and get through the whole league first before doubling up, but really, you'll see teams go twice before a team goes for the first time.
BB: You've kind of made every Wednesday – release day – an event of its own. What do you make of that?
CL: We're really excited how people have responded to this and passionate about this set. It's exciting to see it grow each week, with people jumping in each week wanting to start from the beginning to build this whole thing out and keep it going. It's exciting to see that. It's the purest form of collecting, that's what we're seeing. We love brainstorming new ideas, and I think that speaks to what we're doing over here. We're trying to make trading cards as relevant in pop culture as we can. We've been doing this for a long time – this is our 80th anniversary, and I love the fact that we're still innovating in the baseball card category.
BB: Is there anything else you'd like collectors of this set to know?
CL: We're in this for the long haul and we don't want to rush anything, but we have discussed doing subjects that are within
the game of baseball, but not necessarily players. We have talked about managers, front office people. We've talked about innovators of the game. We've even talked about mascots. Mr. Met is held in high regard. The idea of this [project] is to cover the game of baseball. We want the Living Set to truly capture the game.