Nick Markakis Is No Longer the Rarest Topps Living Set Baseball Card
When you click on links to various merchants on this site, like eBay, and make a purchase, this can result in this site earning a commission.
It was a good run for Nick Markakis, but the baton has been passed. Ever since March, 2018, he has been atop (or is the bottom) the leaderboard for the lowest print run in Topps Living Set Baseball. Now it's Howie Kendrick's turn.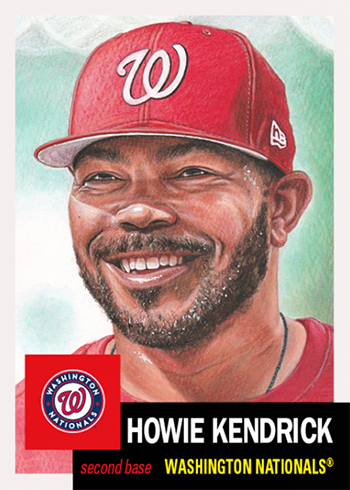 Kendrick, who is card #183 on the checklist, sold 2,633 copies between May 8 and 15. That's 45 fewer copies than the Markakis card.
The Markakis Legacy
When the Markakis card came out, Topps Living Set was still unknown. Collectors didn't really know what to expect from it other than what was shown on the screen. And that's understandable as it was only the line's second week. The debut batch of three cards did well, thanks to the curiosity factor.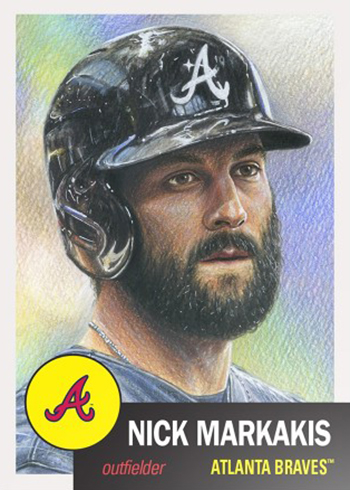 But like comic books, Week Two brought the start of routine. The newness was gone. Even the anchor card that week, a Rhys Hoskins sold only 5,446 copies. Within a couple of months, the Living Set had taken off and that would have been considered a low number even for a more common player.
And that's when the demand for the Markakis grew. A month or two in and the Living Set was on fire. It found a core group of set builders (and brought in some speculators) and print runs overall soared. With lots of people playing catch-up, prices on the Markakis saw dramatic jumps. At its peak, you couldn't find it for less than $200. More recently, it's still consistently been between $150 and $200.
But now that it has the tag of being the second rarest card, will prices drop?
It's tough to say at this point. But it's unlikely the bottom will drop out.
Coming out so early, the vast majority of cards are in personal collections now. eBay has several copies of the card, but at least right now, many of those are priced very aggressively, giving the appearance that the sellers are in no rush to move.
Living Set Evolution
As far as the Living Set goes, it's still an iconic card. The market for the set has evolved as the marathon mentality has set in and some have dropped out. Speculators don't seem to be as prevalent, either as print runs have decreased across the board. There are some exceptions, but they're predictable.
The thought of Vladimir Guerrero Jr. selling only 27,749 copies this time last year would have been unheard of. In 2018, the last week of April saw Ronald Acuna Jr. sell 46,809 cards.
The Reign of the Topps Living Set Howie Kendrick
Which brings us to Howie Kendrick. Like Markakis, his place in the hobby is rather insignificant on a broad scale. At least it was. In setting a record low, prices on the Topps Living Set Howie Kendrick have already seen big jumps.
A card that you could have bought on the Topps website for $7.99 just a few days ago (and even less on eBay through private pre-sales), already has some eBay sales that are $60 and up.
Will prices of the Kendrick card top the Markakis? Logically, one would think so. But over a year in, the success of the Topps Living Set has been anything but logical. Anything under 3,000 copies for the Living Set is low. But compare that to a lot of other sets, and that's a massive number.
For less than the price of a raw Living Set Markakis, you can get a Gem Mint graded copy of his 2003 Bowman Chrome autographed RC.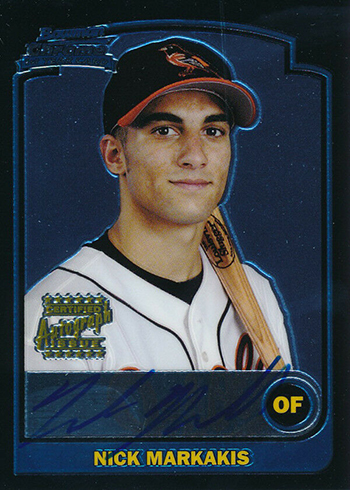 It's still early to say what will happen with Kendrick but it will see a premium as the new king. The second wave of adopters — those that came late but still fairly early — probably don't have to catch up this time around like they did with Markakis.
Kendrick reflects more where the market is at. Big cards pop, but not as much as they once did. As the Living Set evolves and the grind continues, one has to wonder how long his reign at the bottom of the print run will really be.