Ronald Acuna cards haven't been around for long but they sure caught on quickly. That's what happens when you're one of the top prospects in all of baseball. On some lists, Acuna enters 2018 as the best player on the verge of MLB stardom.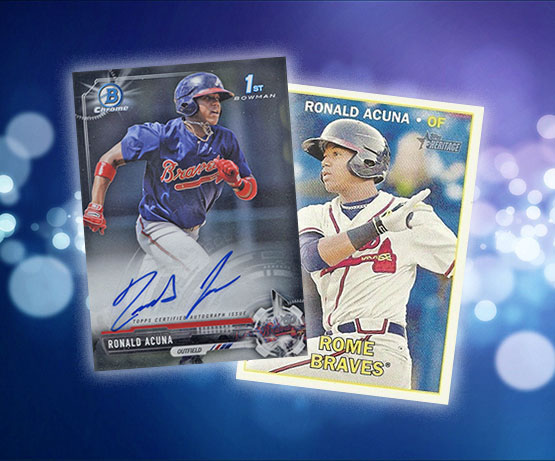 Having just turned 20 in the off-season, Acuna still has plenty of time on his side. And a spot on the Braves' big league roster is a very definite possibility this year.
Acuna moved quickly through the minor league ranks in 2017, starting with the A-Advanced Florida Fire Frogs and ending with the Triple-A Gwinnett. Along the way was an appearance in the All-Star Futures Game. Following the regular season, Acuna took his game to the Arizona Fall League where he hit .325 with seven home runs in 25 games. It earned the young outfielder AFL MVP honors, making him the youngest ever to do so.
Ronald Acuna Rookie Cards won't start showing up in MLB sets until after his debut in the majors. Since that came in April, collectors can expect them before the year's end. That said, there are already plenty of prospect and minor league cards to choose from.
With that in mind, here's a look at many of the key Ronald Acuna cards released in 2016 and 2017.
Ronald Acuna Pre-Rookie and Minor League Card Highlights
---
---
---
---
---
---
---
---
---
---
---
---
---
---
---
---
---
Comments? Questions? Contact Ryan Cracknell on Twitter @tradercracks or by email.