2018 Topps Archives Baseball Variation Short Prints Guide
2018 Topps Archives Baseball Variations aren't large in number. They're not the most obvious of short prints either. But they're out there.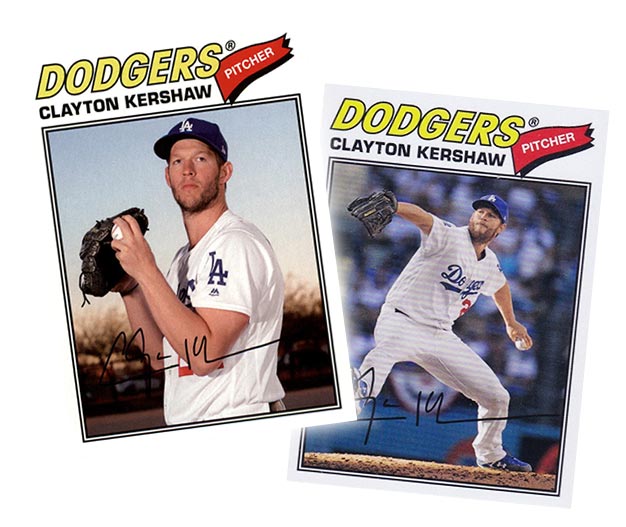 The SSP checklist features nine players. Sticking with the Archives theme, they're a mix of generations. A few are all-time greats. Some are current superstars. A couple of rookies are sprinkled in as well for good measure.
The 2018 Topps Archives Baseball Variations take the common approach of switching photos out. Like the base set, they use three different Topps Baseball designs from the past: 1959, 1977 and 1981.
As far as odds go, variation short prints land 1:106 retail value packs. We haven't confirmed regular retail odds. Variations aren't listed on blasters. The hobby version of 2018 Topps Archives Baseball releases about a month after retail.
2018 Topps Archives Variations – Using the Code
You can use the fine print on the back to double-check for SSP codes. That said, there's more to remember for this set because each of the base set designs has its own code. Variation short prints all have the same code, though.
Here's a breakdown of the key codes you'll need for variation hunting:
Base:
1959 (#1-100) – 307
1977 (#101-200) – 314
1981 (#201-300) – 320
Variations:
1959 – 326
1977 – 326
1981 – 326
To find these codes, look at the block of small text on the back of the card. These codes are found at the end. The last three digits are the easiest way to check and what the above refers to.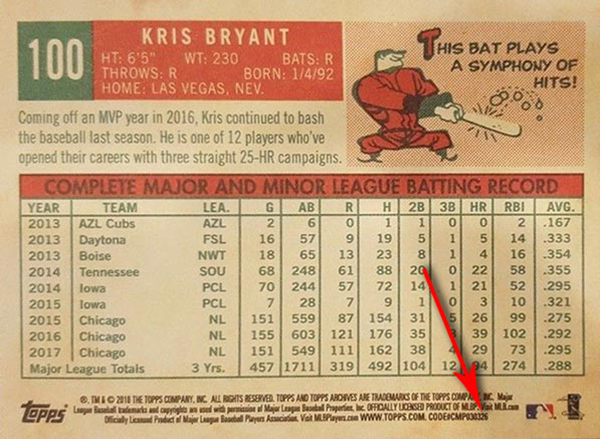 2018 Topps Archives Baseball Variations Checklist
Here's a quick checklist of players with SSP variants in 2018 Topps Archives Baseball. If you're looking for a specific card, click on the link to see what's currently available on eBay.
2018 Topps Archives Baseball Variations Gallery
Here's where you'll see the variations and their base counterparts side by side. We'll be filling in the gaps in the days ahead. All base cards are pictured so if you get get something different from one of these players, you've likely got an SSP card.
31 Aaron Judge, New York Yankees
50 Shohei Ohtani, Los Angeles Angels
100 Kris Bryant, Chicago Cubs
108 Amed Rosario, New York Mets
150 Clayton Kershaw, Los Angeles Dodgers
200 Derek Jeter, New York Yankess
201 Roberto Clemente, Pittsburgh Pirates
202 Ernie Banks, Chicago Cubs
300 Bryce Harper, Washington Nationals