2018 Topps Now Baseball is the third season for the on-demand line. And like it has from the beginning, it transforms big games, events, trades and milestones into cards within hours of it happening.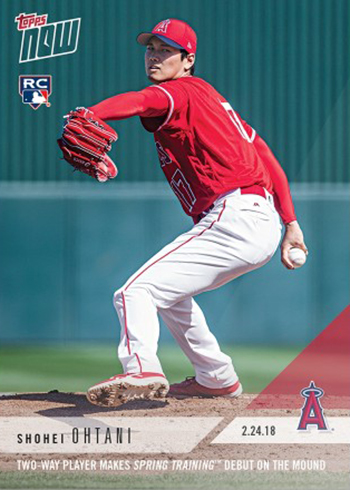 In essence, it tells the story of the season from start to finish–and probably even beyond in some regards.
2018 Topps Now Baseball cards are sold exclusively through the company's website. While there can be exceptions for special occasions, the vast majority are available for just 24 hours. The cost is $9.99 for a single card and discounted rates for orders of five, ten and 20 of the same card. Some dealers use these bulk discounts to offer cards immediately on eBay as well.
Once the initial sale time ends, cards are produced. Topps confirms print runs usually within a day or two.
In addition to the regular cards, collectors can also expect to see some 2018 Topps Now Baseball autographs and memorabilia cards pop up for major events. These come in limited numbers and can often sell out very quickly.
Like last year, 2018 Topps Now Baseball kicked off at Spring Training with some specially numbered cards. They also have a full range of Road to Opening Day team sets.
2018 Topps Now Baseball Checklist
We'll be updating this list throughout the season including details on special sets. Print runs will be added as they're announced.
If you're looking for a specific card, click on the links to see what's currently available on eBay.
Spring Training
2018 Topps Now Spring Training Checklist
ST-1 Eric Hosmer, San Diego Padres – Padres Introduce New First Baseman (2.20.18) – 358
ST-2 Troy Tulowitzki, Toronto Blue Jays – Shortstop Poses as Pitcher at Spring Training Photo Day (2.22.18) – 1,374
ST-3 Major League Baseball – MLB Players Wear Stoneman Douglas Gear to Honor Victims (2.23.18) – 632
ST-4 Shohei Ohtani, Los Angeles Angels – Two-Way Player Makes Spring Training Debut on the Mound (2.24.18) – 11,384
ST-5 J.D. Martinez, Boston Red Sox – Red Sox Introduce New Designated Hitter (2.26.18) – 422
ST-6 Russell Wilson, New York Yankees – Football Star Arrives at Spring Training with Yankees (2.26.18) – 1,987
ST-7 Shohei Ohtani, Los Angeles Angels – RBI Single Marks 1st Spring Training Hit in Offensive Debut (2.26.18) – 6,842
ST-8 Ichiro, Seattle Mariners – Mariners Superstar Returns on One-Year Deal (3.7.18) – 1,206
ST-9 Houston Astros – Astros Present Number 17 Jersey to President Trump (3.12.18) – 1,112
ST-10 Jake Arrieta, Philadelphia Phillies – Newest Phillies Pitcher Joins the Team at Spring Training (3.13.18) –
Autographs
ST-6A Russell Wilson, New York Yankees – Blue /49, Purple /25, Red /10, Orange /5, Gold 1/1
Comments? Questions? Contact Ryan Cracknell on Twitter @tradercracks or by email.